Phil's Overseas Travels II
September 27th - October 21, 2001
After travelling to Europe in 1997 (as recorded on my Eurotour page), I thought it would be some years before I again had the opportunity to take in the sights and sensations of aviation outside New Zealand shores. However, at the end of 2000, Louise and I were fortunate enough to win return tickets to London in a membership promotion run be the New Zealand Historic Places trust .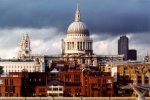 We departed from Auckland International at 8.45am on Thursday September 27th, flying with Air New Zealand through Los Angeles to London. We arrived at 10am on Friday morning, collected a rental car and set off on our adventures. Our itinerary over the following three weeks included historic places, a variety of towns, many museums, a lot of shopping, and an opportunity for me to indulge my passion for aircraft!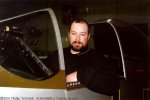 This included visits to the museums like the Southampton Hall of Aviation, the Imperial war Museum at Duxford and Lambeth, the de Havilland Heritage Museum, Brooklands, and the Science Museum. I paid a return visit to Old Warden where I also got to see a Shuttleworth air show. More on these visits are linked below. When I set out I had made arrangements to get pictures of six aircraft with New Zealand connections. As it turned out, I actually got seven ( Comet, Corsair, Dauntless, Kittyhawk, Mustang, Sandringham, and Spitfire). I also visited several Internet penpals (like Kev Darling and Damien Burke) - and would have visited more if I hadn't left the contact details behind! I also met up with Maurice Hammond who has restored G-MSTG, the former NZ2427(That's me to the right, after Maurice twisted my arm really hard!).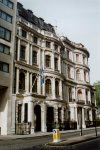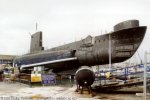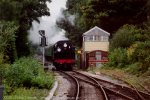 We also visited a heap of castles and other historic places. Had a look at some alternate technologies too - like a visit to the Royal navy Submarine Museum at Gosport, and a live steam day at the Mid-Hampshire Railway (the Watercress line). I even managed to fit in a morning doing some research at the RAeS library at 4 Hamilton Pl in London. It was an event packed at fun filled three weeks!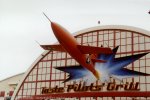 We flew out of Heathrow at 4.30pm on Thursday October 18th and onto Los Angeles. There we had a three day stop over while my wife indulged a long term desire to visit Disneyland. Although I wasn't worried about going, it turned out to be fun, and I discovered a new passion - rollercoasters! I also got to visit Chino - more of that below.
One thing about our trip - I again have a serious case of the travel bug ...
Over the next few months I will put up pages illustrating some of these places, and what I saw. The buttons at the bottom of the page will link to the pages.
---
The following links lead to images from some of the aviation-related places we visited during our tour. I hope you enjoy them as much as I did!
England

Home to Sandringham VH-BRC - formerly ZK-AMH. One page featuring 17 images from the Museum .

The Shuttleworth Collection - two pages presenting 21 images of the Collection. More on Shuttleworth can be found here .

The Imperial War Museum and associated collections - two pages presenting 50 images of the Museum, OFMC, and Grace Spitfire. More on Duxford can be found here .
A former 8th A.F. base in Norfolk. Now home to P-51D Mustang G-MSTG (ex NZ2427). Two pages with 24 images of the aircraft and the base.

Also known as the Mosquito Museum - one page presenting 15 images from this historic location. More on the Mosquito Museum can be found here

The home of British motor racing and a major heritage site for aviation development. One page with 33 images. More on Brooklands Museum can be found here

Details of my visit to the Memorial at Coopers Hill. One page with 5 images. More on the RAF Memorial can be found here .

One page with 15 images from the Museum's London home. More on the IWM can be found here

The Museum holds some of the most historic aircraft in the world - one page featuring 9 images. More on the Science Museum can be found here

California

The classic aviation site in California - how I got there, and my walk around the Yanks Air Museum and it's restoration faciity. One page featuring 38 images.

My Chino visit continues with a look at what was on the ramp, The Air Museum - Planes of Fame, Fighter Rebuilders, and Fighter Jets Museum. One page featuring 32 images. More on The Air Museum - Planes of Fame can be found here.
---

&copy 2001-2002 Phillip Treweek, all rights reserved