De Havilland Heritage (Mosquito) Museum
Salisbury Hall, London Colney :
October 11, 2001
This is one of the Museums that has been on my must see list for many years. I've always wanted to see the very first Mosquito. Unfortunately I wasn't able to visit in 1997 - so I wasn't going to pass up the opportunity this time!.
Getting There: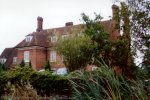 On this particular Thursday we travelled south from Colchester. (The Museum is open Tuesdays, Thursdays and Saturdays 2-5.30pm and Sundays 10.30am-5.30pm ). To me it seemed to take forever as I was keen to reach the Museum (and we were late leaving), but it was actually less than two hours. We entered the M25 at Junction 28 and drove west to Junction 22. We could see the Museum as we came up to the exit. Even so, we missed the Museum sign as we travelled along the B536, and realised our mistake when we reached South Mimm. I knew the Museum was close to the motorway exit, but I hadn't realised how close. We soon backtracked and corrected our mistake. Made our way down the long drive past Salisbury Hall (seen at right), and a number of other interesting buildings.
The Museum:
On reaching the carpark, Louise decided she didn't need to see another aviation museum, laid back her seat and proceeded to have a nap! I paid my five pound admission, got a map, and proceeded straight to the Mosquito prototype. I found it strange walking down the path - it had the feeling of a pilgrimage. I'd been waiting 30 years to see this aircraft - the very first Mosquito!
The aircraft was not quite as I expected - for one thing, the engines and elevators had been removed. The Museum had received a grant to refurbish the prototype, so I wasn't going to grumble. It was possible to look in the bomb bay, and to stand in the access hatch. The cockpit was very basic compared to an FB.VI that I've sat in - and the nose was empty of equipment.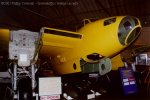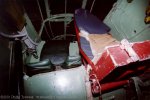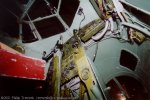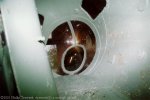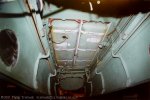 The Mosquito prototype W4050: seen here are two general views, two views of the cockpit, the interior of the nose and the bomb-bay looking aft.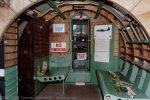 A gentleman whom I took to be a former De Havilland employee who had worked on the aircraft was talking to another visitor and telling him about events in its development. It made a fascinating background as I walked around the Mosquito. Also in the hangar was the De Havilland built Cierva Autogyro G-ABLM which had a cabin based on the DH.80 Puss Moth. Unfortunately it wasn't well located for photography. Of interest was the nose and forward fuselage section from a Airspeed 58 Horsa I and II glider which have been combined as a composite display. Had a quick look inside but I had to pull myself away to look at the main hangar. Along the path to the hangar were a Sea Vixen, a Devon, a Heron, and a Comet fuselage.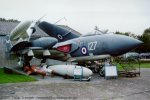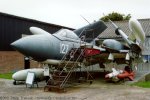 DH.110 Sea Vixen FAW.2 XJ565 on display outside the prototype hangar. The aircraft is coded 127/E which it wore while serving with 899 Squadron aboard HMS Eagle.
In the main hangar was another Mosquito, and parts of several more. The displays also included a Vampire, a Venom, a Queen Bee and Tiger Moth, as well as a DH125. Fascinating! I must admit to not recognising the DH.94 G-AFOJ as I'd never seen a 'coupe' model (although there is one in New Zealand). As I took a few photos I could hear a video on Sir Geoffrey De Havilland playing.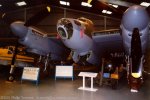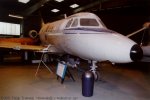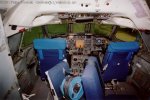 Left: DH.98 Mosquito B.Mk.35 TA634 was used in the film 633 Squadron, and is displayed in the colours of 571 Squadron; Centre: DH.125 G-ARYC is still undergoing restoration; Right: Cockpit interior of HS.121 Trident IIe G-AVFH which originally entered service in 1968.
Visited three more buildings. In the first were three guys working on models. Discovered while chatting that one of them had been to New Zealand. In the other building was a DH88 Replica, and a DH.89 Rapide (G-AKDW) under restoration. Talked to another former De Havilland employee about this aircraft. Across the way was a number of engines, and a display under construction about the De Havilland Company history. Outside was what I took to be the nose of a Comet, but which I later descovered was an analogue Comet 4 flight simulator used by Dan-Air.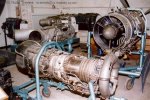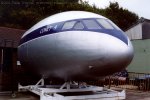 Left: Part of the comprehensive engine display; Right: The Comet 4 Flight Simulator.
By this stage it was 4.45pm and we really needed to leave - travelling round the M25 in rush hour was not going to be fun - but that's another story! The Museum was well worth the visit, and I only wish I'd had more time to enjoy it.
---

&copy 2002 Phillip Treweek, all rights reserved