Science Museum
Kensington, London :
October 17, 2001
Kensington contains three of the world's most famous museums - the Science Museum, the Natural History Museum, and the Victoria and Albert Museum. I would have liked to visit all of them, but as time was limited I had to restrict myself - and the Science Museum had aircraft!
Getting There:
Last day in London. After a leisurely start to the day, we caught the tube at Bermondsey (Jubilee line) to Westminster where we changed to the District line to South Kensington. Despite what the locals say, it's still a great way for tourists to get around. Saw signs for a subway to the Museum - didn't realise how far it was though. Quite a walk! Still the entertainment was good - a busker with a saxophone took advantage of the accoustics. We emerged right outside the Museum.
The Museum:
After having our bags searched (more fallout from September 11th), we paid our money and went in. (Six weeks later it would have been free, as admission charges were dropped on December 1st). Took the fancy glass lift up to level 3, where we spent time in the optics display - I really liked the hologram stuff. Didn't read much - by this point we were feeling a little over-museumed. About 11.45 we heard an announcement for a guided tour of the flight gallery, so moved in that direction.
While waiting at the entrance we thought we were going to be swamped by a school group - but they kept going. As it turned out, Louise and I had the guide to ourselves. I think the talk was good for Louise (rather than having me rave on), but the guide seemed rather disappointed when I didn't ask any questions.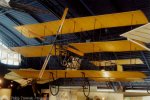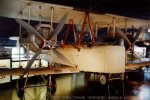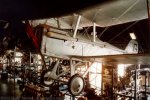 Left: A.V. Roe's Triplane IV, his first successful design which flew 984' in 1909 utilising a 9hp motorcycle engine; Centre: Alcock and Brown's Vickers Vimy IV in which they crossed the Atlantic on June 14-15, 1919 in a 16 hour flight. After being damaged by a landing in an Irish bog, the aircraft was rebuilt by Vickers and presented to the Museum; Right SE5a G-EBIB- one of a fleet used by Major Jack Savage for skywriting (such as the famous Persil advertising) in the 1920s
The flight gallery is a real stunner. It took me a little while to realise that these weren't just examples of each type of plane - they were the ones I'd read about. That really was Eliot Verdon Roe's 1909 Triplane; the Antoinette was the one Hubert Latham was unsuccessful in beating Bleriot with; the Moth was Amy Johnson's Moth (G-AAAH) from her England-Australia flight in May 1930; the Vimy was Alcock and Brown's Vimy, and the Supermarine S-6B was the one that won the Schneider trophy - and there was the trophy in the case behind it! I don't think Louise realised just how gobsmacked I really was. We were in the presence of history. (Shame they had to give the Wright Flyer back...but at least there's a replica).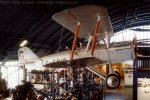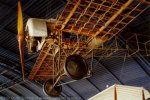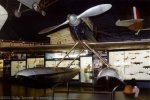 Left: SE5a G-EBIB- one of a fleet used by Major Jack Savage for skywriting in the 1920s; Centre: Fokker E.III Eindekker 210/16 which was captured in April 1916 when the pilot got lost behind Allied lines. The interrupter gear was subsequently studied, and it was then used in trials; Right: Supermarine S-6B S1595 - the Reginald Mitchell designed Schneider Trophy winner (with the trophy beyond) from September 12, 1931.
There was more of course - the Eindekker captured in 1916 that gave away Fokker's interrupter gear secrets, an SE-5a that was used for early skywriting, a real Battle of Britain veteran Hurricane I and Spitfire I, the surviving Gloster Whittle (one of two), and another P.1127 (six built - I've now photographed three of the four survivors). This is the first prototype which had its first untethered flight on November 19, 1963. I didn't take many photographs as they display hall is not well lit for this purpose. There is lots more to see - an Me163, a Cierva Autogyro and the Saro Skeeter developed from a Cierva design. I was particularly taken by the cross section from a JAL 747SR-46. Nearly 1m thick and taken from just behind the flight deck, it is mounted at one end of the gallery and really illustrates both the size and construction of the aircraft. Of course the Science Museum has a huge number of other aircraft exhibits - some like the Sandringham at Southampton are on loan, while more are stored at Wroughton, near Swindon.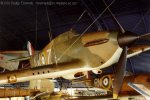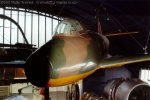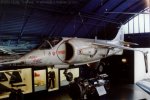 Left: Hawker Hurricane I L1592 which is displayed along with another Battle of Britain veteran, Spitfire 1a P9444; Centre: Gloster E28/39 'Whittle' W4041, the only survivor of two built to test Whittle's W1 jet engine. The type first flew on May 15, 1941.; Right: P.1127 first prototype XP831, in which Bill Bedford made the first tethered hovering flight on October 21, 1960.
Then because Louise wasn't going to spend all day oggling aircraft, we moved on. Had a quick look in the Flight Lab - a hands on exhibit mainly intended for school age visitors - looked like lots of fun. While looking for the M.I.L.K. photographic exhibition, we passed through the history of computing display. I found it a more than a little disturbing how much of the gear I recognised - but it did make me realise I have been involved in the industry for more than twenty years. The photographic exhibition turned out to be good value and we spent quite some time checking it out - but by this point we were all but museumed out. We checked one more gallery and left. We had planned on visiting the dinosaurs in the Natural History Museum next door - but we gave that away in favour of a late lunch and some shopping. I don't think we did the Museum justice, so I really hope I get another chance to visit some day!
---

&copy 2002 Phillip Treweek, all rights reserved