Supermarine Spitfire
Background
The Spitfires history is well documented, so I will not repeat it here. The Spitfire's connection to New Zealand is through the hundreds of New Zealand born wartime pilots who flew with the RAF and FAA. The aircraft was not operated by the RNZAF, although FAA Seafires visited New Zealand. After WWII ended two carriers made visits to New Zealand waters.
The first was HMS Indefatigable in a voyage from Japan via Australia to repatriate troops. The vessel arrived in Wellington on November 27 1945 and carried out operations in the Wellington and Marlborough Sounds areas before travelling up the East Coast to Auckland. Aboard were two squadrons (887 and 894) equipped with Seafire Mk.III aircraft. The aircraft visited a number of RNZAF bases and conducted several official flypasts. Accidents during operations resulted in an aircraft (PP927) being dumped off the Kapiti coast, another (NN298) off the Bay of Plenty, and a third (PR285) near the Hauraki Gulf. Indefatigable departed for Sydney on December 18. The second carrier visit was by HMS Theseus which arrived in Wellington (also via Australia) from the Far East on August 23 1947. The ship continued its voyage on August 28, and travelled up the East Coast to Auckland where it arrived late the following day. Seafire Mk.XV aircraft from 804 Squadron spent the period from 30 August to 15 September based at RNZAF Whenuapai. A flying display was held at Whenuapai on September 14. On September 15 the Indefatigable commenced exercises from Auckland. The vessel departed for Japan via the Solomons on September 17. A Seafire (believed to have been damaged in an accident) was gifted to the RNZN and taken to training station HMNZS Tamaki. The aircraft was later passed to the RNZAF who used it as an instructional airframe at RNZAF Hobsonville. Unfortunately, the aircraft was not given an official serial, and it's identity has remained a mystery. It was scrapped in the late 1950's.
In the post-war period, a number the aircraft type have found their way to New Zealand for Museums and private owners. These aircraft are:
LF Mk.IXc PV270 (c/n CBAF 3128) was taken on charge by the RAF on September 28 1944 at 9 MU. The aircraft was passed to 82 MU before being shipped to North Africa on November 3. The aircraft is known to have served with 111, 225, and 253 Squadrons in the Italian campaign. The aircraft was taken from storage and passed to the Italian Air Force (Aeronautica Militare Italiana) on February 16,1947. The aircraft was serialed MM4014 and served with several units including 5 Stormo before the type was retired in 1950. The aircraft was then sold as part of a package to Israel in February 1952. The aircraft were renovated in Foggia Italy and transported to Israel. The aircraft was serialled 20-80 and allocated to 20 Wing in February 1953. It is known to have served with 107 squadron in a OTU role. In March 1954 Israel arranged to sell a batch of Spitfires to Burma, and the aircraft was delivered to BEDEK (later part of IAI) on July 1, 1954 for overhaul. The aircraft had its acceptance check flight on March 3 1955 and was serialled UB424. The delivery flight began on June 29 1955. Little is known of its Burmese service, but the aircraft had repairs for combat damage. Its final flight was made on January 12 1956, after which it again went into storage. The aircraft later served as a gate guard at Hmawbi erroneously marked as UB425. The aircraft was moved to the Burma Air Force Museum at Mingadalon in 1995 from where it was acquired by David Gouldsmith and shipped to the USA in 1999. Sold to Brendon Deere in March 2001, the aircraft arrived in New Zealand in May 2001. It is currently stored in Marton. More details can be found here.
FR Mk.XIV, NH799 (ZK-XIV) is currently under restoration to flying condition at Ardmore. Originally built at Aldermaston, it was taken on charge by the RAF on February 16, 1945. Initially with 9 MU at Cosford, it was transferred in May to 215 MU prior to despatch to India on July 2nd. After arriving on July 28, 1945 the aircraft was attached to Air Command South East Asia and served with 49 Squadron. On December 29, 1947 the aircraft was passed to the Indian Air Force. A gap in the aircraft's records ends when Doug Arnold purchased and shipped the aircraft back to the UK in 1981. The aircraft was subsequently stored at Blackbushe and Bitteswell until it was acquired by The Fighter Collection and restoration began in 1986. The wings had been completed along with some work on the fuselage when the aircraft was sent to Historic Flying Ltd for completion in 1993. While restoration was underway there, the aircraft was sold to the Alpine Fighter Collection. The first post restoration flight was made on January 21, 1994 as G-BUZU. After testing the aircraft was shipped on February 14 to New Zealand where it was registered ZK-XIV. Flight testing was conducted on March 31 and the aircraft then displayed at the Warbirds over Wanaka show during the next three days. The aircraft was badly damaged along with Sir Tim Wallis in an accident on Jan 2nd, 1996 at Wanaka. The aircraft was purchased from the insurers by Brian Hare of Hamilton and American partner Paul Page . The aircraft is still on the New Zealand register - initially listed to PAC Ltd, the register know lists the aircraft to a the Aviation Trading Company Ltd of Cambridge. Restoration commenced in 1997 with AvSpecs Ltd in Rotorua and continues, although the company is now at Ardmore.
LF Mk.XVIe, TB863 (c/n CBAF-10895, ZK-XVI) It is currently the only airworthy Spitfire operating in New Zealand. The aircraft (c/n CBAF10895, ex G-CDAN) was originally built in late 1944, entering RAF service on February 27 1945 with 19 MU at St.Athan. In March it was issued to 453(Australia) SQN at Matlask, Norfolk and coded FU-P. It later served with 183, 567, and 691 Squadrons. While with 3 CAACU at Exeter it suffered category 5 damage in a takeof accident on July 17 1951 and was struck off charge on September 28 1951. The aircraft was subsequently acquired by MGM and used in the 1955 movie "Reach for the Sky". It was then stored until the filming of the movie " The Battle of Britain". The aircraft was acquired by A.W.(Bill) Francis on December 11 1968 and moved to Southend where it was stored in his garden, then later moved to a Museum at the local airport. In July 1974 a move to Duxford was made with a view to restoration at the Imperial War Museum, but this did not occur and the aircraft returned to its owner in 1977. The aircraft was moved again in October 1982 to Personal Plane Services at Booker. Restoration began, and the aircraft was registered G-CDAN on November 30. The aircraft was subsequently sold to the Fighter Collection in 1985 who continued the restoration. It was purchased by Sir Tim Wallis in 1986, and restoration continued at Duxford. The first post restoration flight was made by Stephen Grey on September 14 1988. The aircraft was shipped to New Zealand with its first local flight (also by Stephen Grey) on January 25 1989. The aircraft was successfully displayed in Auckland, but on the flight south to Wanaka had fuel problems. The aircraft made a forced landing in a paddock neighbouring the Waipukurau Aerodrome. SAFE Air at Woodbourne carried out repairs, and the aircraft returned to the air on April 7th 1990. The aircraft was again damaged in an accident at RNZAF Woodbourne on November 18 1992 when the aircraft developed a swing landing on wet grass and the undercarriage collapsed after striking a taxiway. SAFE Air again carried out the repairs, and the aircraft was returned to the air in early 1994. Today the aircraft is airworthy and based with the Alpine Fighter Collection at Luggate airfield near Wanaka. More information can be found about this aircraft here. (illustrated below)
LF Mk.XVIe, TE288 (c/n CBAF 11414) is held by the RNZAF museum. The aircraft was taken on charge by the RAF on June 1 1945 at 9 MU Cosford. Initially stored, it served briefly with 61 OTU at Keevil before being damaged in a flying accident. On November 5 1946, the aircraft was allocated to 501 RAuxAF Squadron at Filton. Coded RAB-D it remained with the squadron until November 14 1948 when it was placed in storage. On April 18 1951 the aircraft was issued to 102 Fighter refresher school at North Luffenham, then in July to 103 Fighter refresher school. The aircraft went into storage with 33 MU at Lyneham in October 1951. It was declared non-effective on December 13 1954. The aircraft was subsequently borrowed for the movie "Reach for the Sky. It then spent time as a gate guard at RAF Rufforth (1955-59), RAF Church Fenton (1959-61), and RAF Dishforth (1961-63). Put up for disposal, the aircraft was successfully balloted for by the Canterbury Brevet Club. The aircraft was shipped to New Zealand, arriving at Lyttelton on June 28, 1963. After being displayed at the Canterbury A&P show, the aircraft was stored at RNZAF Wigram. On March 3 1964 the aircraft was mounted outside the Canterbury Brevet Club premises in Christchurch, where it remained until 1984, apart from two maintenance periods. In June 1968, this included replacing fabric control surfaces with aluminium. On March 5 1984 the Spitfire was removed in exchange for a fibreglass replica, moulded from the aircraft (the replica was placed on August 9th). Completely restored at RNZAF Woodbourne over an 18-month period in 1984-85, the aircraft is now displayed at the RNZAF Museum in the colours of a 485 (NZ) SQN aircraft coded OU-V circa May 1945. (illustrated below)
LF Mk.XVIe, TE330 (c/n CBAF-IX-4504) is currently under restoration at North Shore. The aircraft was taken on charge by the RAF on June 14 1945 at 9 MU Cosford. From February 1947 it served with 601 RAuxAF at Hendon. From March 1950 through to July 1957 it passed through a number of maintenance units (6, 9, 29, 20, 5 MU) apart from a spell with 2 Civilian Anti-Aircraft Cooperation Unit in 1954-55. The aircraft was declared non-effective on July 16 1957. Used as a gate guard at RAF West Malling, the aircraft was swapped for another by the Historic Flight and used for the Battle of Britain Flypast in September 1957. The Historic Flight acquired two further aircraft and TE330 was subsequently presented to the USAF academy in Colorado Springs in July 1958. In 1961 the aircraft was moved for display in the USAF Museum in Dayton, Ohio. In 1996 the aircraft was sold to Hong Kong based businessman James Slade, registered as N75460, and in 1997 shipped to Don Subritzky in New Zealand for restoration work. In a rationalisation, the aircraft was acquired by Don and his associates in 1999. (illustrated below).
LF Mk.XIVe, TE456 (c/n CBAF-IX-4590 or CBAF-23682) is on static display at the Auckland War Memorial Museum. Taken on charge by the RAF on August 8 1945, the aircraft initially went into storage at 6 MU at Brize Norton. It was issued to 501 RAuxAF Squadron at Filton in March 1946 (coded RAB-J), and then to 612 RAuxAF Squadron at Dyce in May 1949 (coded 8W-?). The aircraft was stored from July 1951 until August 1953, after which it served with 3 CAACU. During this time it also appeared in "Reach for the Sky". On July 5 1956 the aircraft went to 47 MU, and was grounded on July 20. In 1956 after representations by Sir Keith Park, the aircraft was presented by the Air Ministry in recognition of New Zealand service during World War II. It was struck off charge on August 30 and prepared for shipping, being despatched on September 30. The aircraft was then put on display in the Auckland War Memorial Museum wearing the post 1951 silver scheme and the code 43 from its time with 3 CAACU. In 1997 the aircraft was refurbished (along with the Museum's Mitsubishi A6M3) in readiness for moving to new display areas. Interestingly, the work on the aircraft was carried out in a public gallery. Having been displayed in natural metal, the restoration team found evidence of camouflage having been present from its time with 501 Squadron. The aircraft is now presented in the colours of 501 'County of Gloucester' Squadron marked RAB-J. (illustrated below)
No longer in New Zealand, Spitfire F Mk.Vc JG891/A58-178 was under restoration to flying condition by Don Subritzky for a number of years. Taken on charge by the RAF on January 2 1943 at 39 MU, the aircraft was passed to 215 MU before being despatched to Australia the following month. It arrived in Australia on April 13 and was then taken on charge by the RAAF as A58-178. The aircraft was received by 79 Squadron RAAF on May 7 1943, where it was coded UP-G. It crashed in a landing accident at Kiriwina in the Solomon Islands on Jan 11th, 1944. Damaged beyond repair it was utilised for parts. The aircraft was recovered by Monty Armstrong in 1973, and onsold to Don Subritsky in 1975. Don and his associates made progress on restoring the aircraft (ZK-MKV), but it was sold to Karel Bos in April 1999. The aircraft was shipped to Historic Flying Ltd at Audley End, UK in mid-July to become G-LFVC. Last reports indicate that after the company moved to Duxford the fuselage is in storage while the wings are being worked on. (illustrated below).
A further Mk.Vc was expected in New Zealand after restoration was completed for the AFC. This aircraft, AR614, has now been sold.
In addition, a further four Spitfire Survivors have a New Zealand connection, having served with 485(NZ) Squadron of the RAF. The four survivors are:
LF Mk.IXe MH350 (c/n CBAF-IX-490) was issued to 485(NZ) Squadron at Hornchurch on August 7 1943. Coded as OU-V. Also served with 64 and 332(Norwegian) Squadrons. Later passed to the RNoAF where it served with 331 Squadron. Final service flight was on November 15, 1951 after which the aircraft was stored. It was displayed briefly for the RNoAF 50th anniversary in May 1959, and subsequently began restoration in 1961. Displayed in Oslo for many years (coded ZB-A), the aircraft is now with the Norwegian Aviation Museum (Norsk Luftfartsmuseum) at Bodo coded FN-T.
LF Mk.IXc MJ143 (c/n CBAF-IX-907) was taken on charge by the RAF on October 16 1943 at 33 MU. Issued on October 26 to 485 Squadron. Also served with 66 Squadron and Air Service Training. Went to 39 MU on May 31, 1945. On June 17 1946 the aircraft was flown to the Netherlands where it served with the RNAF. It served with the Jacht Vlieg Fighter School in Twenthe as H-1, and 322 Squadron at Soesterberg as 3W-1. The aircraft was grounded in September 1953, and after being stripped of most equipment was stored from July 1954 in Gilze Rijen. In 1956 the derelict aircraft was chosen for a new museum at Schiphol (now the Aviodome) where it went on display in March 1960. The aircraft was moved to the Militaire Luchvaart Museum at Soesterberg, in June 1968. It has remained there apart from several short display excursions.
LF Mk.IXc MK732 (c/n CBAF-IX-1732) was taken on charge by the RAF on March 8 1944 at 39 MU. The aircraft was issued to 485(NZ) Squadron on April 25 and coded OU-Q. Damaged in an accident it spent time with 41 RSU, and major battle damage resulted in repairs at 1 CRU (Cowley) before returning to the squadron. The aircraft was put into storage by 39 MU in December 1944. In June 1948 it was passed to the RNAF where it initially went into storage again at Leeuwarden. From April 1951 it served as H-25 with the Jacht Vlieg Fighter school at Twente and (after repairs at Fokker) 322 Squadron (coded 3W-17) at Soesterberg. Retired in September 1953, the aircraft was struck off charge on June 4 1954 and moved to Eindhoven for use as a decoy. Illicitley acquired as a gate guard by 14 Squadron RAF, the aircraft was held at Oldenburg, Ahlhorn, and Gutersloh. It was moved to the UK by Belfast on June 27 1969, and stored at St.Athan and Bicester. In October 1974 it was passed to the BBMF for spares. The largely intact remains went back to the Netherlands in March 1984 and were subsequently stored at Gilze-Rijen from 1985. In 1990 the aircraft was acquired for restoration by what would become the Dutch Spitfire Flight. Final assembly took place in the UK where the first post-restoration flightwas made in Pete Kynsey's hands at Lydd on June 10, 1993. Registered as G-HVDM to DSG(Guernsey) Ltd, the aircraft was delivered to the Dutch Spitfire Flight on June 26. The aircraft appeared in the colours of 485(NZ) Squadron aircraft OU-U "Baby Bea V" for the 50th anniversary of D-day. Damaged in a landing accident on August 8 1995 at Rochester, the aircraft was returned to the air in November 1997. Today the aircraft is registered as PH-OUQ and based at Gilze Rijen where it operates in 322 Squadron RNAF colours coded 3W-17.
LF Mk.IXe ML407 (CBAF-8463) was taken on charge by the RAF at 33 MU Lynham on April 23 1944. Issued to 485(NZ) Squadron on April 30. Also served with 341, 308, 349, 345, and 332 Squadrons. It was placed in storage with 29 MU on September 27, 1945. On July 19 1950 the aircraft was passed to Vickers. Registered as G-15-175, it was rebuilt as one of six type 509 (T Mk.IX) two-seat trainers for the Irish Air Corp. The remodelled aircraft was first flown on July 24, 1951. Delivered on July 30, the aircraft was serialled '162'. The aircraft made its last service flight on July 8 1960, and became an instructional airframe. It was stored disassembled at Baldonnel from 1962 to 1968 when it was sold on March 4 to N.Samuelson for use in the movie "Battle of Britain" (although it did not appear). The aircraft was sold in 1970 to Sir William Roberts and moved to Shoreham, from where it moved several times before it became part of the Strathallan Collection. The aircraft remained in storage in a dissaembled state. It was acquired by Nick Grace for restoration on August 9 1979 and registered as G-LFIX on February 1 1980. The first post-restoration flight did not occur however until April 16 1985 at St.Merryn, Cornwall. Chris Horsley took a share in the aircraft and it was based at Middle Wallop and then Eastleigh. After Nick Grace's untimely death in a car accident in October 1988, his wife Carolyn has operated the aircraft (as the sole owner since 1989). Today the aircraft is based at Duxford where it flies in 485(NZ) Squadron colours as OU-V. (illustrated in special section at bottom of page)
Last Update:- 30 July, 2003

---
Technical Data
Data is for Mk.16
Accommodation : 1
Dimensions

Span, : 9.93m (32'7ft)
Length, : 9.53m (31'3ft)
Height, : 3.63 m (11'5ft)

Weight

empty, : 2,547kg (5,610lb)
max, : 3,405kg (7500lb)

Power Plant : 1315 hp RR Merlin 266 (Packard built Merlin 66)
Performance

max speed, : 656km/h (408mph)
max climb, : 2850ft/min (870m/min)
ceiling, : 40,000ft (m)
range, : 695km (434miles)
---
Images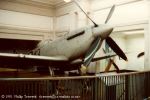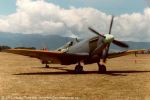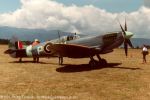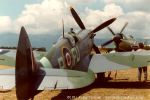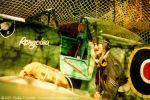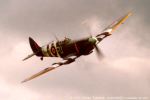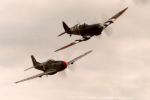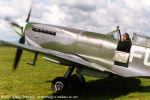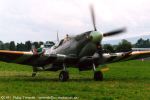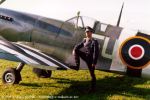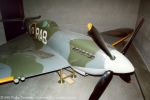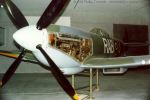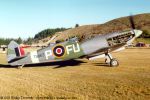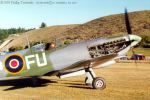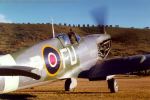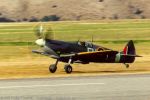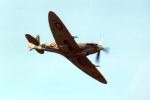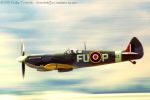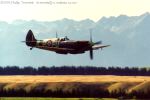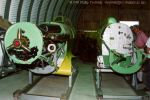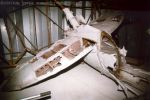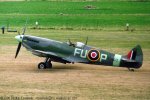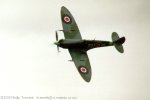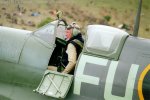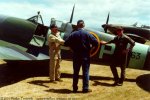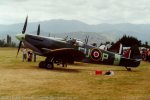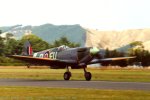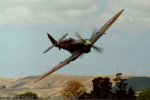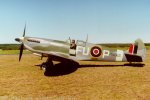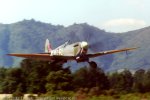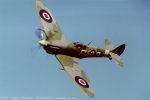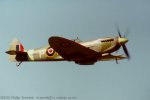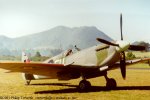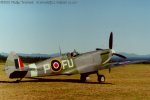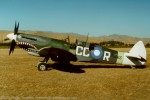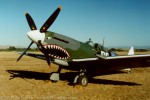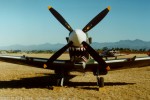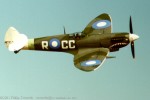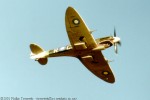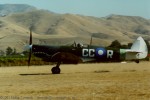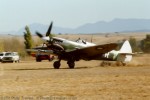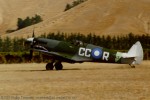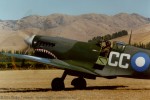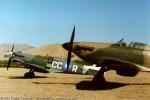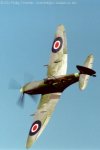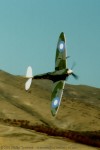 ---
Close Up
Remember to let me know if you have a request for an image of a particular part of the aircraft!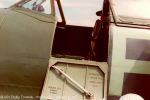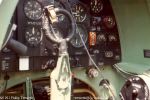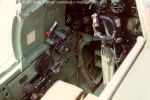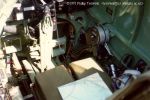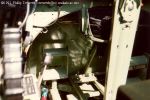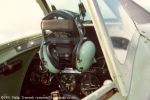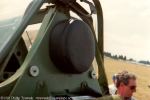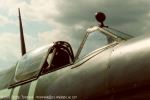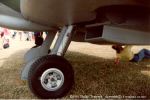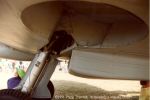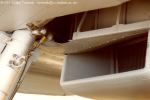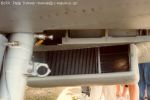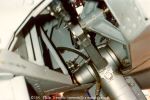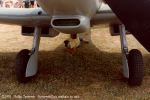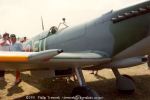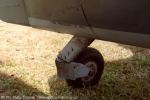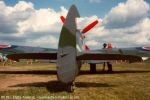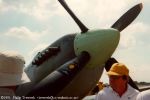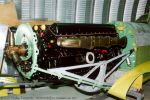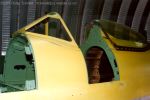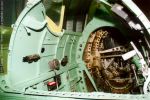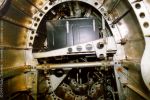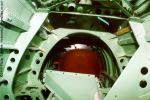 ---
Special feature: ML407
During a visit to the UK in October 2001 I had the opportunity to photograph former 485(NZ) Squadron ML407. Once the mount of Johnny Houlton, this aircraft is now operated by Caroline Grace. (More details above). This is a working aircraft, and it is parked in a working hanger - which means the aircraft is not 'displayed' in a way that necessarily suits photography, so some off my angles were restricted. However, because the aircraft was undergoing maintenance, I had an opportunity to see what is normally hidden under the cowlings. Aircraft photography can be like that! Special thanks to Olivia Grace for making the arrangements for me to access this aircraft.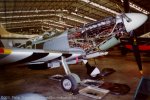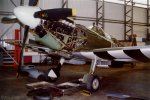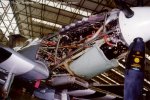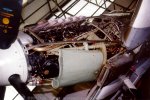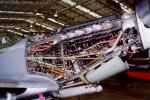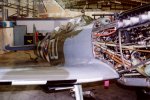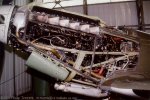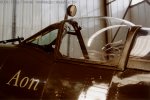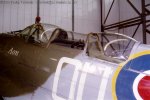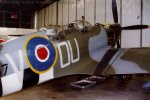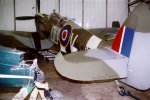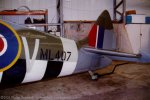 ---

&copy 1998-2003 Phillip Treweek, all rights reserved