Consolidated PBY5a Catalina
Background
Fifty-six Catalinas (NZ4001-NZ4056) operated with the RNZAF between 1943 and 1953. Provided under lend/lease arrangements these were a mix of non-amphibious Consolidated and Boeing built aircraft. The Catalinas operated with No's 5 and 6 SQNs and No3 OTU, based at Hobsonville and various points in the Pacific. They were engaged in anti-submarine, shipping escort, air-sea rescue and transport roles. Unlike many lend/lease aircraft, the Catalinas continued to be operated after World War II because they filled a vital role in South Pacific communications. Two aircraft were loaned to TEAL in the post-war period to survey a flying boat route (NZ4038/ ZK-AMI) and for crew training (NZ4035/ ZK-AMP). They were subsequently returned to the RNZAF (AMI being broken up for spares in 1948, and AMP being declared surplus in 1951 and sold for scrap). Fifteen aircraft were lost in service, and the remainder scrapped. No ex-RNZAF aircraft are known to exist. Note: the hull of NZ4055 remained in the Warkworth area as a houseboat for a number of years, however the ultimate fate of this is unknown.
Two Catalinas can be found in New Zealand:
The remains of Canadian-Vickers built Canso (CV592) which served as an OA-10A with the USAAF (44-34081) were imported into New Zealand from New Guinea by MoTaT in 1979. The aircraft, purchased by Macau Air Transport in 1948 was operated as VR-HDH on the Macau-Hong Kong route. Sold to Trans Australian Airlines in 1962, and refurbished at Bankstown, the aircraft was flown to Jackson Field as VH-SBV in October 1962. There the undercarriage was removed and faired over. The aircraft operated flying boat services around the New Guinea coast from Nov 5th 1962 until Jan 10th 1966 when rising costs and competition from land-based aircraft made the service uneconomic. After being offered for sale the aircraft was passed to a planned Air Museum, but lay derelict in the open where it was ravaged by vandals and trainee firefighters until its recovery by MoTaT staff. Now held by the RNZAF Museum, it is being restored to represent an RNZAF aircraft.
The aircraft illustrated below is operated by the Catalina Club of New Zealand . Efforts to bring an airworthy Catalina to New Zealand were begun by a syndicate in 1992, and ended with the unfortunate loss of the Boeing Canada built Canso N5404J during the ferry flight after an emergency landing near Christmas Island in the Pacific on January 14th, 1994. A second project with the syndicate reorganised as the Catalina club brought another aircraft to New Plymouth on October 26th, 1994
The new aircraft is a Canadian Vickers built Canso (c/n CV-357). It was delivered to the RCAF (serialled 11054) in March 1944, and operated on anti-submarine duties. Struck off on June 27th 1947, no records are available until it was converted to 28-5ACF status by SALA in Costa Rica in 1955. The aircraft returned to Canada after being sold in July 1956, where it was operated by the Eastern Canada Stevedoring Co and a number of other companies (including Austin Airways of Ontario - Canada's oldest airline. As CF-JVC (and later C-FJVC), it was used to transport people and materials in northern Canada. The aircraft passed through various owners, until arriving in Reno, Nd. in 1986, where it was subsequently purchased by Pierre Jaunet in 1988. Jaunet operated the aircraft in Africa as Z-CAT, where the aircraft transported up to 16 passengers (+ 4 crew) between Egypt and Zimbabwe with 'The African Safari Company'. The aircraft was hired by the Peter Stuyvesant organisation in 1993 to fly an 'Odyssey' across the Atlantic and back. The aircraft currently has over 14000hrs on the airframe.
Sold to the Catalina Club of New Zealand in 1994, Z-CAT made the 20,000km flight to New Zealand in approximately 87 hours over 14 days to become ZK-PBY (registered to The Catalina Co. NZ ltd 23 March, 1995. Painted in the blue and red 'Peter Stuyvesant' plumage when it arrived, the aircraft has been repainted in a wartime scheme to represent NZ4017 XX-T of No6 SQN RNZAF. The Catalina Club displays the aircraft at aviation events around New Zealand - apart from a couple of 'special' occasions, the aircraft does not make sea landings, although it has graced a number of lakes around New Zealand. The Catalina Group also makes visits to various NZ airfields allowing many people to see and fly in this historic aircraft.
A fuselage has been imported by The Catalina Club to provide spares for ZK-PBY. The incomplete PBY-5A fuselage sectionwas purchased at auction at Moses Lake (Washington State) in 2000. The hulk is basically complete to just behind the blisters, and includes the main undercarriage. I will add details on the identity as they come to hand.
For more on the 'Cat', see the virtual tour of PBY's interior, an account of a flight in PBY, and pictures of PBY on the water' at Wanaka. More information on the Catalina's operation can be found here.
Last Text Update:- 21 May, 2001
Last Picture Update:- 28 March, 2003

---
Technical Data
Accommodation 3 crew plus 14 passengers (2 seats removed after arrival in NZ)
Dimensions

Span : 31.72m (104ft)
Length : 19.52m (63'10ft)
Height : 5.65m (18'10ft)

Weight

empty : 7,974kg (17564lb)
max : 12,727kg (28,000lb)

Power Plant : 2x 1200hp P&W R-1830-92
Performance

max speed : 314km/h (196mph)
max climb : 1100ft/min (340m/min)
ceiling : 15,800ft (5550m)
range : 4030km (2520miles)
---
Other Features
---
Images
When PBY arrived in New Zealand in 1995, it still wore the blue and red 'Peter Stuyvesant' plumage from an earlier advertising expedition. The Catalina Group planned from the start to replce this with a wartime scheme to represent NZ4017 XX-T of No6 SQN RNZAF. The first step toward this occured in early 1998 at Whenuapai when the three-tone scheme was applied. At the 1998 Warbirds over Wanaka airshow the aircraft carried red Soviet stars as part of the airshow's Russian theme. Later in 1998, the stars and other lettering were removed and replaced with RNZAF roundels and serials. The addition of squadron codes in 1999 completed the transformation. The section below is split into two - first images of PBY in red and blue paint scheme, and then images in the military scheme.
Civilian Markings
Military Markings
---
Close Up
Remember to let me know if you have a request for an image of a particular part of the aircraft! Don't forget to check out the virtual tour of PBY's interior.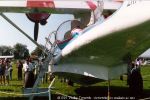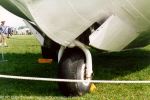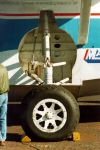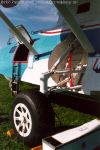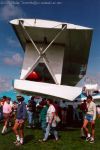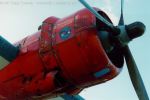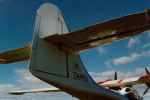 ---

&copy 1997-2003 Phillip Treweek, all rights reserved