Mignet "Pou-de-Ciel' Flying Flea
Background
The Fying Flea has a somewhat unfortunate reputation - conceived as a cheap homebuilt allowing widespread access to aviation in 1933, its flying characteristics were such that it was unsafe except in the hands of experienced pilots. Flea fever caught on in New Zealand by 1935, when a 'Pou de Ceil' league was formed in Wellington. 'The History of New Zealand Aviation' records that construction began on as many as twelve fleas in New Zealand. Three were registered, using the 'ZM' prefix, but the aircraft were not given certificates of airworthiness. Operation was restricted to licensed pilots within 4.8km of a licensed airfield. Several non-registered aircraft are believed to have flown near Christchurch and New Plymouth. Only one death resulted from a Flea crash (pilot-owner K.Cox near Timaru in 1942), but overseas incidents, and the French-ban in 1936 resulted in official disapproval of the aircraft
Two New Zealand built fleas survive:
ZM-AAA Built at Waipukarau, there is no record of this aircraft having flown - it is on display today (illustrated below) at the Museum of Transport and Technology.
ZM-AAC. Built at Oamaru, this aircraft was flown succesfully - today it is in store with G.Rhodes at Wanaka.
In addition the fuselage of E.R. Brewster's unregistered Flea (illustrated below) is held by the Taranaki Aviation Transport and Technology Museum.
A 'Flea Enthusiasts' page can be found here.
Last Update:- 23 September, 1998

---
Technical Data
Data is for the HM-14
Accommodation : 1
Dimensions

Span : 6.0m(19'8ft)
Length : 5.1m (16'9ft)
Height : 1.6m (5'1ft)

Weight

empty : 143kg (315lb)
max : 243kg (535lb)

Power Plant : varied
Performance :

max speed : 130km/h (81mph)
max climb : 300ft/min (92m/min)
ceiling : ft (m)
range : 450km (281miles) -26litre tank
Thanks to Rodolphe and Ulrich for the further info. Can anyone supply me with any other technical specificationsfor this aircraft type?
---
Images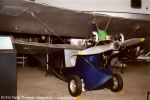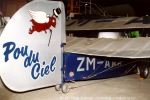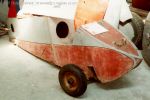 ---

&copy 1997-98 Phillip Treweek, all rights reserved