Airfield Scenes
Rukuhia
My local airfield - now more commonly known as Hamilton Airport. As well as airline activity, the airport is home to the Waikato Aero Club, Pacific Aerospace (builders of the CT-4B, Fu24 and Cresco agricultural aircraft, and contracters to Boeing), a number of aviation-related industrial companys, and there are also a few vintage aircraft to be found
18 Feb 1989 P51D ZK-TAF
My first look at a real Mustang. I'd been looking at an unmade model the night before and thinking that at the next airshow I must get some reference photos - the next morning I was scrubbing the shower when I heard a noise that I just knew had to be a Merlin. I ran outside to see a silver streak disappearing over the horizon - all I could think was 'Come back you bastard...' - and then it did come back. An unforgettable moment. So I grabbed Louise (my partner) and headed for the airport. A whole roll of film later - this is part of the result. The Mustang was actually enroute to Napier - but what a coincidence - what a moment!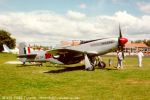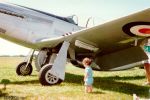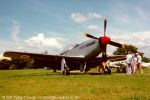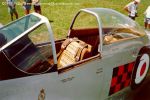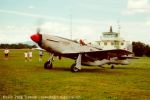 1990 75 SQDN RNZAF (A4K Skyhawk)
A visit by 75 SQN on exercise was my first chance to get an up close look at the A4K's in their new livery. Soon after arriving at the airport the crowd were allowed past the control lines to get a good look at the aircraft. A great opportunity to get some reference photos, but unfortunately it didn't last long as some idiot started playing with things he shouldn't have, and the crowd was asked to move back again.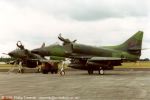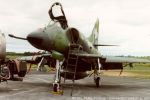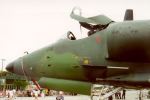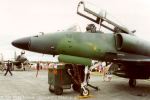 1992 DC-3 ZK-DAK
This lovely old lady of the skies had an unfortunate accident while being towed on the ground. I firmly believe that planes are like people - you shouldn't be able to see their insides (at least those parts that should be covered).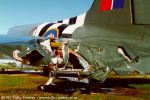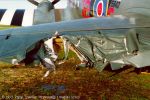 1997 Piper L-4B ZK-ATU
My first visit to Hamilton airport in quite some time - apart from airshows, and with the intention of taking photographs. At the invitation of Bryan Bell-Syer, I had a look at his Grasshopper.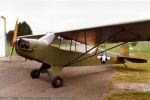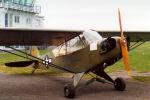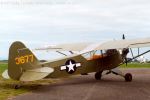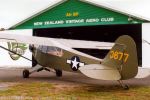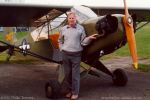 September 27th, 1998 I went out to the airport to photograph the Catalina (photos still to come) - they were doing crew training. While I was there, I got some photos of Waikato Aero Club CFI John Parker's Yak-52 which is normally based in Thames.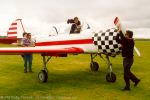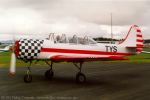 ---

&copy 1996-99 Phillip Treweek, all rights reserved