Airfield Scenes
Cook Islands: Rarotonga International Airport - and the Aitutaki Airstrip
While not strictly a New Zealand scene, as part of the Cook Islands, Rarotonga has many links to New Zealand. The former New Zealand protectorate (independant since 1965) is home to many ex-patriot New Zealanders, just as New Zealand is home to many Cook Islanders. The airport, as shown below, is serviced by Air New Zealand (amongst others), and the local aircraft are on the New Zealand Register.
Situated to the west of the main township of Avarua, the airport dates back to WWII when US marines built the original airstrip. The current international airport, capable of operated aircraft the size of 747's was opened by Queen Elizabeth II in 1975. Aitutaki is a member of the Cook Islands, and is a coral atoll 160km Northwest of Rarotonga. The airfield (used by Air Rarotonga), is actually two airstrips built of crushed coral by the US marines in 1942. I found this strip very interesting, giving as it does, a look at a WWII period airfield.
The following images were made on October, 1996 - while I was on holiday in the Cook Islands.

9 October, 1996 We opted to take the day trip to Aitutaki - which is well worth it. The atoll fits the stereotype of the 'South Pacific Paradise', and I got to fly too - we sat one row back from the cockpit on the way out - cool! These images show the Air Rarotonga Bandeirantes on the ground at Rarotonga, prior to our departure from Aitutaki, and then back on the ground at Rarotonga. The last image manages to combine my love of sunsets with my love of aircraft - although we did think we wouldn't get on the ground in time to get the photo!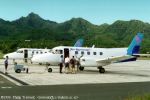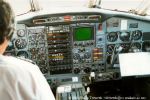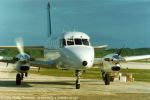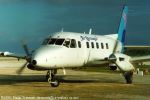 10 October, 1996 One of the local pastimes seems to be to go and watch the international flights come and go - there aren't many each week. While travelling at various times (mostly at night) we were surprised to see groups (often quite large) sitting on the seawall at the western end of the runway. There's only a couple of hundred metres from the end of the runway to the seawall, and in the intervening space is a road, a small earth bank and a security fence - so the view is quite good. We went down at 6.40 am to watch the only daytime movements during our stay (we had flown in for a 9.45pm arrival, and had a 2.00am departure). We were back for the 8.30am departure. Unfortunately, I think this day was the only westerly wind during our time there - but I'm happy with my images of the 'Jumbo' taxying.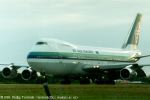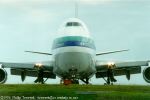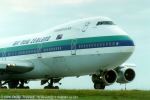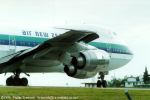 ---

&copy 1996 Phillip Treweek, all rights reserved