Beriev A-40 Albatross
Background
This product of the G.M.Beriev Taganrog Aviation Scientific-Engineering Complex was first revealed to the West by US reconnaisance photos in 1988 (and designated 'Mermaid by NATO). The amphibious A-40 aircraft was officially displayed at the Tushino airshow in August 1989. The design was developed with a view to accessing remote areas in the east of the Soviet Union, transporting replacement maritime crews, anti-submarine operations, and SAR work.
The aircraft illustrated below '378' is the second prototype, and was constructed in 1989. This aircraft visited Singapore, Australia, and New Zealand in 1992 for displays at a variety of airshows. This was the aircraft's first journey to the Southern hemisphere. While in New Zealand it landed on the Waitemata harbour (Auckland), the first large flying boat to do so since the 1960's, the first water landing for the aircraft outside of Russia.
Thanks to C.K.Siu for the data below - if anyone can assist with further data, I would be most grateful.
Last Update:- 3 August, 1998

---
Technical Data
Accommodation :
Dimensions

Span : 41.62m (153.5ft)
Length : 43.8m (143.8ft)
Height : 11.0m (36.3ft)

Weight

empty : kg (lb)
max : 86,000kg (189595lb)

Power Plant : 2x 12025kgp (26,455lb static thrust) PERM Soliev D-30KPV turbofans
Performance :

max speed : 760km/h (472mph)
max climb : ft/min (m/min)
ceiling : ft (m)
range : 4100km (2547miles)
---
Images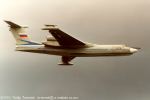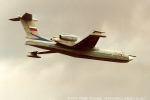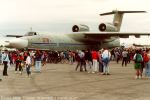 ---

&copy 1997-98 Phillip Treweek, all rights reserved