BAC 167 Strikemaster Mk.88
Background
The Strikemaster has a lengthy development path, being a development of the Jet Provost, which is in turn a development of the Percival (later Hunting) Provost. The P.56 Provost prototype, powered by an Armstrong Siddeley Cheetah XVIII engine first flew in 1950. The type was accepted by the RAF as a basic trainer, entering service in 1953. By this stage thought was being given to an all through jet trainer and Percival looked to replace the Alvis Leonides 126 radial powerplant of the Provost with a turbojet. The new design retained the wing and tail structures of the original Provost, but mounted the Bristol Siddeley (later Rolls Royce) Viper powerplant in a new fuselage and added a tricycle undercarriage. Although developed as a private venture, Percival succeeded in gaining an RAF order for 10 of the aircraft. By the time the first aircraft flew on June 16, 1954, Percival had been taken over by Hunting. The P.84 aircraft was therefore designated the Hunting Jet Provost T.Mk.1. After trials, the RAF accepted the Jet Provost as a basic trainer in 1955. It became the standard basic trainer for three decades, being phased out in favour of the Shorts Tucano from 1989. Production amounted to 386 aircraft, and many were refurbished for export. In the meantime Hunting created the H.145 as another private venture. This was redesignated the BAC.145 when Hunting was absorbed into British Aerospace. The new version Jet Provost T.Mk.5 featured a longer nose for avionics, a pressurised cockpit, and strengthened wings to carry more weapons and fuel. The prototype was flown on February 28, 1967, and 110 were produced. An armed version was produced for the export market, and the BAC.167 extended this concept. The prototype (G-127-8) was first flown on October 27, 1967. Powered by the uprated RR Viper 535 the wing was redesigned for up to 8 hardpoints carrying 1361kg (3000lb) of stores, and the aircraft featured improved brakes, and armour. The aircraft was seen as a viable light attack aircraft (particularly in the COIN role, while the side-by-side seating suited a training role. Named Strikemaster for the export market, aircraft were sold to Saudi Arabia (Mk.80 /Mk.80A), South Yemen (Mk.81), Oman (Mk.82 /Mk.82A), Kuwait (Mk 83), Singapore (Mk.84), Kenya (Mk.87), New Zealand (Mk.88), Ecuador (Mk.89 / Mk.89A), and Sudan (Mk.90). Production was in the order of 150 aircraft (there seems some conflict on actual numbers in the standard references). Most aircraft were built at Warton. The final 10 aircraft were assembled at Hurn in 1981 in anticipation of further orders. These appear to have gone to Ecuador and Sudan around 1984-87. Further aircraft have been remanufactured such as the ex Kuwaiti Mk.83s and Kenyan Mk.87s which went to Botswana. The aircraft has seen combat during conflicts in the Middle East and South America.
The Strikemaster Mk.88 was ordered by the RNZAF in 1970 as a Vampire replacement. The first 10 of the 16 aircraft (NZ6361-6376) arrived from October 1972, with the remainder in 1975. The first aircraft to operate in New Zealand was NZ6361, which was flown by F/L G.R. Lloyd and S/L J.S. Hosie on October 28, 1972, three weeks prior to the official handover. Two of the aircraft (NZ6364 and NZ6365) were shown at Farnborough prior to delivery. Aircraft from the second batch were also displayed at Paris. The Strikemasters were used in a trainer/strike conversion role and assigned to 14 Squadron based at Ohakea. Initial training was completed on the Harvard at Wigram before pilots moved up to the Strikemaster for jet conversion. The aircraft was fitted with a full instrument layout to facilitate easy conversion to the A-4K. From 1976 the Airtrainer was introduced for initial training, with the Harvard being retired in 1977. At the same time an advanced training phase and strike conversion was introduced on the Strikemaster (the second batch of Mk.88's having been procured in 1975 to provide for this). The aircraft were periodically seen around the country when deployed to a variety of provincial airports on 'Falcons Roost' exercises.
The use of the 'Blunty' was reduced after 1981 when increased cracking of tail fins and the main wing structures became apparent - a problem attributed to the heavy utilization of the aircraft and the high level of turbulence in their operating environment. By August 1985 all but four aircraft were found to have cracks in the lower spar boom and the aircraft were grounded temporarily for repair. In March 1986, Bae reduced the fatigue life of the wings by 30%. As a more long term solution, six aircraft were rewinged (NZ6369 being the first in 1986), but this was considered uneconomic for the entire fleet. Manouvere limitations were applied to the other seven aircraft and strain gauges fitted to monitor the fatigue. More groundings due to fatigue occurred in 1988. This had serious ramifications for the pilot training programme and the intake was reduced for 1989. A replacement study was initiated and the Aermacchi MB339-CB was ordered in 1990 after the tender process had been extended by a year - so action was taken to extend the Strikemaster service life. By this time one Strikemaster had been retired on fatigue grounds (NZ6365), and maintenance problems meant only half the fleet was active at any time. The first MB339-CB arrived in 1991, with the first three handed over on April 19th. Further groups of three aircraft arrived at six month intervals. In July the Strikemasters were again temporarily grounded when cracks were found in a new wing location. Another aircraft was retired on fatigue grounds later in the year (NZ6375). One more was retired to become an intructional airframe before the type was phased out. An official farewell flight of three Strikemaster aircraft was made from Ohakea on December 17, 1992. The aircraft were NZ6370 flown by S/L B. Keightley (Sqn CO) and G/C R. Bulger (Base Cmdr), NZ6361 flown by S/L M. Longstaff (an RAF exchange pilot) and W/C I. Wood, and NZ6363 flown by F/L G.Dobson and F/L Wilton. The first all MB339-CB course was held in February 1993.
Three aircraft were lost in service, with the MB Mk(NZ)PB4 proving its worth on two occasions. NZ6367 (c/n 307, ex G27-203) was lost on July 3rd, 1985 in the Waiau valley of North Canterbury from cable strike. P/O P. Lindsay managed to eject less than a second before impact. The Strikemaster fleet had completed almost 45,000 operational hours before this incident. NZ6368 (c/n 308, ex G27-204) was lost after control problems at Kaitawa, south-east of Pahiatua in October on October 27th,1992. The aircraft was being test flown after the ailerons had been re-rigged. F/L S.L. Singleton-Turner (an RAAF exchange instructor) received minor injuries when he ejected at 9700' after being unable to recover from a spin from 20,000'. A further aircraft, NZ6369 (c/n 309, ex G27-205) was lost in a fatal accident on November 20, 1991 near Taupo. The aircraft was engaged in a low level navigation sortie during a Falcons Roost exercise based at Tauranga. The crash investigation found that a probable visual illusion led F/L. Craig Tanner to descend below the planned 250ft flight level and the aircraft struck the tops of a group of trees which visually merged into the surrounding younger growth.
The RNZAF has retained two aircraft in its museum holdings (one being on display at Ohakea), and a number as instructional airframes (illustrated below). In a departure from previous practice, the aircraft were not issues 'INST' numbers. Rather they are designated as instructional airframes by the addition of a 'G' to their service serial. These aircraft are:
NZ6365/G (c/n 305, ex G27-201, G-AZYN) at Ground Training Wing, Woodbourne (last flown Sep 3, 1990)
NZ6366/G (c/n 306, ex G27-202) at Ground Training Wing, Woodbourne (last flown Apr 4, 1993)
NZ6373/G (c/n 343, ex G27-242) at RNZAF Museum, Wigram
NZ6374/G (c/n 344, ex G27-243) at RNZAF Museum, Ohakea
NZ6375/G (c/n 345, ex G27-244) at Ground Training Wing, Woodbourne (last flown July 18, 1991)
NZ6376/G (c/n 346, ex G27-245) at Ground Training Wing, Woodbourne (last flown Apr 5. 1993)
As part of the Aermacchi deal, a number of aircraft were 'traded'. These were advertised for sale by tender in March 1993 by Aermacchi agents Nicoll-Cooke Associates of Melbourne. These were NZ6361, NZ6362, NZ6364, NZ6370, NZ6371, and NZ6372. These aircraft are now in private ownership, although none is currently operated in New Zealand. The current locations of the aircraft (as best I can ascertain) are:
NZ6361 (c/n 301, ex G27-197) registered as VH-ZEP and last reported at Essendon in Melbourne Vic, Australia.
NZ6362 (c/n 302, ex G27-198) registered as VH-AGI (Sep 9, 1993) and last reported in Western Australia.
NZ6364 (c/n 304, ex G27-200, G-AZXK) in the USA as N6364Z, owned by Falcon Helicopters, Lees Summit, Missouri.
NZ6370 (c/n 310, ex G27-206) ) registered as VH-RBA (Dec 22, 1995) and last reported in Coolangatta, Qld, Australia.
NZ6371 (c/n 341, ex G27-240) ) registered as VH-ONP (Dec 20, 1995) and last reported at Bankstown in Sydney NSW, Australia.
NZ6372 (c/n 342, ex G27-241) ) registered as VH-LLD (Nov 22, 1994) and although registered to a Queensland owner was last reported at Bendigo in New South Wales, Australia.
I am currently unaware of the fate of aircraft NZ6363. I would appreciate any information on this aircraft.
A further Strikemaster is operated in the UK in the colours of NZ6361, but this aircraft is not a former RNZAF aircraft. It is actually G-BXFP (c/n 296 ex G-27-192), formerly OJ-5. Originally operated by the Kenyan Air Force as '602',and then with the Botswana Defence Forces as OJ5, it is now in private hands. Along with the former Botswanan and RNZAF Strikemasters, a number of ex-Singapore aircraft are also in private hands.
Last Update:- 15 June, 2000

---
Technical Data
Accommodation :
Dimensions

Span : 10.77m (36'11ft)
Length : 11.25m (33'9ft)
Height : 3.1m (10'2ft)

Weight

empty : 2,844kg (6,270lb)
max : 5,215kg (11,500lb)

Power Plant : 1,547 kgp (3,410 lb st) Rolls Royce Viper 535
Performance :

max speed : 760km/h (472mph)
max climb : 5,300ft/min (26m/sec)
ceiling : 34,500ft (10,500m)
range : 2,700km (1,675miles)
---
Images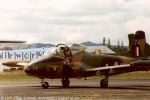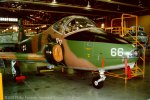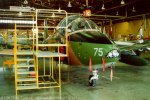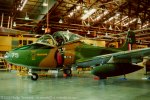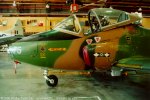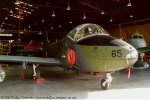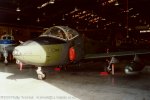 Close Up
Remember to let me know if you have a request for an image of a particular part of the aircraft!
The pictures shown below (and the bulk of the images above) were taken at RNZAF Woodbourne on April 19, 2000. The four aircraft shown are now instructional airframes at the Ground Training Wing. Two of the aircraft (NZ6366 and NZ6375) appear in the original two-tone green and brown (SEA style Tan FS30219/ Green FS34102/ Dk.Green FS34079 with Grey FS36622 underside) camouflage. NZ6365 has been 'modified' by the Safety and Surface trainees - having been stripped down and repainted in an MB339-CB style camouflage (Green FS34102/ Dk.Green FS34079/ Grey FS36081). The markings follow the original pattern and the underside is all grey. Stencilling is now low-viz (apart from the squadron marking), but in the original positions. This would make an 'unusual' model option. NZ6376 has been given a 'half and half' treatment with the port side in the original markings, and the starboard side modified as per NZ6365.
My thanks to the Base Warrant Officer for giving me permission to photograph the aircraft and to Sergeants Deane Baunton and Tony Oudshoorn for showing me around. Deane has also been very gracious in supply many details in response to my numerous questions. Thanks!
---

&copy 1996-2000 Phillip Treweek, all rights reserved