Bristol 170 Freighter Mk.31
Background
Originating in 1944, the Bristol Type 170 was intended for military use, being designed as a utility transport capable of airlifting the standard British Army 3-ton truck. However, it arrived a little late for WWII, and instead became Bristol's first post-war production model. Two prototypes were ordered by the British Ministry of Supply, with the proviso that Bristol build two more. The result was several variants, the cargo Mk.1 Freighter with clamshell nose-doors and the solid nosed passenger Mk.II Wayfarer. The first of two Mk.1 Freighter prototypes (c/n 12730 G-AGPV) was flown on December 2, 1945. Interestingly this aircraft was basically a shell and did not have nose doors. The first of the Mk.II prototypes (c/n 12731 G-AGVB) followed on April 30, 1946.
The Mk1A was a mixed traffic version, while the Mk.IB, Mk.IC, and Mk.ID were built for specific customers (BEA and BSAA). Mk.II variants were the IIA with pantry, the Mk.IIB built for BEA, and Mk.IIC with seating forward of the spar and a baggage hold behind. Service trials resulted in the production of the Mk.21 with an increase to the wingspan of 3.05m (10 feet) and a change from the 1,690 hp Hercules 630 engine to the Hercules 634. Structural failure of the fin had occured to two Mk.21s during single engine climb (in 1949 over the English Channel and in 1950 at Llandow) and this lead to a redesign. The Mk.21E was a convertible cargo/passenger with some heating and soundproofing. Further development lead to the Mk.31 again with engines uprated to the 1,980 hp Hercules 734 and a dorsal fillet. This was also produced as the Mk.31E in similar configuration to the Mk.21E, and the Mk.31M a military version which was set up for supply dropping. Final variant was the Mk.32 with a fuselage stretch of 1,52m (5 feet) giving a distinctive 'droop' nose. Built for Silver City Airways this allowed for up to three cars and 21 passengers to be carried on their English Channel 'airbridge' service. Conversion of the Mk.32 to a 'Super-Wayfarer' version was capable of carrying 60 passengers. Plans to develop the type 179 with a twin boom configuration and the Type 216 powered by RR Dart turboprops did not proceed.
The B170 was versatile and popular - capable of carrying a 6,135kg (13,500lb) payload, up to 20 passengers, or three cars. Production amounted to 214 aircraft in the various versions being built between 1945 and 1958 either at Filton or Weston-Super-Mare. The aircraft were utilised by several airforces including the RAF (19), Argentina (14), Australia (4), Canada (6), and Pakistan (38), as well as commercial operators around the world.
The first B.170 to fly New Zealand skies was Mk.IA G-AIMC (c/n 12793) which visited Australasia as a demonstrator in 1947. The aircraft had featured in regular Bristol advertisments in local aviation magazine 'Whites Aviation' since May 1946 and was eagerly anticipated. The aircraft arrived at Whenuapai on June 23rd and went on to visit ten airfields (including Rotorua, Wellington, New Plymouth, Christchurch and Dunedin) before departing for Australia (via Norfolk Island) on August 9. During its visit it was loaned to New Zealand Railways dept (who had an interest in establishing an air transport network) for trials and made the first B170 freight flight across Cook Strait (Paraparaumu - Woodbourne) on July 29. (The last commercial B.170 freight flight across Cook Strait was on September 30 1986). Over the course of seven and a half hours 21 tons of freight and 192 passengers were carried, with an average turn around time of ten minutes. The demonstrations were succesful because New Zealand has been more long term homes for Bristol Freighter operations (only Canada has operated them for longer). The attraction can be seen in the 6,135kg (13,500lb) payload, as compared to the 3,270kg (7,200lb) carried by DC-3s then in service. Curiously the first attempt to import the type by Fred 'Popeye' Lucas was unsuccessful as the Government refused a license. But between 1951 and 1987 twenty-eight aircraft and two rebuilds have been operated in New Zealand. These have been in two main fleets - the RNZAF (1951-1977) and SAFE Air (formerly Cook Strait Freight Express 1951-1986), as well as the short lived Hercules Airlines in the mid-1980's. A summary of the individual aircraft can be found here .
( Military Operator - Civil Operators - NZ Survivors - Fates - NZ Aircraft Details - Other Survivors )
---
NZ Military Use
The RNZAF operated 12 of these aircraft (NZ5901-5912) in the period between 1951 and 1977. The aircraft were operated by 41 SQN, 3 SQN, 1 SQN and the Transport Support Unit in a transport role. NZ5902 was the first aircraft taken on charge in December 1951. Initially the aircraft were operated by 41 Squadron who used the aircraft as a replacement for the C-47. Initially 41 Squadron used the the Freighter for medium range transport and this was joined by the Handley-Page Hastings for long range work. In December 1954 the Hastings were transferred to a reactivated 40 Squadron and 41 Squadron become a purely Freighter operator for many years. In 1954 New Zealand entered the SEATO organisation, and in May 1955 41 Squadron was moved to Singapore where it constituted part of the Commonwealth strategic reserve under the FEAF (Far East Air Force) headquarters. Initially all four aircraft were based in Singapore, but from 1955 till October 1960 one aircraft was detached to Kuala Lumpur to work with the British Air Supply Force. 41 Squadron aircraft operated as far afield as Pakistan to the west, Japan to the north, and the Cook Islands to the east. In May 1962 SEATO reacted to communist threats to the Thai border and 41 Squadron was assigned to Operation Scorpion. The squadron was based at Korat under the operational control of the Commander Task Force 116. The aircraft remained there until December when they returned to Singapore, and then were involved in operations in Borneo. On January 18,1963 a two aircraft detachment were returned to Korat. Operations from Korat continued under the auspices of SLAT (Special Logistics Aid to Thailand) until February 20, 1965.
From May 1965 the RNZAF had a second Freighter unit. The new 3 Squadron (Battlefield Support) were a composite squadron using Sioux and Iroquois in addition to Freighters for support. Notable activities included carring luggage for several overseas dignitories on NZ tours (including Lyndon Johnson), and initiating the Chatham Island run with a trial flight on May 3rd, 1967 with service starting two days later. This task was passed to SAFE Air Ltd on January 20, 1968. As part of financial belt-tightening, three Freighter aircraft were put into storage at the end of March 1971, returning to service in November 1972. 3 Squadron continued to use Freighters until August 1, 1972 when the tactical transport flight Freighters were passed to a reactivated 1 Squadron. Normal complement was four aircraft for predominantly New Zealand operations. The aircraft did venture overseas from time to time on missions as varied as delivering milking equipment to Samoa, hurricane relief work in Fiji, making Christmas supply drops to Raoul Island, exercises with the RAAF in Australia, and aircraft changeovers to and from Singapore. A number of the more unusual NZ flights involved working with the Police - including aerial photography over Muriwai for a murder case and delivering prisoners from as far afield as the Chatham Islands. The aircraft are best remembered by the NZ public for their work carrying passengers and vehicles across Cook Strait when ferry services were stopped by industrial action.
Meanwhile 41 Squadron were active in Malaya and were deployed to Borneo in September 1965. Although not a combat aircraft, NZ5906 collected some bullet holes on October 13, 1965 when it accidently overflew the Indonesian border during a supply mission. Between 1968 and 1971 41 Squadron also flew weekly supply missions in support of New Zealand units in South Vietnam. (40 Squadron C-130Hs flew a monthly schedule). The New Zealand B.170 aircraft reportedly reputedly received more than it's share of insults while on the ground at various US bases (such as 'is that the aircraft or the packing case it comes in). Admittedly the aircraft was popularly known as the 'Ug' or 'Ugly'.After 1971 the support flights continued, but were at less frequent intervals up to the fall of Saigon. From April 4, 1975 two aircraft (NZ5903 and NZ5907) were active from Saigon's Tan Son Nhut airport delivering relief supplies (mainly to An Thoi Island) and flying out refugees. NZ5903 was withdrawn on April 14, although it returned to Saigon for one last flight on April 20, captained by F/L D. Monti. (F/L Monti had flown the last B170 flight out of Pnom Phen on Nov 22, 1973). The other aircraft, NZ5907 captained by F/L D.Carter, was one of the last military aircraft out of Saigon on April 21, 1975 carrying the remainder of the RNZAF detachment, the NZ Ambassador and Embassy staff, and refugees. Changes during the early 1970s had seen 41 Squadron come under an ANZUK force structure in Singapore, and a base shift from Changi to Tengah (September 1971). 41 Squadron had also become a composite squadron with the addtion of an Iroquois flight (in 1972 Squadron strength was 3 Freighters and four Iroquois). From 1974 the ANZUK structure was rundown, and at the end of that year 41 Squadron reverted to NZ control. (The ANZUK Force headquarters was disbanded in January 1975). As the need for fixed wing transport in Singapore lessened and the service life of the Bristol Freighters came to an end, 41 Squadron was withdrawn from Singapore. The Squadron had its final Singapore parade on December 6, 1977, and the Squadron Standard was laid up in Auckland on December 15. A helicopter unit, the RNZAF Support Unit Singapore (SUS), remained.
Although under consideration since 1966 (the White Paper had recommended replacement by 1970), announcement of the end for the Bristol Freighters came in June 1976. Replacement came in the form of ten HS.748MF Andover purchased second hand from the RAF. Four of the Andovers were allocated to 42 Squadron for VIP transport and six to 1 Squadron for general work. NZ5904 and NZ5909 were retired as the Andovers came on strength in early 1977. The final four aircraft were NZ5902, NZ5903, NZ5906, and NZ5907. The last scheduled RNZAF B.170 flight was carried out by NZ5903 of 1 Squadron on May 20 1977. The final operational aircraft (NZ5910, NZ5911, and NZ5912) from 41 Squadron returned to NZ via Australia on December 14, 1977. During service two aircraft were written off in accidents. NZ5908 (c/n 13061 ex G-18-115) was lost in an accident on May 27 1953. The aircraft had departed from Woodbourne and apparently drifted after entering cloud before colliding with high ground approximately 7 miles south east of Woodbourne. All five aboard were killed, including the CO of RNZAF Whenuapai. NZ5901 (c/n 12832 ex G-AINR, G-18-98) crashed in Cameron Highlands of Malaya on December 10, 1956. While on a mission from Changi to supply drop to Malaysian forces, the aircraft mistakenly entered the Sekam river valley in poor visibility where it crashed and burned. Killed were 41 Sqn CO S/L A.S. Tie and his two flight crew along with two Malayan Film Unit camera crew and three dispatchers from 55 Cpy RASC. A fourth dispatcher walked out of the jungle. NZ5905 was passed to Safe Air in 1954, becoming ZK-BEO. NZ5903 was passed to the RNZAF Museum. The remaining eight of the final nine aircraft were sold in 1978. Four (NZ5906, NZ5907, NZ5910, and NZ5912) were put into civil use. Their fates are listed below. Of the remainder, NZ5902, NZ5904, and NZ5909 were scrapped, although the fuselage of '04' is reported at Awhitu, and a substantial part of '09' is still at Ardmore. NZ5911 remains in open storage at Ardmore.
---
NZ Civil Use
SAFE Air: The major commercial operator of the B170 in New Zealand was Straits Air Freight Express Ltd (known after 1967 as SAFE Air Ltd). The company was set up in November 1950 to bid for the NZR Rail-Air contract, and was successful. Freight services across Cook Strait (Paraparaumu to Woodbourne) began in April 1951 with chartered Curtiss C-46 Commando aircraft until the first of the company's B170s was delivered in May. The first two aircraft were ZK-AYG (c/n 12826 ex G-AINK) and ZK-AYH (c/n 128286 ex G-AINM). The Freighter entered service on May 31, 1951, and the type continued in service until September 30,1986. During this period Straits Air Freight Express/SAFE Air Ltd operated 22 Freighters and at its peak in 1968 consisting of 11 aircraft (plus three on hand for spares). Some of these Freighters continued to work long after the type disappeared from European skies.
From the initial two Freighters, by the end of the 1950's the Straits Air Freight Express Ltd fleet had expanded to four with. Two more aircraft were added in the early 1960's. By the mid-60s some of these airframes were needing replacement and as business was up more were required. Straits Air Freight Express Ltd began to acquire aircraft as other operators retired them. A major source was the Republic of Pakistan Air Force (who had utilised 38 of the type) - including ZK-CAL (ex S4401), ZK-CAM (ex S4402), ZK-CLU (ex S4403), ZK-CLT (ex S4404), ZK-CRK (ex S4406), ZK-CRL (ex S4407), ZK-CRM (ex S4421), ZK-CVK (ex S4416), and ZK-CVL (ex S4436). Delivery of some of the aircraft was delayed by hostilities between Pakistan and India. The majority of the other aircraft came from Spain - including ZK-CQD (ex EC-AHN), ZK-CPU (ex EC-AHH), and ZK-CPT (ex EC-AHI).
Some of the fleet history is a little convoluted as not all the aircraft were original. Two were rebuilds. ZK-CWF was produced in 1967 by utilising the fuselage from ZK-AYG (c/n 12826) and the wings from ZK-CLU (c/n 13156) and was given a new c/n R12826. Similarly ZK-CVY incorporated the fuselage of ZK-BMA (c/n 12937) and the wings from ZK- CVL (13192) to become c/n R12937. ZK-CQD had received a new centre-section and wings prior to delivery, and ZK-CRM continued the 'musical parts' roundabout as it received the centre-section from ZK-AYG (c/n 12826) and wings from ZK-BMA (c/n 12937) before entering service. To round the replacements off, ZK-CLT had the rear fuselage up to the stern frame replaced with rear portion of ZK-CAM (c/n 13155). This was necessary after ZK-CLT was damaged in an incident in March 1981- Argosy ZK-SAE had an undercarriage failure during retract tests which resulted in a wing dropping on the port tailplane of ZK-CLT.
Although the one of the main Freighter operators was civil and the other military, their fleets were not entirely seperate. Several RNZAF aircraft spent time operating with Straits Air Freight Express Ltd. NZ5905 (c/n 13058 ex G-18-112) was loaned to Straits Air Freight Express Ltd between February and May 1954 to cover for ZK-AYG which was under repair at that time following an accident. But the aircraft was not returned - instead Straits Air Freight Express paid for NZ5912 (c/n 13218, ex G-18-194). NZ5912 also spent time with Straits Air Freight Express from December 1957 to March 1958 as ZK-BVI. One interesting feature of the RNZAF aircraft was their construction with facilities to attach hoppers for top-dressing and a top hatch to facilitate loading, as the RNZAF had been involved in Government trials at the time of their order. (W.R. Farnes of the Bristol Aeroplane Co. had visited NZ in 1949 to review the RNZAF results using an Avenger, and G-AGVC (c/n 12732), the second Freighter prototype) had been used from Filton for trials in north Wales). Making use of this feature, NZ5904 was hired to 'Industrial Flying Ltd', a Masterton Company which worked in association with Straits Air Freight Express to carry out topdressing trials under a temporary license . Straits Air Freight Express' chief pilot R. Hamilton did most of the flying and in the process dropped 60 tons of fertilizer between March and June 1954, with NZ5904 now registered as ZK-BEV. The three two-ton hoppers could be spread in 24 seconds. On the ground, turn around time was about 15 minutes. Unfortunately due to pressure from competitors using smaller aircraft, the company was not able to get a permanent license. Another attempt by Farm Air Services Ltd to use a B170 was also unsuccessful. (In later years topdressing was carried out with Lodestars and DC-3s).
Straits Air Freight Express' main function was as a freight carrier. Starting in May 1951 the initial route for the rail-air contract with NZR was Woodbourne-Paraparaumu, but from July this was expanded to include Paraparaumu-Christchurch operations. In March 1952 Oamaru was added, and in November of that year flights to Nelson. The key to operations was the development of the 'cargon' system, which was the brainchild of Tom O'Connell, the first general manager. These were special containers which cargo could be loaded into at the railhead, then transported by truck to the airfield, where a custom built traverser allowed them to be loaded into the Bristol Freighters. Pre-loaded, weighed and balanced, four were carried by a Freighter. The technology allowed the 85 minute turnaround when manually loading to be reduced to 8 minutes. The efficiency of the technology is reflected in the record set on May 2, 1962 when 317 tons of cargo was transported across Cook Strait by four aircraft during 72 flights. The technology was also picked up overseas. Improvements were made and in 1964 a smaller version, 'the cargonette' was introduced. Eight could be carried by a B170. It should also be noted that the Straits Air Freight Express Freighters were not entirely standard - as well as being modified to carry the 'cargons' the interior lining was removed and in most cases the windows as well. Due to dissatisfaction with the original pneumatic brakes (particularly failure of the 'bags'), the main undercarriage was replaced with DC-4 wheels and brakes. This required the mating of the DC-4 hydraulics to the Freighter pneumatic system, but the result functioned much better than the original. Business was good enough to require the fleet expansion to four aircraft by the end of the 1950's. In 1961 the carriage of bulk stock was begun - this included sheep, cattle and pigs (the latter being unpopular with crew due to the smell), and later deer along with the occassional zoo animal. In 1964 in association with NZ NAC the cariage of racehorses was begun. The introduction of new ferries by 1963 by NZR had meant the relaxation of the exclusive rail-air contract with NZR. In February 1964 Straits Air Freight Express had also begun a mail contract with the New Zealand Post Office.
To reflect the wider nature of its operations, Straits Air Freight Express had a name change to SAFE Air on October 31 1967. Soon after, the company introduced passenger services, having been granted a license to operate the Chathams run in December 1967. After several proving flights, the first commercial flight was on January 30, 1968. The passengers travelled in a removable passenger 'cargon' or capsule which was fitted out like a regular airliner - complete with windows that lined up with those of the aircraft, and a stewardess was carried. At its peak five flights were made per fortnight. The Freighters were used till replaced by AW Argosy in Jun 1982. (The service was discontinued by SAFE AIr from September 27, 1990). Two Argosies had been introduced in October 1973 to support the ageing Freighter operations. Other activities included night courier services first introduced under the 'Jetexpress' name in 1971 which operated over an Auckland - Wellington - Blenheim - Christchurch - Wellington - Auckland route. The Freighters occassionally worked outside New Zealand too - such as the delivery of two Bell 47D helicopters to Sydney in July 1963 (with the two cars brought back being the first delivered by air), and the transport of the Brownley family's possessions from Norfolk Island. The Freighters also carried out the occassional medivac work. A different sort of task was a 65 person parachute drop.
The NZR Rail-air contract came to an end in December 1983. Changes in the transport industry as the government deregulated meant SAFE Air had to look at new options. The introduction of car ferry services across Cook Strait, a new Christchurch - Auckland route, and other cargo contracts extended the life of the Freighters, but only for a few years. In December 1985 a flypast was made over Blenheim by ZK-CLT, ZK-CLU, ZK-CPT, and ZK-CRK in anticipation of retirement the following month. In fact the last commercial flight (by ZK-CLU) wasn't until September 30,1986. Argosy operations ceased on September 30, 1990 (exactly four years after the last Freighter flight) and SAFE Air became a purely engineering company.
The Freighter's operation with Straits Air Freight Express / SAFE Air was not without incident. The only loss of life came on November 21, 1957. ZK-AYH was on a flight from Paraparaumu to Timaru crewed by operations manager Robert 'Ham' Hamilton and First Officer Harry Torgerson, and carried two passengers - General Manager Tom O'Connell and a student, James McLaggen. The cargo included two cows. At about 11.30am the aircraft was near Christchurch at about 3000 feet when the starboard outer wing folded up and back before separating from the aircraft. The rest of the airframe struck the ground near the south east boundary of Russley Golf Course and debris was spread over more than a square mile. James McLaggen was thrown free and died on the course. The other three people aboard were caught in the subsequent flash fire as fuel burnt. The accident was traced to a crack in the spar, resulting in modifications and corrections to recommended airframe life estimates. ZK-AYG was also involved in a number of incidents, the most serious of which on February 3, 1953 involved hitting ditch after an aborted takeoff at Woodbourne and resulted in a return to the factory at Weston-Super-Mare for rebuild. The aircraft had been back in service less than six months (August 21, 1955) when an error during an airshow display at Omaka put the aircraft in the Taylor riverbed. Repairs were carried out at Woodbourne. ZK-CPU was written off after being damaged at Wellington Airport on April 10 1968 in the infamous 'Wahine' storm. ZK-CAM ended its useful life on January 14, 1981 when the right undercarriage collapsed at the end of its landing roll at Woodbourne - the aircraft was subsequently scrapped.
Scrapping was the fate for most of SAFE Air's Freighters. ZK-CRL, ZK-CVK, and ZK-CVL, were only used for parts, and were eventually scrapped. As noted above, some aircraft were rearranged to keep the fleet going. The unused remains of those aircraft along with ZK-CWF, ZK-CVY, ZK-BEO, ZK-CQD, ZK-CPU, ZK-CAL, ZK-CRK, ZK-CRL, and ZK-BVM were also eventually scrapped. As is further described below, the cockpit section of ZK-AYG/CWF and the nose section of ZK-CRK are preserved at Ferrymead. Only ZK-CLU and ZK-CPT are preserved complete. ZK-CLT was sold overseas and its fate is described below.
Hercules Airlines: The final commercial operator of Bristol Freighters in NZ was an Ardmore based cargo charter company. Ron Dwen's Dwen Airmotive (a component and spares organisation) had purchased the surplus RNZAF Freighters in August,1978. The aircraft which had been in open storage at Whenuapai were ferried to Ardmore on September 1st and 2nd 1978. Despite prospective use in Canada and Fiji the aircraft, with the exception of ZK-EPH (ex NZ5912) and ZK-EPD (ex NZ5907), remained there until 1984. ZK-EPH was refitted and flown to the UK (crewed by a British captain with NZ co-pilot and flight engineer) in March 1981 for use by Instone Airlines. (More on this below). A second planned ferry for ZK-EPD in June 1981 did not proceed until 1982. With the deregulation of the air industry in April 1984 new opportunities to utilise the aircraft arose, and National Air Freighters NZ Ltd was set up in mid 1984. The name was changed to Hercules Airlines Ltd (reflecting the powerplant on the Freighters) at the end of that year. The airline based from Ardmore and utilised three aircraft - ZK-EPC (NZ5906), ZK-EPD (NZ5907) which had returned to NZ, and ZK-EPF (NZ5910) . The work was cargo charter and livestock carriage, predominently on the Auckland -Wellington-Christchurch main trunk. The aircraft were also utilised for overnight courier work under the TNT label (later reverting to Hercules Airlines titles). The operation was short-lived and after the aircraft were advertised for sale in early 1986, and came to an end in 1987 when two of the three aircraft (EPD and EPF) were sold to Canadian interests. The sale of the third did not proceed and it was laid up at Ardmore. ZK-EPC was replaced by an overhauled ZK-CLT which had been held by the RNZAF Museum. The departure of this aircraft in October 1988 marked the last B.170 Freighter flight in NZ skies. The remaining survivors are detailed below.
---
NZ Survivors
The RNZAF Freighters which survive are:
NZ5902 / ZK-EPA (c/n 12833, ex G-AINS, G-18-99) fuselage only is at Awhitu
NZ5903 (c/n 12334, ex G-AINT, G-18-100) is held by the RNZAF museum. (illustrated below)
NZ5906 / ZK-EPC (c/n 13059, ex G-18-113) is located at Woodlyn Park near the Waitomo Caves (December 2002) where it is being converted into two motel units. (illustrated below).
NZ5907 / ZK-EPD (c/n 13060, G-18-114) is currently in storage with Hawkair in Terrace, B.C., Canada (see notes below)
NZ5909 / ZK-EPE (c/n 13080, ex G-AMLS) partial airframe is in open storage at Dwen Airmotive. (illustrated below).
NZ5911 / ZK-EPG (c/n 13135, ex G-AMPK, ZK-BJP) is in open storage at Dwen Airmotive. (illustrated below).
The former SAFE Air Freighters which survive are:
ZK-CLU (c/n13156, ex G-18-148) is on display at the Nelson Founders Museum. (illustrated below)
ZK-CPT (c/n13126, ex G-AMRR, G-18-127, EC-AHI) is displayed by the Marlborough Aero Club at Omaka. (illustrated below).
ZK-CRK (c/n 13159ex G-18-151, S4406) the nose section is held by the Ferrymead Aeronautical society in Christchurch. (illustrated below).
ZK-AYG/CWF (c/n 12826 ex G-AINK, WH575, G-18-92, ZK-AYG) the cockpit section is held by the Ferrymead Aeronautical society in Christchurch. (illustrated below).
---
Other Fates
For the airworthy NZ Freighters sold overseas, the story has generally not been a happy one:
The former NZ5912 (c/n13218, ex G-18-194), had became ZK-EPH, and was ferried to the UK in March 1981, where it was registered as G-BISU (May 6, 1981) to Instone Air Line Ltd. Instone used the aircraft (along with G-AMLK ex NZ5907) for carrying racehorses until 1986. The aircraft was then used by Air Atlantique for North Sea oil operation support until November 4, 1987. The aircraft was due for a major overhaul, and was delivered from Coventry to Duxford later that month, where it was loaned for display to the Duxford Aviation Society. In February 1988 the aircraft was offered for sale, and departed Duxford on December 8 for a ferry flight to Canada. The aircraft was delivered on January 25, 1989 to Edmonton having been registered C-FDFC for Trans-Provincial Airlines Ltd. The airline used the aircraft for oil support operations till it ceased trading in 1993. The aircraft was then sold to MRS4000, a consortium of British Airways pilots. Refurbished by Hawkair at Terrace B.C., the aircraft was ferried back to the UK in September 1994 for further restoration. The aircraft was subsequently displayed at Heathrow, Cranfield and other UK airfields. Unfortunately the Freighter was destroyed in a crash at Enstone in Oxfordshire on July 18, 1996. While departing to a display at Filton a swing developed on takeoff and when departing the runway the crew applied elevator to avoid a small control tower and spectators. At too low a speed the aircraft stalled at about 50 feet. The port wingtip touched ground and then the undercarriage collapsed as the aircraft slewed onto the grass severely damaging the aircraft . Three of the six passengers onboard received minor injuries. The aircraft was written off.
Former SAFE Air Freighter, ZK-CLT 'Merchant Hauler' (c/n 13157 ex G-18-149, S4404) was donated to the RNZAF museum (where it was unoffically serialled NZ5913), and delivered by air on May 21, 1987 Wigram. A proposed swap with Canadian War Heritage Museum for a Bolingbroke project did not eventuate, and 'NZ5913' was returned to Woodbourne for overhaul (using engines from NZ5903) on June 25, 1988. The following month it was restored to the register (July 25) for Trans-Provincial Airlines Ltd. It departed Auckland on October 7, 1988 for ferry to Canada where it was registered as C-FTPA, and was re-engined with Hercules 265 engines (as per the Vickers Valetta). It operated from Prince Rupert on oil support operations with two other Freighters till the company ceased trading in 1993. The aircraft was then sold to MRS4000, a consortium of British Airways pilots. Refurbished by Hawkair at Terrace B.C., it was leased to that company in July 1994. Again used for mining support, the aircraft crashed on April 24, 1997 at Bronson Creek, B.C. after a flight from Wrangell Municipal Airport when it groundlooped and ran off runway into ditch. Failure of bolts or a weld on the starboard undercarriage strut was suspected. The written off hulk is still reported to be at Bronson Creek.
The former NZ5910 (c/n 13134, ex G-AMPJ, NZ5910, ZK-EPF) was used by Hercules Airlines and even appeared in the 1987 Disney production 'The Rescue' in the guise of '101' of an unidentified asian air force) before being sold overseas. It departed Auckland on December 9, 1987 for a ferry flight to Canada where it was registered C-GYQY to Trans-Provincial Airlines Ltd. It operated from Prince Rupert on oil support operations until it crashed on June 21, 1988 on approach to Bronson Creek, B.C. With a cargo of 1600 US gallons of jet fuel, it was fortunate there was no fire. The written off hulk was broken up.
That leaves the former NZ5907 (c/n 13060 ex G-18-114, NZ5907, ZK-EPD, G-AMLK, ZK-EPD). The aircraft had been ferried to the UK in August, 1982 and registered as G-AMLK to Instone Air Line Ltd. Instone used the aircraft (along with G-BISU ex NZ5912) for carrying racehorses. The aircraft returned to NZ in 1984 to become ZK-EPD again, and in August joined the Hercules Airlines Ltd fleet. It again departed NZ shores from Auckland on September 19, 1987 for a ferry flight to Canada, becoming C-GYQS for Trans-Provincial Airlines Ltd. The airline used the aircraft for oil support operations till it ceased trading in 1993. The aircraft was then sold to MRS4000, a consortium of British Airways pilots. The aircraft was passed to Hawkair at Terrace B.C. who had refurbished two other Freighters (c/n 13157 and 13218) for the consortium. The restored aircraft was restored to the air on July 9, 1997 and then used to support mining operations until it was again withdrawn from use in 2000. It remains as the last near airworthy example of the B170 with the potential to be in work again (ignoring ZK-EPG (c/n 13135, ex G-AMPK, NZ5911, ZK-BJP) which could be made airworthy but which looks increasingly unlikely to).
---
Other Survivors
Although these pages are normally restricted to New Zealand related aircraft, it is worth noting that the total number of survivors from the original production of 214 Freighters is small and it is therefore worth recording where these are. By far the largest number of survivors by country are those described above in New Zealand. Overseas, as well as C-GYQS (c/n 13060 ex G-18-114, NZ5907, ZK-EPD, G-AMLK, ZK-EPD) described above, Canada has C-FTFX (c/n 13137) preserved at Yellowknife NWT, and C-FWAE (c/n 13219, ex CAF 9699) in Winnipeg. In Australia two complete B170s survive, these being VH-ADL (c/n 13193, ex S4438, AP-AMD) in Wangaratta, Vic and VH-SJG (c/n 12799, ex A81-1) at Point Cook. The remains of another Freighter, VH-TBB, (c/n 13187 ex S4432, AP-AMF) are reported on the Tullamarine fire dump near Melbourne. The above examples are all Mk.31s, except VH-SJG which is a Mk.21. A Mk.1a aircraft TC-330 (c/n 12751, ex LV-XIM, LV-AEY) is on display at the National Aeronautical Museum in Buenos Aires, Argentina. A further aircraft (details unavailable) is reported preserved in Iraq.
I would appreciate any further info on the fate of the aircraft involved in crashes in the late 1990ws. Does anyone know how much of the remains of C-GYQS are at Bronson Creek? What is left of C-FDFC after the crash at Enstone, UK?
---
Thanks to those people who have assisted with details for this page - particularly Andrew Appleton , Darryl Gibbs , and Denis Monti .
Last Update:- 29 July, 2002

---
Technical Data
Accommodation : 2-3 Crew (12-20 Passengers)
Dimensions

Span : 32.92m (108'0ft)
Length : 20.83m (68'4ft)
Height : 6.56m (21'6ft)

Weight

empty : 12,380kg (27,229lb)
max : 20909kg (46000lb)

Power Plant : 2x 1980hp Bristol Hercules 735
Performance :

max speed : 368km/h (230mph)
max climb : ft/min (m/min)
ceiling : ft (m)
range : km (miles)
---
Images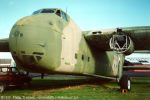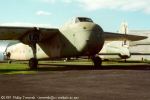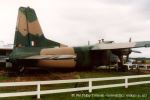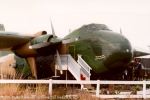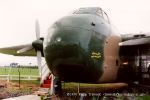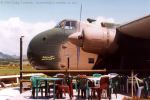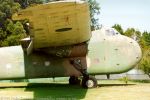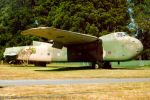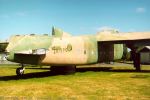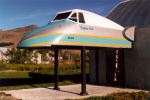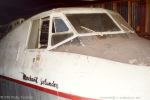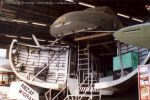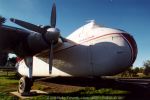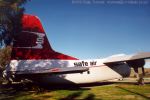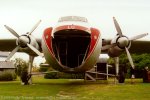 Close Up
Remember to let me know if you have a request for an image of a particular part of the aircraft!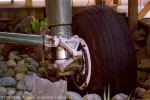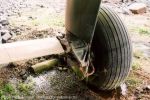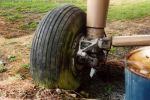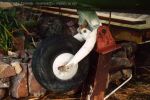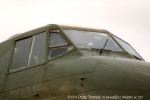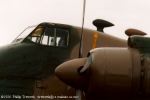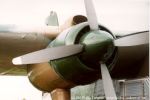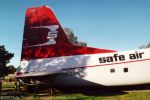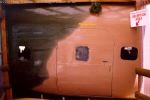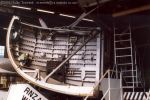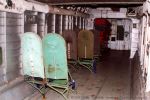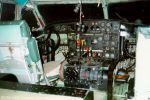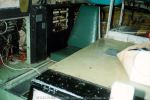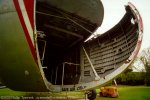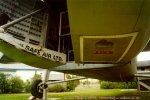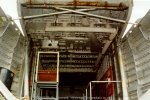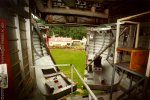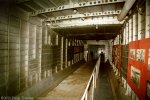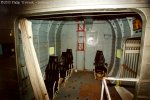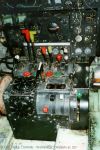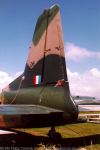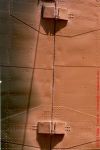 ---

&copy 1997-2002 Phillip Treweek, all rights reserved