DH112 Venom
Background
No14 SQN RNZAF operated leased RAF aircraft (FB.1's) while based at Tengah, Singapore between 1955 and 1958. One of these Venoms (WR282) was the first RNZAF operated aircraft involved in an ejection. On April 20, 1957 F/Lt. M.F. Palmer used the Martin Baker Mk.2F seat at 1000 feet over the Johore strait after an engine failure due to fuel starvation. He was subsequently picked up by a Police launch after landing in the sea. On July 3rd, 1957 the RNZAF had its second ejection when F/O G.C. Hubbard of 14 SQN experienced loss of control and spun from 20,000 feet. He ejected from WE409 at 5000 feet over Johore State.
In 1985, Trevor Bland, a former 14 SQN pilot purchased a former Swiss Air Force Venom (J-1634). This 1956 reconaissance model aircraft (c/n 844), had been overhauled by Pilatus in 1981. Flown to Stansted in Britain, it was dismantled and shipped to New Zealand. Unfortunately damaged in transit, it was not flown for two years, when it become the first civilian jet fighter on the New Zealand register (ZK-VNM). Displayed as WE434 as operated by 14SQN this aircraft was written off after an accident during takeoff on November 16,1991 - the pilot, John Denton, fortunately walked away.
Subsequently, another Venom - a Mk.5 has been imported by Flight Watch services. This aircraft, also ex-Swiss (J-1799), come via Britain (G-BLIC) and the USA (N502DM). Today it is also registered ZK-VNM and displayed in the spectacular colours of the Swiss Air Force display team, Patrouille de Suisse.
Both aircraft are illustrated below.
Last Update:- 17 August, 1998

---
Technical Data
Data is for FB.1 Mk.4 - provided courtesy of Qwilton Biel (Team Manager, Venom 99)
Accommodation : 1
Dimensions

Span : 12.8m (41'8ft)
Length : 9.8m (31'10ft)
Height : 2.1m (6'8ft)

Weight

empty : 3,900kg (8,598lb)
max : 7,012kg (14,460lb)

Power Plant : 4,850lb st DH Ghost 48 Turbojet
Performance

max speed : 945km/h (587mph)
max climb : 10,000ft/min (3077m/min)
ceiling : 45,000ft (13846m)
range : 2435km (1521miles)
---
Images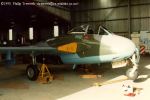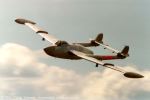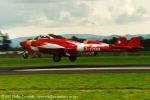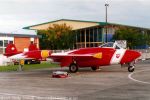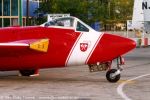 ---

&copy 1997-98 Phillip Treweek, all rights reserved