Beech 17 'Staggerwing'
Background
The model17 cabin biplane which first flew in 1932, was the first product of the Beech Aircraft Corporation, utilising a design begun by Ted Wells of the TravelAir Company (Travel Air was headed by Walter Beech, Clyde Cessna, and Lloyd Stearman, who had parted company in 1931). The model numbering continued the TravelAir pattern. The 'Staggerwing' is one of the more visually distinctive American aircraft of the 1930's and 1940's. Although of fairly typical steel tube and wood construction, the aircraft featured good streamlining, and the distinctive negative wing stagger - which was incorporated to assist pilot visibility, the undercarriage location, and the aircraft's stall characteristics.
Over the 17 years of production, the 'Staggerwing' appeared in a number of models, as the aircraft was continually refined during this time. The original A17 was a fixed undercarriage aircraft, and the B17 introduced an electric retractable undercarriage. The 1937 D17 has a 45cm fuselage extension, new wing section profile, cantilevered tail section, and a new windscreen profile, although the 1938 E17 had a strut tail and cheaper Jacobs engine options. The final G17S version was based on the D17, but featured a P&W R-985 Wasp Junior engine, along with a low drag cowl and windscreen profile, new undercarriage doors, and larger tail surfaces. Production ceased in 1949, in favour of the Beech 35 Bonanza, with 781 aircraft having been built.
Although designed for civil use, the aircraft was utilised by the military for liason and communication duties. The aircraft was designated the UC-43 by the USAAF who used 207 aircraft, and as the GB-2 by the USN who had 63 aircraft. Outside the USA, the aircraft was delivered to Britain and Brazil, and other nations (such as New Zealand and Australia) impressed local aircraft into service.
Two Beech 17 aircraft have appeared on the New Zealand register. The first, ZK-AEU, was a C17L (c/n107) imported by the Auckland Aero Club in 1937 for a cost of 2500 pounds. The aircraft was damaged in transit, but flew (starting in May 1937) on air ambulance and charter duties. It was impressed by the RNZAF in October 1939, receiving the serial NZ573. Allocated to the Communications Flight at Rongotai, its service was not spectacular as it spent considerable time under repair. A crash as Opotiki in April 1940 saw NZ573 out of service for nearly a year, and damage from a second crash at Taupo in February 1943 was not repaired until 1945. De Havilland New Zealand replaced the original 225hp Jacobs L-4 engine with a 220hp Continental W-670-6A taken from a tank. Released back to the Auckland Aero Club, the aircraft was re-registered as ZK-AJS in May 1945. The aircraft's life was not trouble free, as further problems included a wheels up landing at Rongotai. The Staggerwing was exported to Queensland, Australia in 1954 where it became VH-BOU. The aircraft underwent two changes of identity, becoming VH-PMG in May 1963, and VH-TOT in April 1964, before crashing at Cooktown, Queensland in August 1967. The Staggerwing is currently being rebuilt.
New Zealand's second Staggerwing, a D17S is illustrated below. This aircraft was imported by Robin and Elaine Campbell in 1995, being registered as ZK-AMU on November 29th of that year. The D17S (c/n 203) was built in April 1938 and delivered to Canada's Controller of Civil Aviation (Department of Transport) in Ottawa as CF-CCA. It spent a considerable period of time in the civil service before being sold to a number of owners in quick succession ( Bradley Air services in 1955, Spartan Air services in 1956, and Mr I.Sanders in 1957). before its Certificate of Airworthiness expired in December 1958 and it was left derelict in Ottawa. Dr William Boyd began a rebuild of CCA in 1972, and the project was continued by Morley Servos in 1979. The aircraft returned to the air in April 1985. The aircraft features several variations form a standard D17, including G model undercarriage and Cleveland brakes, toes brakes rather than a Johnson bar, and starboard access door; as well as a full IFR panel, GPS, and autopilot.
The Campbells began looking for a Staggerwing in 1994, and located several through the Staggerwing club. They settled on the D-17S (now CF-FCCA) which was based at the Leeward Air Ranch in Occala, Florida where it had its own air-conditioned hangar. The aircraft was delivered to California in 1995 and dismantled for shipping to New Zealand. The Staggerwing was registered on November 29th, and received its New Zealand Certificate of Airworthiness on December 8th. Now based at North Shore, the aircraft is painted in an eye catching red, and attracts instant attention at events it attends!
Last Text Update:- 10 November, 2000
Last Picture Update:- 28 March, 2003

---
Technical Data
Data is for the D17R
Accommodation : 4-5
Dimensions

Span : 9.75m (32'0ft)
Length : 7.85m (25'9ft)
Height : 2.74m (9'0ft)

Weight

empty : 1166kg (2570lb)
max : 1905kg (4200lb)

Power Plant : 450hp Wright Whirlwind
Performance :

max speed : 341km/h (212mph)
max climb : 1500ft/min (457m/min)
ceiling : 23,000ft (7010m)
range : 1352km (840miles)
---
Images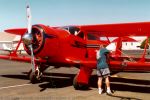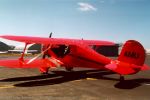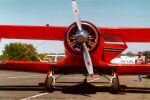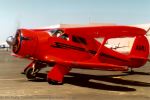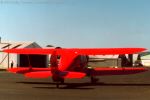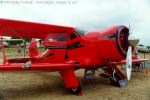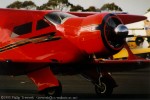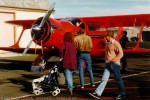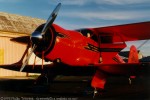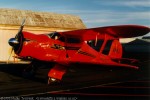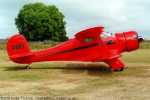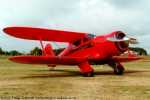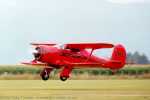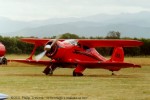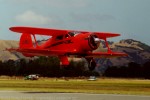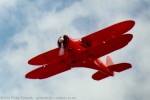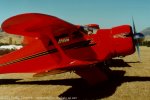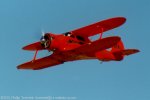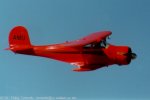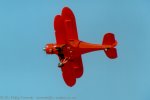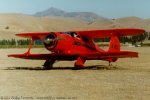 ---
Images - Close Up
Remember to let me know if you have a request for an image of a particular part of the aircraft!).
---

&copy 1998 - 2003 Phillip Treweek, all rights reserved