Aerospatiale AS-350 Ecureuil (Squirrel)
Background
First flown in 1974, the AS-350 was designed as a successor to Aerospatiale's Aloutte series of light utility helicopters. Production (AS-350B) began in 1978. Various other models have been developed including the Lycoming powered AS-350D, and the twin engined E&F models.
A number of these aircraft (60+) are operated in New Zealand, primarily in a commercial role. The AS-350 was very popular as Helicopter Rescue services were set up during the 1980's. In recent years they tend to have been replaced by larger machines. The aircraft illustrated below is now the backup aircraft for the Auckland Rescue Helicopter trust. A similar machine was operated from Hamilton for the TrustBank Rescue Trust, which now utilises a Bell 222. Helicopter Services BOP ltd still operates an AS-350 from Taupo for the Philips Search and Rescue Trust (also illustrated below).
The Police Air Support Unit which operates from Mission bay in Auckland has several 'Eagle' helicopters, (so named after the 1988 evaluation project). These are fitted with a 30 million candlepower Spectrolab SX16 Nitesun searchlight under the rear cabin, a Forward Looking Infra Red (FLIR) Systems 2000F under the nose, GPS, Traffic Avoidance and Collision Detector, digitally encrypted Motorola Syntrex radios, gyro stabilised binoculars, siren and public address system. In appearance the aircraft are painted in a similar manner to Police patrol cars.


As at July 1, 2001 the active register listed 20 AS-350B, 8 AS-350B2, 21 AS-350BA and 12 AS-350D helicopters - a total of 61 for this type.
Last Update:- 29 July, 2001

---
Technical Data
Data is for AS-350B
Accommodation : 6
Dimensions

Rotor Span : 10.69m (35'1ft)
Length : 13.00m (42'8ft)
Height : 3.08m (10'2ft)

Weight

empty : 1,045kg (2,304lb)
max : 2,100kg (4,630lb)

Power Plant : 641shp Turbomece Arriel
Performance :

max speed : 272km/h (169mph)
max climb : 1,615ft/min (8.2m/sec)
ceiling : 16,000ft (4,875m)
range : 710km (441miles)
---
Images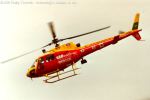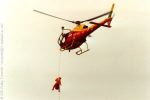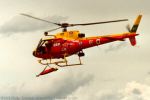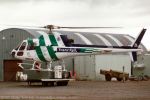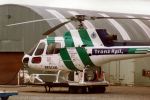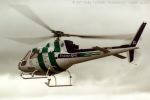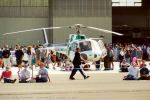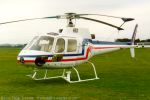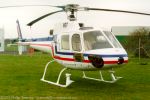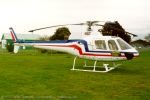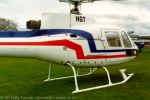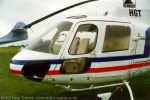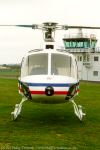 Close Up
There are only a few images - but its a start. Remember to let me know if you have a request for an image of a particular part of the aircraft!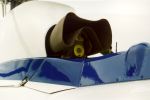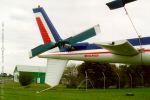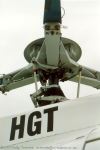 ---

&copy 1997-2001 Phillip Treweek, all rights reserved