Replica Plans SE5a
Background
The Canadian designed 7/10 scale SE5a replica was developed in 1969 by Gogi Goguillot and his colleagues at Replica Plans. The prototype flew in 1970, and the aircraft was FAA certified the following year. To date more than 120 have been completed world wide. The aircraft is wood and fabric, but incorporates modern construction techniques. The wing features an aliminium or fibreglass leading edge, while the fuselage is plywood, with fabric on the turtledeck and aluminium forward of the cockpit. Engines are typically in the 65-125hp range. Extra power above 125hp is not reported to influence speed as the large blunt nose causes considerable drag. Replica Plans estimate construction time to be around 2500 hours.
Two of these aircraft have been completed in New Zealand. ZK-TOM (c/n 352) powered by a Continental O-200 was built by Tom Grant of Dunedin. ZK-SET (c/n AACA/266) powered by a Lycoming O-235 was built by Stuart Tantrum (illustrated below). This aircraft was damaged in a crash at the Auckland Air Expo in 1992. The aircraft was returned to Stuart Tantrum for repair at Pine Park. It is currently registered to Gerald Rhodes at Wanaka.

A full size replica SE5a can be found at the New Zealand Fighter Pilots Museum in Wanaka. This aircraft bears the serial F5459 and is painted in the colours of an aircraft of 85 SQN RAF.
Last Update:- 27 September, 1998

---
Technical Data
Accommodation : 1
Dimensions

Span : 7.11m (23'4ft)
Length : 5.54m (18'2ft)
Height : 2.34m (7'8ft)

Weight

empty : 341kg (750lb)
max : 522kg (1,150lb)

Power Plant : Continental 0-200
Performance :

max speed : 176km/h (110mph)
max climb : 900ft/min (274m/min)
ceiling : 10,000ft (3048m)
range : 400km (250miles)
---
Images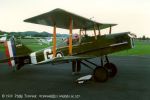 ---

&copy 1996-98 Phillip Treweek, all rights reserved