DH89 Dragon Rapide/ Dominie
Background
The DH89 was created as a larger more comfortable version of the DH84 Dragon. (Hence the original name Dragon Six). The prototype flew on April 17, 1934, and the first production models were delivered in July. The DH89a Rapide featured improvements, including flaps outboard on the lower wings, and was introduced in March 1937. The aircraft proved popular on the basis of reliability and economy and almost 200 had been delivered to civil operators by the outbreak of WWII. Canadian operators added floats and skis. A military variant, the DH89M was developed for the reconaissance role in 1935, but was unsuccessful in gaining an RAF contract - although two went to Lithuania, and three to Spain. Three aircraft were later purchased by the RAF for light communications work, and three for Wireless training. At the outbreak of WWII, a number of civil aircraft were impressed, and a new military variant, DH89b Dominie developed. The Mk.1 being a radio trainer, and the Mk.2 a communications aircraft. Postwar the aircraft was still more than suitable for its passenger role, and the availability of military surplus aircraft meant the DH89 was operated worldwide. Development of the engines and propellers continued into the 1950's, and the aircraft were used for commercial passenger operations well into the 1970's.
The RNZAF operated five DH89's (NZ555-559) which were impressed from Cook Strait Airways in late 1939. Only one of these, ZK-AGT (c/n 6423) was a DH89a, which become NZ558. This aircraft was operated by the Communications flight at Rongotai, until 1944 when it was sold to Air Travel (NZ) and re-registered as ZK-AHS. The other DH89's (c/n 6334 ZK-AEC/NZ555, c/n 6305 ZK-AED/NZ556, c/n 6343 ZK-AEW/NZ557, c/n 6306 ZK-AEE/NZ559) were operated by the Air Gunners and Observers school at Ohakea, before being sent to Fiji in late 1940 for use as general reconnaissance aircraft. Two (NZ555 and NZ559) were destroyed in a hurricane, while the other two were broken up after deteriorating in the tropical conditions.
The RNZAF also operated nine DH89b Dominies (NZ523-531) as communications aircraft. Six of these aircraft were passed to NAC in 1946, and the remainder (NZ524, NZ526, NZ531) continued in service until 1952-1953 when they were sold. The aircraft retained postwar were used by the General Purpose Flight at Rongotai, and 42 SQN at Ohakea. All the aircraft went on to airline service.
Three aircraft have been lost since. NZ526 (c/n 6654 HG655) became ZK-BAU 'City of Auckland'. The aircraft spent four years with the Auckland Aero Club before being purchased by Southern Scenic Air Services. The aircraft was written off after a take off accident at Milford on April 20 1964. After the removal of parts the aircraft was dumped and burned. NZ530 (c/n 6673 HG674) became ZK-AKT and operated with NAC as 'Tareke'. Sold to West Coast Airways, the aircraft carried out scheduled and scenic flights until April 15, 1967 when it crashed in the Shotover river following an engine failure. After mechanical parts were removed, the aircraft was burned and buried in the riverbed. NZ531 (c/n 6668 HG669) became ZK-BBP when sold to Airwork (NZ) ltd, and was operated by subsidiary South Island Airways until 1956. The aircraft was used by Trans Island Airways until exported to Australia. As VH-AAG the aircraft was used for freight work (during which it suffered fire damage), and then passenger work. In 1963 the aircraft was damaged (beyond economic repair) when it hit a Kangaroo on an airstrip. The aircraft was used as a target by the RAAF on the Leanyea range near Darwin in the following year. The survivors are listed below.
Two other DH89's have operated in New Zealand. ZK-ACO (c/n 6259) was purchased by the Melbourne Centenary Air Race Committee (NZ) for the 1934 London-Melbourne air race. After the race (having come fifth on handicap), the aircraft was flown to New Zealand - becoming the first aircraft to fly from England to New Zealand, and the first twin-engine aircraft to cross the Tasman. The aircraft was shipped to Australia in 1935 where it became VH-UUO. After airline and RAAF service, the aircraft was destroyed by fire following a crash in New South Wales on May 23, 1952. ZK-BFK (c/n 6903 NR839, G-AHGF) a Mk.4 Dominie was purchased by Ken Bloomfield in 1953 and flown to New Zealand in 1954. The aircraft was operated from Te Karaka, mainly around the Hawkes Bay area. BFK was exported to Australia in 1957, becoming VH-AWG and later VH-BIF. The aircraft was withdrawn from service in 1965 due to airframe deterioration. It was used for fire practice at Archerfield in 1968.
The ex-RNZAF DH89 survivors are:
DH89a ZK-AGT/NZ558/ZK-AHS 'Huia'/'Mokai' (c/n 6423 ) is on static display at MoTaT. (illustrated below).
DH89b HG648/NZ523/ZK-AKS 'Teoteo'/'Tara' (c/n 6647) is under restoration at Mandeville having been recovered some years after it crashed on Mt.Soho (in 1965).
DH89b HG649/NZ524/ZK-BCP/VH-BGP (c/n 6648) is airworthy at Airworld in Wangarrata, Vic. Australia.
DH89b HG654/NZ525/ZK-AKY 'Tui' (c/n 6653) is airworthy and currently at Mandeville (illustrated below).
DH89b HG656/NZ527/ZK-ALB/VH-IAN/UTV (c/n 6655) is airworthy with Roy Fox at Kellyville, NSW Australia. The aircraft was purchased by Bill Waterton after being withdrawn from use by Mt Cook Airlines on November 4, 1971. The aircraft was flown across the Tasman with ZK-BCP. Sold to Ken Orrman in Victoria in October 1974, he retained the aircraft until 1999.
DH89b HG663/NZ528/ZK-AKU 'Tawaka' (c/n 6662) is airworthy and currently based at Ardmore (illustrated below).
A further aircraft, an ex-Belgian Air Force DH89 (c/n 89504?) has been imported, and is under restoration at Mandeville.
I have flown in one of these aircraft (ZK-AKU). It is quite a contrast between this 30's period passenger aircraft and a similar period aircraft like the DC-3. It was still a real blast to go up in!
Last Update:- 28 March, 2000

---
Technical Data
Data is for DH89a
Accommodation : Pilot + 8 passengers
Dimensions

Span : 14.63m (48'0ft)
Length : 10.52m (34'6ft)
Height : 3.30m (10'3ft)

Weight

empty : 1466kg (3230lb)
max : 2520kg (5550lb)

Power Plant : 2x 200hp DH Gypsy Six
Performance :

max speed : 253km/h (157mph)
max climb : 867ft/min (265m/min)
ceiling : 16700ft (5100m)
range : 895km (556miles)
---
Images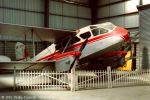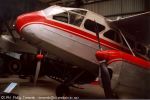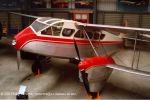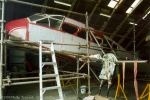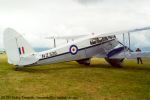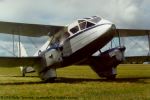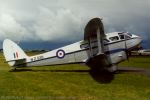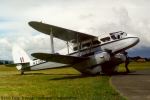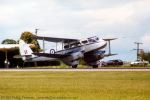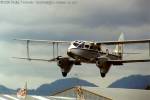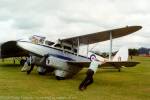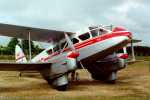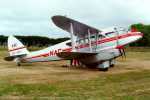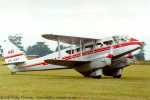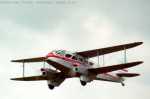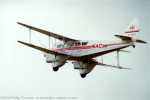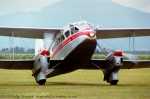 ---
Close Up
Remember to let me know if you have a request for an image of a particular part of the aircraft! Some of these aren't the best photos, but I've included them for completeness. Note some of the pictures are different aircraft from a siimilar angle - useful for comparisons.
---

&copy 1996-2000 Phillip Treweek, all rights reserved