Bell 206 Jetranger / OH-58 Kiowa
Background
The Model 206 was originally developed in 1962 for the United States Army as the HO-4 (later OH-4a) scout aircraft - although this role was taken by the OH-6. The aircraft was later accepted for military service in 1969 as the OH-58 Kiowa (and then TH-57 Searanger). Modified for the commercial market, the aircraft has proved to be widely successful with a large production run (including under licence by Augusta) and several derivatives. The prototype first flew in January 1966 and the commercial Model 206A began delivery early in 1967. The uprated Model 206B Jetranger II went into production in 1971, and the Model 206C Jetranger III (with modified tail rotor and uprated powerplant) in 1977. In 1974 Bell flew the prototype Model 206L Longranger with a further uprated engine, bigger rotor, more fuel capacity, and a 0.63m fuselage extension allowing 7 people to be carried. This has also been modified as the Model 206L-2 Longranger II, and in 1981 a military varient, the Model206L-3 Texasranger.
In New Zealand the Jetranger has been put to a number of uses - tourist and other passenger work, agricultural duties, deer recovery and other lifting, mobile camera platform, air ambulance and rescue operations, and other work. In July 1998, 48 Model 206's were recorded on the New Zealand register. Included in that total are one 206A (ZK-HSU), and three 206L's of various marks.
In addition there are two OH-58's now engaged in civil operations. These are ZK-HPW, an OH-58A (72-21438) operated by Airwork (NZ) ltd; and ZK-IHJ, an OH-58C (70-15092) originally delivered to the US Army 0n December 7, 1970 as an OH-58A and later converted. It entered the civil register in June 1995 as N82772 with the Hamilton County Sheriff dept in Cincinnati Ohio, before coming to New Zealand where it s privately owned, but operated by Airwork (NZ) ltd.
Last Text Update:- 26 July, 1998
Last Picture Update:- 14 May, 2003

---
Technical Data
Data is for Model 206 JetRanger II
Accommodation : 1+4
Dimensions

Rotor Span : 10.16m (33'4 ft)
Length : 9.50m (31'2 ft)
Height : 2.91m (9'7 ft)

Weight

empty : 732kg (1615lb)
max : 1,451kg (3,200lb)

Power Plant :
Performance :

max speed : 225km/h (140mph)
max climb : 1260ft/min (6.4m/sec)
ceiling : 13,500ft (4,115m)
range : 549km (341miles)
---
Images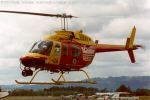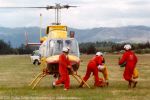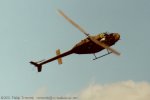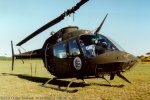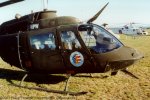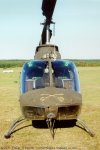 ---

&copy 1997-2003 Phillip Treweek, all rights reserved