Pfalz D.III (Replica)
Background
Pfalz Flugzeug-Werke GmBH was established at Speyer-am-Rhein in 1913 by the Everbusch brothers. The company initially license built aircraft (such as the Morane Saulnier Type H and Type L). During the early part of World War One the company was involved in manufacturing the Moranes (under the A.I and E.I designations) and later L.F.G. Roland designs. In the middle of 1917 the company produced a single seat fighter of its own design, although the construction methods reflected experience with building L.F.G. Roland D.I and D.II fighters.
The Pfalz D.III was a single seat unequal span biplane powered by a 160hp Mercedes D.III inline engine. The new fighter entered service in September 1917 and has been described as under-rated given its performance, good visibility and manouverability. It has been suggested by some authors that it fell victim to the propaganda of its competition at Fokker and Albatros. It does appear to have had support however from pilots like von Richthofen, and was used by several 'aces' including Rudolph Berthold and Franz Freidrichs. In early 1918 the D.IIIa development introduced the 180hp Mercedes D.IIIa engine. A further development mounting a third reduced chord wing between the existing planes was not proceeded with. Production is known to have exceeded 600 aircraft and an estimated 350 were still in service at the armistice. A genuine example survives in the Australian War memorial Museum.
New Zealand's link to the type begins with the WWI pilots who served in France. New Zealand's top scoring 'Ace of WWI. Mjr Keith Caldwell accounted for five Pfalzs between May and July 1918. Capt Herbert Watson, who served with 4 Squadron Australian Flying Corps flying Sopwith Camels, is recorded as also having destroyed five of the type in the same period. Capt Harold Beamish destroyed a Pfalz north of La Basee while with 203 Sqn on May 16, 1918. Mjr (later Air Chief Marshall Sir) Keith Park of 48 Sqn put one down out of control near Bray two days later. SE5a pilot Capt Malcolm 'Mac' McGregor of 85 Sqn recorded another two downed out of control on June 1, 1918.
Today a new link in the form of a replica is resident at Omaka near Blenheim. One of two produced for the movie 'The Blue Max' in 1965, this example (c/n PT16 ex EI-ARD, G-ATIJ, N905AC) was built by Viv Bellamy of the Hampshire Aero Club in England from drawings by Ray Hillborne. The aircraft was presented in a spurious seven colour lozenge paint scheme for the filming. After spending some time in Ireland, the aircraft was later sold to Frank Ryder and operated from the a museum in Alabama. In the mid-1980's many of the 'Blue Max' aircraft were purchased by the 'Fighting Air Command' and moved to Hartlee Field near Denton, Tx. At that time the aircraft was was presented in a black fuselage and purple wings and was no longer airworthy. The aircraft was acquired by the Omaka Fighter Collection and imported into New Zealand in September 1999. The aircraft has been undergoing restoration work at Omaka. It was a static display at the Classic Fighters Air Show during Easter 2001 (back in its movie colours), and is expected to be returned to airworthiness.
Last Update:- 19 March, 2003

---
Technical Data
Data is for D.IIIa
Accommodation : 1
Dimensions

Span : 9.40m (30'10ft)
Length : 6.95m (22'10ft)
Height : 2.67m (8'9ft)

Weight

empty : 695kg (1,532lb)
max : 935kg (2,061lb)

Power Plant : 180hp Mercedes D.IIIa
Performance :

max speed : 165km/h (103mph)
max climb : ft/min (m/min)
ceiling : 17,000ft (5,180m)
range : km (miles)
---
Images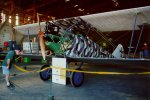 ---

&copy 2002 Phillip Treweek, all rights reserved