DH94 Moth Minor
Background
The introduction of the Moth Minor in 1937 saw a return to a more traditional moth - a light weight aircraft of good performance with a medium sized power plant - in this case 90hp. The aircraft featured seating for two in tandem, with an optional coupe configuration, and the wings folded for ease of storage. The prototype Moth Minor G-AFRD flew on June 22, 1937, and still exists (as VH-AAM in Australia). The first production aircraft resides in New Zealand (ZK-ALN, listed below). Seventy-four aircraft were produced at Hatfield before production was stopped by the war, and a number of these were exported. Production continued in Australia, where 41 more DH94 were produced at Bankstown for use by the RAAF after the jigs and tooling were sent from the UK.
Five of the UK built pre-war aircraft were imported by Aero Clubs in New Zealand. After the outbreak of WWII they were impressed by the RNZAF (NZ591-592 in mid 1940, NZ595-597in Sep/Oct 1942). The Airforce operated them primarily in a communications role, although one aircraft, NZ597, was used by the Public Works dept in 1944, following the loss of their Whitney Straight. The Moth Minors were released by the RNZAF during May to July 1946, going onto varied civil careers.
Only one of the DH94's is currently airworthy, but all the New Zealand Moth Minors currently survive:
ZK-AKL (c/n 94061, ex ZK-AHJ, NZ591) a closed cabin coupe, is stored in Manurewa, Auckland
ZK-AJX (c/n 94071, ex ZK-AHN, NZ592) is under restoration at Mandeville
ZK-ALD (c/n 94046, ex ZK-AHL, NZ595) is under restoration in South Auckland
ZK-ALN (c/n 94001, ex G-AFRD, VH-AAQ, ZK-AHI, NZ596) is stored near Te Puke (following an accident).
ZK-AKM (c/n 94012, ex G-AFON, ZK-AHK, NZ597) is airworthy with Stan and Gilly Smith at North Shore
A further DH94 which had been impressed for RAF service was operated in New Zealand by Myles Robertson as ZK-BFP (c/n 9403) , but was subsequently exported in 1980 and operates as N9403 in the USA.
More recent imports under restoration at Mandeville include
ZK-AJN(reserved) (c/n 94031, ex G-AFPR, X5122, G-AFRD)
ZK-AJRN(reserved) (c/n 94084, ex G-AFUU/A21-20/VH-AGA)
Last Update:- 5 March, 2000

---
Technical Data
Accommodation : 2
Dimensions

Span : 11.15m (36'7ft)
Length : 7.44m (24'5ft)
Height : 1.93m (6'4ft)

Weight

empty : 447kg (983lb)
max : 705kg (1,550lb)

Power Plant : 90hp DH Gypsy Minor
Performance :

max speed : 189km/h (118mph)
max climb : ft/min (m/min)
ceiling : 16,500ft (5029m)
range : 483km (300miles)
---
Images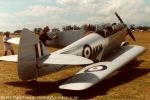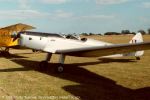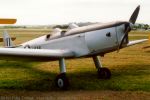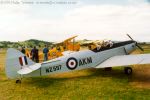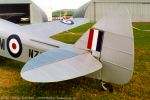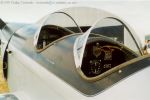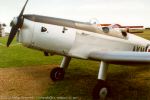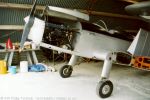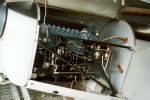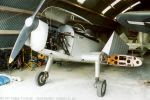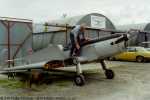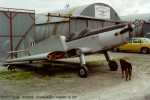 ---

&copy 1996-2000 Phillip Treweek, all rights reserved