Lockheed (Model 18) C-60 Lodestar
Background
The RNZAF operated nine Lodestars (NZ3507-3515) in the period 1943 to 1949 as transport aircraft. Lacking a true 'cargo' door, they were primarily used for passenger and mail transport, particularly between New Zealand and Norfolk Island, and the Solomons. From 1945, most of the aircraft were released to Union Airways for passenger service. One aircraft (NZ3511) was written off in an accident during delivery to Union Airways at Palmerston North. (A further aircraft ZK-ALZ (c/n2104, ex VH-ARY), was destroyed by fire in Australia while being converted to passenger use). The last RNZAF Lodestar operated as a VIP transport until 1949, after which it was scrapped. Several of the aircraft were operated in the United States as executive aircraft after their service with NAC.
The Lodestar has also played an important role in New Zealand's civil aviation. The military aircraft which joined Union Airways (and subsequently the National Airways Corporation in 1947), continued to operate until 1952. These were supplemented by aircraft purchased for the aerial top-dressing industry, with Lodestars being operated by Airland, Fieldair, and James Aviation. Some of these were ex-RAAF aircraft, while others sourced from the USA also had previous military service. In this role the aircraft could carry a load of 3.5 tons of fertiliser.
Three Lodestars are on display in New Zealand
ZK-BVE (c/n 2020) is the oldest of the Ne Zealand Lodestars. Built as NC25630 for United Airlines, the aircraft was impressed by the USAAF (42-53504) and then allocatted to the RAF (as AX756) in September 1941. The aircraft was loaned to BOAC and served as G-AGCN 'Lake Victoria' in East Africa. Later serving with the Spanish Air Force, the aircraft returned to the USA as N9933F. Purchased by Fieldair in 1958, the aircraft was one of six used by the company for for agricultural work. In 1969 it suffered a hydraulic failure which resulted in a wheels up landing at Palmerston North airport, and was consequently removed from the register in January 1970. ZK-BVE was then retired to MoTaT where it is on display today (as illustrated below).
ZK-BUE (c/n 2152) was built as a model 18-56 in 1941 for the USAAF (41-29631) before being allocated to the RAF (as EW984). Like ZK-BVE, it also served with the Spanish Air Force before returning to the USA as N9930F. Purchased by Fieldair in 1958, the aircraft was the last of the Ag Lodestars to be retired in 1973. Fieldair had used Lodestars since 1951. Withdrawn from the register in January 1970, ZK-BUE became the gate guardian at Gisborne's Darton Field. On May 23, 1998 this aircraft was removed from its pedestal to a specially built hangar in readiness for restoration. by the Gisborne Aviation Preservation Society.
VH-XUS (c/n 2388) is also a model 18-56 built for the USAAF (42-55951). Added to the US civil register as N17615, the aircraft found it way to Mexico (XA-SAX). There it became derelict and found new use as a chicken coop. Rescued and restored, the aircraft became N56LH and was used for frieght work. Passed to the Wings of Yesterday Museum the aircraft again underwent restoration (receiving a military paint scheme) before export to Australia in 1991. The nose art 'Flew the Coop' was added to reflect the aircraft's earlier utilisation. The aircraft was flown to New Zealand in 1992 for the Warbirds over Wanaka airshow, but only got as far as Kaitaia after an engine failure in mid-Tasman. (See Bob Livingstone's account of the flight here . In January 1994 the aircraft was imported to New Zealand by Gerald Rhodes, and is now on display at Wanaka.
As recently as 1992, three Lodestars which have operated in New Zealand were reported airworthy in the US. These are the former NZ3509 (c/n2383, ex 42-55946, ZK-ANB), NZ3512 (c/n 2554, ex 42-56061, ZK-AIQ) and ZK-ANA (c/n2102, ex VH-ARZ). The latter had been built in April 1941 for the Netherlands Indies Air Force, and subsequently escaped to Australia. where it saw service with the RAAF.
Last Update:- 19 September, 1998

---
Technical Data
Accommodation : 3 crew & up to 18 passengers
Dimensions

Span : 19.96m (65'8ft)
Length : 15.19m (49'10ft)
Height : 3.6m (11'11ft)

Weight

empty : 5,480kg (12,075lb)
max : 9,760kg (21,500lb)

Power Plant : 2x 1,000hp Wright R-1820-87
Performance :

max speed : 425km/h (266mph)
max climb : 1950ft/min (594m/min)
ceiling : 30,000ft (9,150m)
range : 2,660km (1,660miles)
---
Images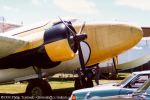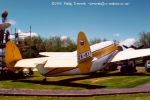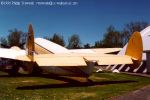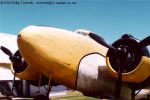 Close Up
A few images from around the aircraft. Remember to let me know if you have a request for an image of a particular part of the aircraft!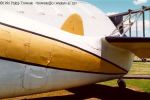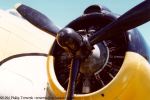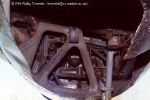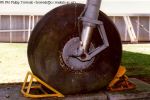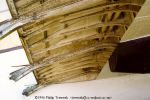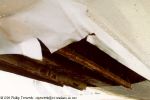 ---

&copy 1996-98 Phillip Treweek, all rights reserved