Lake LA-4 Buccaneer
Background
The prototype LA-4 flew in November, 1959, with the first production aicraft taking to the air in April 1960. The aircraft was a development of the Colonial Skimmer which dated back to 1948. The C-1 Skimmer was a three-seat amphibian, originally powered by a 125 hp Lycoming O-290-D which went into production in 1955. Up powered and refined in 1957 it became the C-2, and in 1959 the manufacturing rights were acquired by the Lake aircraft corporation. Lake in turn became a division of Consolidated Aeronautics in 1962.
The LA-4-180 was similar to the C-2, but had an extended span, larger ailerons, revised bow and wing attchment, and structural reinforcement to allow a higher maximum weight. The tricycle undercarriage is hydraulically operated. Initially fitted with a 180hp Lycoming, in 1970 the LA-4 was modified for the 200hp Lycoming IO-360-A1A allowing the LA-4-200 a 22km increase in speed and 90kg in maximum weight. In 1987 the LA-4-200EP was released. This features the Lycoming IO-360-A1B6 with a longer propeller shaft, allowing quieter more efficient operation,
Five LA-4's currently (July 1, 1998) appear on the New Zealand civil register. One of these (ZK-DNK) is a LA-4/180, the remainder (ZK-EDK, ZK-DQM, ZK-DQL, and ZK-WWW) are LA-4/200. One of the aircraft illustrated below, ZK-DKA, no longer appears on the register. The other, ZK-WWW was built by Aerofab in 1981 as N8009T before being exported to Bolivia as CP-1628. Returned to Wisconsin in the US as N421MU, the aircraft came to New Zealand in 1993.
Last Update:- 22 November, 1998

---
Technical Data
Data is for the LA-4/200
Accommodation : 4
Dimensions

Span : 11.58m (38'0ft)
Length : 7.6m (24'11/8ft)
Height: 2.84m (9'9ft)

Weight

empty : 705kg (1,555lb)
max : 1,220kg (2,690lb)

Power Plant : 200hp Lycoming IO-360-A1A
Performance

max speed : 241km/h (150mph)
max climb : 1,200ft/min (366m/min)
ceiling : 14,700ft (4,481m)
range : 1325km (825miles)
---
Images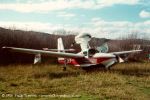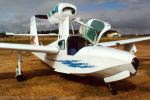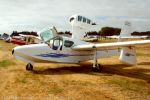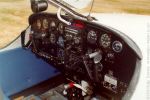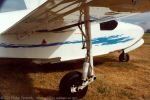 ---

&copy 1996-98 Phillip Treweek, all rights reserved