Jodel Sports Aircraft
Background
The Societe des Avions Jodel was formed in Beaune in 1946. The first creation of the society, the single seat D-9 Bebe first flew in January, 1948. Designed by Messrs Joly and Delemontez, the simple and rugged construction has been replicated around the world by amateur constructors. The aircraft are powered by a variety of engines ranging from 25 to 65hp,with a 40hp converted Volkswagon engine being typical. The most distinctive feature of the Bebe is the dihedral on the outer wing panel, providing stability.
The D-11 is a two seat development of the D-9. The prototype first flew in may 1950. The aircraft has seen amateur and commercial production, with engines ranging from 65-110hp. Construction is similar to the earlier Bebe. Aircraft vary according to cowling and rudder shape, and cockpit glazing, but all share the cranked outer wing panels.
Other Jodel variations include the D-100, which has been developed into the DR-1050 and 1051. The Canadian Falconair F-12 is a development of the D-11 with a swept tail, folding wings, and powerplants of up to 140hp.
As at May 1, 2001 39 Jodels appeared on the New Zealand civil register. This Jodel population includes 8 D-9's, 29 D-11's, 1 Dr-1051, and a Falconair F-12.
Last Update:- 21 May, 2001

---
Technical Data
Data is for the D.11
Accommodation : 2
Dimensions

Span : 8.23m (27'0ft)
Length : 6.71m (22'0ft)
Height : m (ft)

Weight

empty : 408kg (900lb)
max : 680kg (1500lb)

Power Plant : 100hp Continental 0-200-A (typically)
Performance :

max speed : 241km/h (150mph)
max climb : 1000ft/min (305m/min)
ceiling : ft (m)
range : 1150km (715miles)
---
Images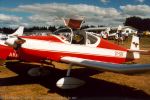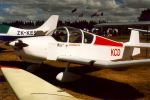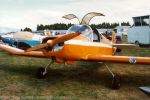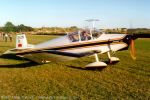 ---

&copy 1998-2001 Phillip Treweek, all rights reserved