Bell Model 204/ 205/ 212/214 UH-1 Iroquois
Background
The US Army issued a US Army requirement for a utility helicopter in 1954, and received 20 responses. Bell's model 204 was the design winner. Three prototypes were ordered as the XH-40, and the first flew on October 22, 1956. Powered by the 700hp XT53-L-1 turboshaft, it was the US Army's first turbine powered aircraft. By this time six 700hp T53-L-1A powered and slightly modified service test aircraft had been ordered, and these were delivered by August 1958. The pre-production model of the UH-1A was powered by the 770hp T53-L-1A, and began delivery on June 30, 1959. The original military designation of HU-1 gave rise to the common name 'Huey', although the designation was changed to UH-1 in 1962. The UH-1A carried a crew of 1 or 2, and up to 5 passengers or 1,361kg (3,000lb) payload. 173 were built up to March 1961, and 14 were converted to TH-1A dual-trainers.
The HU-1B entered US service in March 1961. This had a lengthened fuselage with an enlarged cabin. As well as the two crew it could carry seven passengers, or 1,361kg (3,000lb) freight. The engine was the 960hp T53-L-5, later uprated to the 1,100hp T53-L-9 or T53-L-11 driving wider rotor blades on a taller mast. Production continued up to 1965 and amounted to 1014 aircraft. The UH-1C entered service in September 1965. Further changes to the fuselage were accompanied by increased fuel capacity, a revised rotor and mast and the later T53-L-11 powerplant. 749 were built. Other variants included the UH-1E which entered service in 1964 for the USMC. This was similar to the UH-1C, but used more aluminium in the structure to suit service in a marine environment, increased fuel, and a winch (192 built between 1964 and 1967, plus 20 TH-1E trainers). The UH-1F was a UH-1B fitted with a 1,100hp GE T58-GE-3 engine and larger diameter rotors, capable of carrying 10 passengers or a 1,814kg (4000lb) payload. Built for the USAF it was intended for missile site support (119 built between 1964 and 1967, plus 26 TH-1F trainers). The USN used the HH-1K (27 1,400hp T53-L-13 powered SAR variants of the UH-1E), the UH-1L and TH-1L( 8 and 90 1,100hp T53-L-13 powered utility and training variants of the UH-1E). The UH-1M was 3 UH-1C converted to carry missiles and night sensors for evaluation by the US Army, and the UH-1P was 20 UH-1F converted for psychological warfare.
The civil variant was the 10 seat model 204B, which is similar to the UH-1B with the 1,100hp T53-L-11 powerplant and UH-1F style rotors. Bell licensed production of the model 204 to Mitsubishi in 1962, who in turn sub-licensed to Fuji. They produced the model 204B-2 in 1967 which utilised the uprated Kawasaki license-built T-53, and shifted the tail rotor from port to starboard. 124 helicopters in total were built. In Italy Bell licensed Augusta who produced the T53-L-11A powered AB204 from 1961 to 1974. There were several variants including the RR Gnome H.1000 powered AB204B-11 and AB204B-21 (differentiated by a 1.22m (4'0ft) increase in rotor diameter, and the RR Gnome H.1200 powered AB204B-12 and AB204B-22 (with larger rotor). Augusta also produced the T58-GE-3 AB204AS maritime model. Augusta production was 238 aircraft.
The aircraft was then developed again through enlarging the cabin (a fuselage stretch of 1.04m/ 3'5ft) and improving the powerplant (1,100hp T53-L-11) and performance (rotor diameter increased by 1.22/4'0ft) to the point where the revised aircraft was considered a seperate model. The Model 205 or UH-1D was ordered as the YUH-1D in July 1960 and first flew on August 16, 1961. Production deliveries to the US Army began in August 1963. The new model could carry a pilot and 12 passengers, or a 1,814kg (4000lb) payload. Production came to 2,008 aircraft. This was followed by the 1,400hp T53-L-13 powered UH-1H which began deliveries to the US Army in September 1967. Production came to 4,890 aircraft. The HH-1H is a USAF SAR version, while the EH-1H has an ECM role. 220 UH-1H helicopters were converted to UH-1V for the medivac role. The UH-1H has been upgraded over the years with improvements to the fuel system and avionics, powerplant upgrades, and the introduction of composite rotor blades.
The civil variant was the Model 205A-1, powered by the 1,250shp T53-L-13B powerplant, and seating 15. Augusta produced 490 under license as the AB-205A-1 between 1969 and 1988, for the military and civil market. Fuji in Japan produced 107 Fuji Bell model 205A-1 under license from 1973. These were powered by the Kawasaki license built 1,400shp T53-K-13B and featured a similar 'tractor' tail rotor to the earlier model 204B-2. In addition AIDC in Taiwan completed 118 aircraft under license between 1969 and 1976, while Dornier in Germany produced 348 for their military.
In 1964 Bell further developed the model 205 by introducing a twin engine design. Known as the model 208, this featured the 1,240hp Continental XT67-T-1 powerplant, which consisted of two T72-T-2 turboshafts (each of which could support the aircraft) coupled through a gear box to a single driveshaft. The increase in performance and safety was attractive, and in 1968 the Canadian armed forces ordered what would be the model 212. The prototype flew in April 1969, powered by the 1,290 PWC PT-6T-3 powerplant. Delivery of 50 aircraft to Canada began in 1971. Later models utilised the PT-6T-3B. The model 212 was also adopted by the US military as the UH-1N. Delivery to the USAF of what would be 70 airframes began in 1971, while the USN and USMC took 221 aircraft. The VH-1N VIP transport (2 new-built and 6 conversions) is a variant. The model 212 received civil certification on June 30,1971, a 14 passenger version having been developed in parallel to the UH-1N. The large capacity and twin engine safety has made it popular with many operators in the medium lift, oil rig support and other roles. Augusta in Italy have license built the civil model AB212, as well as developing the maritime AB212ASW model. The model 412 is a development of the model 212, primarily distinguished by a four bladed rotor. Having first flown in August 1979 and been certified in February 1980, the first deliveries were made in January the following year. The aircraft is produced under license by Augusta as the AB412, and the Griffon military version. The type is also produced in Indonesia.
In 1970 the prototype model 214 was flown as an improved UH-1H. Using the 1,900shp T53-702 powerplant with a bigger rotor and strengthened airframe, it was capable of carrying 16 passengers. This went into production as the model 214A powered by the 2,930shp LTC4B-8D powerplant, first flying on March 13, 1974. Initial customer was the Iranian Air Force who ordered 293 aircraft, with deliveries beginning on April 26, 1975. They also took 39 SAR models designated the model 214C. The 214B was a civil version known as the 'BigLifter' aimed at medium lift, agricultural and fire-fighting operators. The model was produced between 1976 when it was certified (January 27) and 1981. After 1975 Bell began work on the twin engine model 214ST for Iran, but this ceased following the revolution in that country. Bell continued development work, and the prototype flew in February 1977 Certification was achieved in 1982. The aircraft is powered by two 1,625shp GE CT7-2 powerplants and can can carry up to 19 people.
In New Zealand, the RNZAF have operated sixteen Iroquois aircraft (NZ3801-3816) in the period since 1966. The first of the initial five UH-ID machines was delivered on June 15, 1966, with all being in RNZAF hands by October. The first flight was undertaken on June 21st (in the hands of F/L M. Robinson, an RAAF instructor on exchange). A further nine newer UH-IH's were delivered between July and October, 1970. The original UH-1D were uprated in 1981-82 to UH-1H standard. A replacement airframe (NZ3815) was delivered in 1976 and two further ex US Army airframes were purchased in 1996 - one as a replacement (NZ3816) and the other as a parts/reserve airframe. Two aircraft (66-809, 66-16450) were leased by the RNZAF for their contribution to the UN team in the Sinai from 1982 to 1986. A further ex-US Army aircraft (69-15923) was acquired from Germany in 1994 for the Air Force Museum. (This aircraft wears the spurious serial NZ3800).
The aircraft serve with No3 Squadron based at RNZAF Hobsonville, with a SAR detachment at Christchurch. The aircraft operate with a crew of three - 2 pilots and a crewman, and one of the pilots can act as winch operator. (The winch has 76m (250ft) of cable and can lift a 270kg (595lb) load). The Iroquois are primarily used in an Army support (air mobile operations, resupply, medevac, and communications) and SAR role. In addition the aircraft carry out police support (anti-terrorist, armed offenders, anti-drug operations) and civil relief work. The Iroquois has been utilised by the RNZAF in numerous locations around the world. Three Iroquois were stationed in Singapore from 1971 till 1988 (initially as the rotary flight of 41 SQN, and from 1985 as 141 flight). Other operations include the Middle East (MFO), and Antarctica (scientific support at Scott Base). The aircraft have regularly been operated in the Pacific islands in humanitarian aid operations, particularly following cyclones. In addition 16 RNZAF pilots flew on exchange with 9SQN RAAF in Vietnam between July 1967 and December 1971. A detachment (03, 08, and 11 with 12 in reserve has recently (from 1997-1999) served with peacekeeping forces in Bougainville - painted in a similar manner to the Antarctic 'Orange Roughy' hi-vis paint scheme. A number of aircraft (6 initially, now reduced to 4) are currently based at Suai in East Timor as part of the ongoing UN operation.
In more than thirty years of service there have been few serious accidents. NZ3810 (c/n11938 69-15650) was written off after it crashed in sandhills near the Kaipara harbour on Apr 27, 1972 with the loss of three lives. NZ308 (c/n11707 69-15419) suffered serious damage in a groundstrike on Mt Cook on Nov 28, 1982 while trying to retrieve trapped climbers during a SAR mission. NZ3809 (c/n11708 69-15420) was damaged while lifting an aerial at Kaipara in July 1990. NZ3807 (c/n11706 69-115418) and NZ3814 (c/n11942 69-15654) were involved in a mid-air collision in Australia on Oct 6, 1991. These aircraft have been rebuilt. NZ3813 (c/n11941 69-15653) was written off after an engine failure in March 1995 resulted in the aircraft landing short of the Waiouru helipad, and overturning in the Ngamatea swamp.
In addition to military use, the Iroquois has been adapted to civil use. In New Zealand this has included servicing oil rigs, delivering pilots to ships, agricultural, medium-lift and utility work. A water training center has been established at New Plymouth to train crews in crash escape techniques. The first civil Model 204 to appear on the New Zealand register was a former military machine, ZK-HHB, a Garlick UH-1B (65-12856) imported by Alan Beck of Beck Helicopters at Eltham. Ten model 204/ 205/ 212/ 412 aircraft appear on the civil register as at May 1st, 2000.
| | | | |
| --- | --- | --- | --- |
| ZK-HHB | Bell (Garlick) UH-1B | 65-12856 | Beck Helicopters Ltd |
| ZK-HJH | Bell (Western Int'l) UH-1H | 64-13823 | Wanganui Aero Work Ltd |
| ZK-HNI | Bell 412 | 33204 | Helicopters (NZ) Ltd |
| ZK-HNO | Bell 212 | 31139 | Helicopters (NZ) Ltd |
| ZK-HSF | Bell (Garlick) UH-1B | 62-2090 | B A & J C Emeny Ltd |
| ZK-HSX | Bell (US Helicopter) UH-1H | 68-15390 | Lakeland Helicopters (1989) Ltd |
| ZK-HSP | Bell (Western Int'l) UH-1H | 66-00869 | Peter Bradley |
| ZK-HUE | Bell (Garlick) UH-1L | 151851 | Helicopter Services (BOP) Ltd |
| ZK-HVY | Bell (CDF) UH-1F | 65-7954 | Rick Lucas Helicopters Ltd |
| ZK-HVZ | Bell (Western Int'l) TH-1F | 66-1246 | Rick Lucas Helicopters Ltd |
Last Text Update:- 20 May, 2000
Last Picture Update:- 14 May, 2003
---
Technical Data
Data is for UH-1H
Accommodation : 3 crew + 12 passemgers
Dimensions

Rotor Span : 14.63m (48'0ft)
Length : 12.77m (41'11ft)
Height : 4.42m (14'6ft)

Weight

empty : 2205kg (4,850lb)
max : 4309kg (9500lb)

Power Plant : 1400 shp Lycoming T53-L-13
Performance :

max speed : 204km/h (127mph)
max climb : 1600ft/min (8.13m/sec)
ceiling : 12600ft (3840m)
range : 420km (260miles)
Images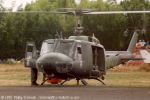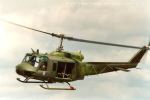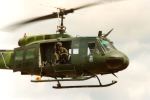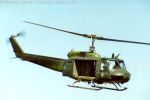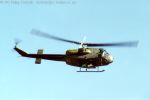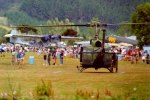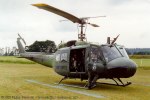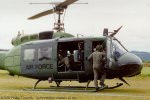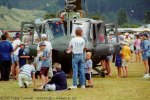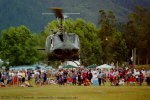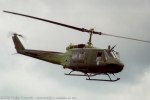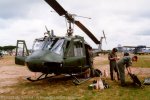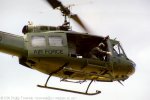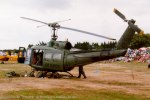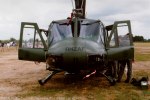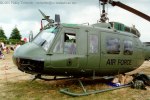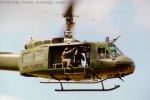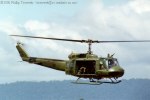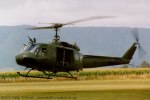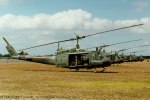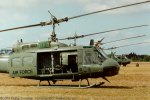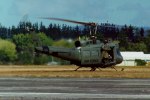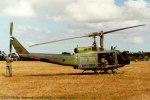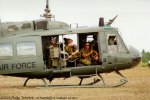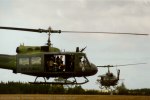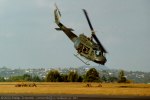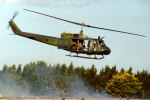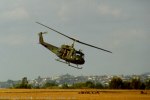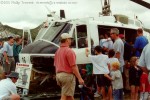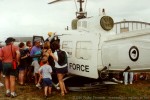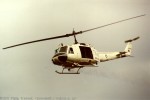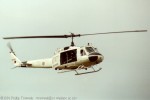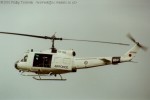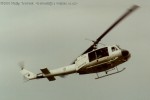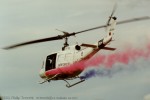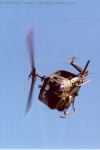 ---
Close Up
Remember to let me know if you have a request for an image of a particular part of the aircraft!
---

&copy 1996-2003 Phillip Treweek, all rights reserved