Hughes 500
Background
The Hughes model 369 had its origins in a US Army competition for a light observation helicopter in 1961. One of three designs selected for development (the others were the Bell OH-4A and Hiller OH-5A), the first HO-6 (later OH-6A) flew on February 27, 1963. The OH-6A Cayuse was selected in May 1965 for production, and is widely recognised for its service in the Vietnam conflict (where it was known as a 'loach'). This has subsequently undergone development in powerplant and rotor configuration through the C & D versiosn
As the military version was proceeding, Hughes were also pursuing commercial development of the Model 369. Known as the Hughes 500, the aircraft originally had three versions - the basic 7 seat version, a 5 seat executive version, and a utility model. The later, powered by an Allison T-63-A-5A, was known initially as the 500U, but became the 500C. An export military version, the 500M was also produced, and license built in Argentina, Italy and Japan.
The 500D model was introduced in 1974, with the prototype making its first flight in August. This featured an uprated 375shp Allison 250-C20B and the distinctive new 'T' tail, and a change to the rotor configuration (5 blade main, and 4 blade tail). In 1976 Hughes announced the military 500M-D Defender, which was subsequently produced following a takeover of the company by McDonnell-Douglas. More recently the longer nosed 520shp powered 500E, and hot and high configured 530F have been produced.
The Hughes 500 came to New Zealand in 1971 with the importing of ZK-HDT for Whirlwide Helicopters. The aircraft have subsequentlybeen used in roles as diverse as agricultural work, tourist scenic flights, heliskiing, cargo-lifting, venison recovery, fish spotting, fire-fighting, photography, and television work. At July 1, 1998 sixty-nine Hughes Model 369 helicopters appear on the New Zealand civil register.Of the helicopters, 30 are 'D' models, 5 are 'E' models, 1 is an 'FF", and the remainder are 'HS' models. Several of the helicopters are former US Army aircraft.
Last Update:- 12 September, 1998

---
Technical Data
Data is for Hughes 500D
Accommodation : 5
Dimensions

Rotor Span : 8.05m (26'5ft)
Length : 6.53m (21'5ft)
Height : 2.73m (8'11ft)

Weight

empty : 588kg (1,295lb)
max : 1,360kg (3,620lb)

Power Plant : 420shp Allison 250-C20B turboshaft
Performance :

max speed : 282km/h (175mph)
max climb : 1,920ft/min (9.75m/sec)
ceiling : ft (m)
range : 467km (290miles)
---
Images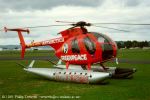 ---

&copy 1996-98 Phillip Treweek, all rights reserved