Grumman G-21A Goose
Background
The pre-war G-21 design has shown remarkable durability. Initially designed as one of Grumman's passenger seaplanes, the aircraft went on to military use (JRF-1 : JRF-6 depending on role), and civil service worldwide. A number of the Grumman seaplanes have been operated in New Zealand (including Widgeons and Mallards). The aircraft's relationship with New Zealand Aviation is purely civil.
Originally conceived as a 6-7 seat 'commuter' plane for businessmen in the Long Island area, the first deliveries off the Goose production line were made in 1937. The USN showed an interest in the amphibious aircraft in 1938, eventually acquiring 222 of the type. The aircraft also served with the US Coast guard and the US Army, before serving in a military role with Britain, Canada, France, and Portugal. A total of 376 aircraft were built by 1945. Subsequent modifications (since 1966) have seen some of the aircraft modified (mostly by McKinnon Enterprises) to use turbine powerplants.
The aircraft illustrated below (c/n B-104 formerly N19DF) was purchased by Mt Cook airlines in 1972, before being passed to SeaBee Air along with the other Auckland based seaplanes in 1976. The aircraft was in turn passed to Great Barrier Airlines when that company took over the Barrier run. Retired at the end of April 1990, the ZK-DFC could not find a buyer in New Zealand, and sadly was exported to the United States in August 1991. It operated in Florida as N3116T until16 December 1992 when it hit a reef upon landing off Grand Cacos Island in the Caribbean and sank (no casualties). The salvage rights were acquired by Dieter Martin from West Germany who attempted to raise the plane. This was unsuccessful as the plane slipped into very deep water and could not be located at the time of the salvage attempt.
Two other aircraft of this type, also operated by SeaBee Air have appeared on the New Zealand register. ZK-ENY (G-21A c/n 1145) was registered in late 1978, and ZK-ERX (G-21G c/n 1062/1205) in 1980. ZK-ENY was used by Canterbury Planes before being exported to Australia in 1989. It later operated in Thailand as HS-TPA, before being sold at auction to Dieter Martin. He shipped the aircraft back to Germany by freighter, where it is currently being restored back to flying condition. ZK-ERX (a Turbo-Goose) returned to the United States as N-77AQ owned by Kalt Mfr. Co. in Cleveland, Ohio and was operated briefly by Aeroquest. It was sold in July 1990 to Dan Vollum (who also owns c/n1059) and operated by his company- Aero Air out of Hillsboro, Oregon.

My thanks to Don "Bucky" Dawson for some of the recent history - Don is a Goose enthusiast who would appreciate any recent Goose news.
Last Update:- 12 September, 1998

---
Technical Data
Accommodation : 7-10
Dimensions

Span : 14.95m (49'0ft)
Length : 11.7m (38'4ft)
Height : 4.57m (15'0ft)

Weight

empty : 2,461kg (5,425lb)
max : 3,629kg (8,000lb)

Power Plant : 2x 400hp P&W Wasp-Junior R-985-AN6
Performance :

max speed : 323km/h (201mph)
max climb : 1,100ft/min (335m/min)
ceiling :21,000 ft (6,405m)
range : 1,287km (640miles)
---
Images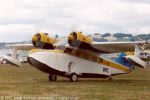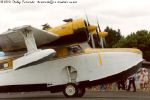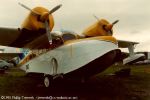 ---

&copy 1997-98 Phillip Treweek, all rights reserved