DH.83 Fox Moth
Background
The Fox Moth was designed in 1932 and provided a light transport aircraft with good performance and economical operating costs suitable for small airlines. Legend has it that A.E. Hagg wanted a suitable aircraft to transport his family, and that the cabin dimensions were paced out to suit. The plywood and fabric fuselage was then combined with standard Tiger Moth wings, tail section, undercarriage and engine. The pilot was located in an open cockpit behind an enclosed cabin capable of holding up to four passengers in a manner described as 'distinctly chummy'. The prototype (powered by a 120hp Gipsy III) flew in March 1932. 98 aircraft were produced in England, with 2 in Australia, and 1 in Japan. Post-war production of the DH.83c was taken up by de Havilland Canada who completed 52. Canadian aircraft operated in a 'bush' role, frequently using floats and skis. One further DH.83c was built in England.
In New Zealand the Fox Moth is best known for its role with Bert Mercer's Air Travel (NZ) Ltd. ZK-ADI flew the first scheduled route on December 18, 1934. A second aircraft, formerly operated by the Royal Flight was acquired and registered ZK-AEK. ZK-ADH (belonging to the Canterbury Aero Club) was leased by Air Travel (NZ) while ADI was out of the air. ADH was later written off in a crash in June 1936, but did not disappear entirely. When Air Travel (NZ) sought another aircraft in 1938, parts of ADH were combined with a fuselage produced earlier by apprentices at the de Havilland Technical school to become ZK-AGM. AGM was subsequently destroyed by fire after a crash on April 27, 1963 near Wanaka. The distinctive orange and silver DH.83s were passed to NAC when that company absorbed Air Travel (NZ) in 1947, and later sold to private operators.
A number of other Fox Moths were operated by Aero Clubs in New Zealand. I would appreciate any information regarding their registrations and subsequent fates. DH.83 Fox Moth survivors in New Zealand that I know of are:
ZK-ADI (c/n 4097, ex NZ566, ZK-ASP, N83DH, G-ADHA).
The last of the English production run, this aircraft arrived in New Zealand on December 8th, 1934, and was registered on January 29, 1935 - by which time it was already (as described above) in service. It was impressed into RNZAF service between April 1943 and August 1948 during which time it was serialled NZ566. Released to the National Airways Corporation it became ZK-ASP. Sold to W.K. Wakeman of Christchurch in December 1953, the aircraft passed through a number of owners before being acquired by Myles Robertson in 1972. He took the aircraft to the USA in 1974 and operated it for two summers (between which it required a rebuild after overturning at Cajun Pass). The aircraft was sold in New York State, becoming N83DH on August 23, 1975. In 1984 the aircraft was in the posession of Brian Woodford in England where it become G-ADHA. Gerald Grocott purchased the aircraft from Wessex Aviation and Transport Ltd and returned the aircraft to New Zealand. Restored to the original orange and silver paint scheme, the aircraft was re-registered as ZK-ADI on February 4, 1997. The airworthy aircraft was formerly based with the Croydon Aviation Heritage Trust at Mandeville, but has now relocated to Waipukarau while a new home is built at Napier. (illustrated below)
ZK-AEK (c/n 4033, ex G-ACAJ, G-ACDD, OO-ENC, VQ-FAT)
The second of Air Travel (NZ)'s Fox Moths, the aircraft was initially registered G-ACAJ in November 1932, but this was altered to G-ACDD a month later. The aircraft was operated by the Royal Flight until June 1933 when it passed to Guy Hansez and changed registration to OO-ENC. He operated the aircaft as far afield as Egypt and the Congo. Sold back to de Havilland in May 1935, the aircraft was onsold to Air Travel (NZ) and shipped to New Zealand. Registered as ZK-AEK, the aircraft operated until October 29, 1943 when it crahed on Franz Joseph Glacier. AEK was retrieved from its crash site and subsequently rebuilt, although with a new fuselage. The aircraft returned to service on May 21 1944 and remained with Air Travel (NZ) until taken over by NAC on September 30th 1947. AEK was withdrawn from service in March 1953, and subsequently sold. The aircraft passed through the hands of W.K. Wakeman (October 1, 1953), C.A. Wornall (August 1, 1954), and B.N. McCook (March 26, 1957). The latter took the aircraft to Fiji where it became VQ-FAT on April 10, 1957. Sadly an accident and deterioration of the woodwork saw the aircraft grounded from October 29. The registration was cancelled in November 1959. A number of parts were recovered, and these formed the basis of a rebuild which was completed in May, 1993. Initially registered as ZK-AEK, the aircraft was returned to the condition and G-ACDD markings of its King's Flight period. Owner Roger Fiennes then took the aircraft to the USA (where it won Reserve Grand Champion Antique at Oshkosh) and England where it was displayed. The aircraft then caught the attention of Sir Tim Wallis (whose father had been a frequent passenger), and he returned the aircraft to New Zealand in October 1993. Today the aircraft is airworthy and based with the AFC at Wanaka (illustrated below).
LI LI>
ZK-APT (c/n FM.48, ex )
This aircraft (illustrated below) is currently at Smith's Tech Air at North Shore being restored to airworthiness.
ZK-AQB (c/n FM.49, ex )
This aircraft is currently with the Croydon Aircraft Company at Mandeville under restoration to airworthiness.
ZK-AQM (c/n FM.50, ex )
This aircraft is currently in the Auckland area under restoration to airworthiness.
ZK-ARQ (c/n FM.53, ex )
This aircraft, which has not yet flown, has a curious history. Although built by de Havilland Canada, the aircraft was never assembled. Some components were shipped (as spares) to de Havilland (NZ) who applied for the registration ZK-ARQ. Jim Lawson acquired the components some time later, and after contacting DHC got acknowledgement that the aircraft was considered to be in New Zealand. NZ CAA approval was then obtained to reissue the ZK-ARQ registration, and the aircraft (with 95% of parts in hand) is now reported to be under construction.
VH-USJ (c/n 4058, ex G-ACEB)
This aircraft is currently with the Croydon Aircraft Company at Mandeville under restoration to airworthiness.
Last Update:- 5 March, 2002

---
Technical Data
Accommodation 5
Dimensions

Span : 9.41m (30'11ft)
Length : 7.85m (25'9ft)
Height : 2.68m (8'10ft)

Weight

empty : 499kg (1,100lb)
max : 939kg (2,070lb)

Power Plant : 130hp DH Gypsy Major.
Performance

max speed : 182km/h (113mph)
max climb : ft/min (m/min)
ceiling : 12,700ft (3,870m)
range : 579km (360miles)
---
Images
A dark blue aircraft is not the easiest to get photos of - but I think you get the idea. ZK-AEK is presented in a similar condition to when it was operated by the King's Flight in 1933, so the interior is very plush - lots of red leather! ZK-ADI has been returned to the Orange fuselage with green markings and silver wings it wore when operated by Air Travel (NZ) Ltd. Unfortunately orange and green don't scan the best, but again, I think you get the idea.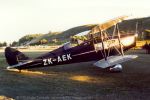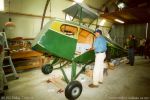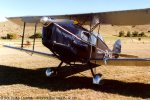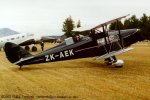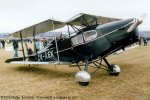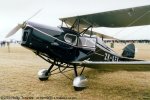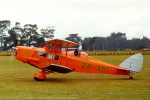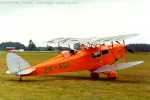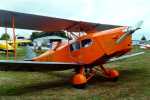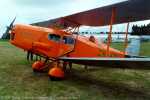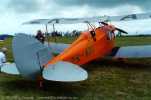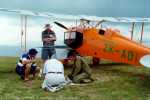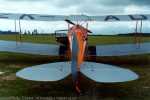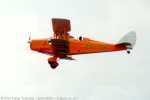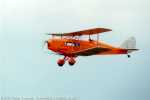 ---
Close Up
Remember to let me know if you have a request for an image of a particular part of the aircraft!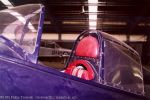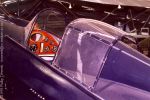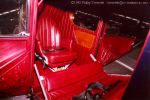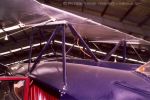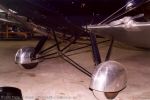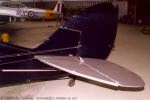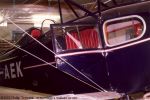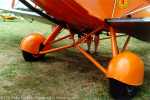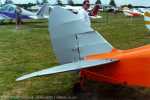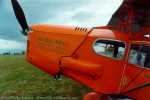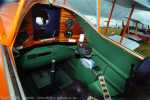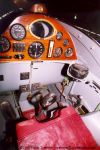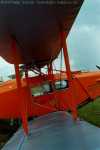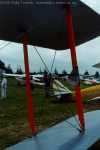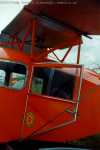 ---

&copy 1999-2002 Phillip Treweek, all rights reserved