McDonnell Douglas F/A-18 Hornet
Background
The F/A-18 had its origins in the USAF lightweight fighter program of the early 1970's. Northrop's YF-17 which had not been accepted for USAF use proved a suitable development option for a naval attack aircraft. In conjunction with McDonnell Douglas, this became the F-18. With more powerful engines, a stringer undercarriage and modified systems, the prototype first flew on November 18, 1978. After trials, the aircraft entered USN service in November, 1980.
The Australian Government announced an order for 75 F-18 Hornets in December 1981 - 57 single seat and 18 two-seat aircraft. The first two aircraft were built at the McDonnell Douglas plant in St.Louis, Missouri in October 1984. These were used to train Australian pilots at NAS Lemoore before delivery to RAAF Williamstown in May 1985. The remainder of the RAAF Hornets were assembled in Australia at the Government Aircraft Factory at Avalon. The first of these flew on February 26, 1985. The Hornets were assigned to 3 SQN in 1986, 75 SQN in 1988, and 77 SQN.
RAAF F/A-18 aircraft are periodically seen in New Zealand on exercise. The images below were taken at an Open day at RNZAF Ohakea prior to the two-week exercise , Operation Matariki in March, 1998


Last Update:- 1 October, 1998

---
Technical Data
Accommodation : 1-2
Dimensions

Span : 11.43m (37'6ft)
Length : 17.07m (56'0ft)
Height : 4.67m (15'4ft)

Weight

empty : kg (lb)
max : 22,680kg (50,000lb)

Power Plant : 2x 7,260kg (16,000lb) GE F404-GE-400 turbofans
Performance :

max speed : 1,915km/h (1,190mph)
max climb : ft/min (m/min)
ceiling : 50,000ft (15,240m)
range : 1,180km (735miles)
---
Images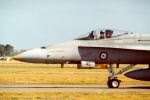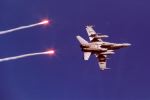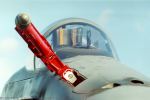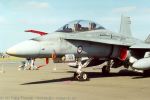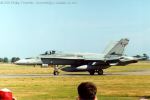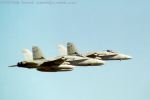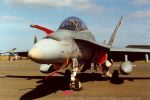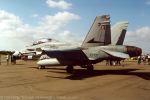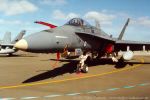 ---
Close Up
Remember to let me know if you have a request for an image of a particular part of the aircraft!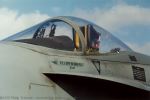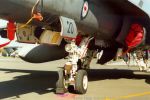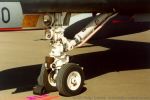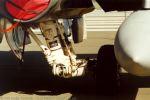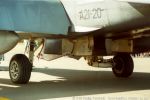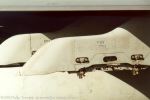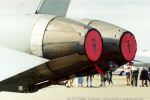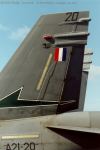 ---

&copy 1998 Phillip Treweek, all rights reserved