Evans VP-1 /VP-2 Volksplane
Background
W.S.Evans, the designer of the Volksplane, sought to create a simple to build and safe to fly design for homebuilders. As such, appearence and performance were of secondary interest to the Californian. The first Volksplane flew in1968, and the design has proved popular. The single seat VP-1 was followed by the slightly enlarged two-seat VP-2. Further modifications include the VP-1a and the VP-1UL. Although originally an open cockpit design, enclosed cockpit versions have been built.
The first New Zealand Volksplane flew in 1972. A number of VP-1 and VP-2 aircraft have been built subsequently, but the number of active aircraft has shrunk. Currently only five aircraft appear on the register (as at May 1, 2001). These are ZK-DHI VP-1 (c/n AACA/161), ZK-EDA VP-1 (c/n AACA/183), ZK-EEM VP-1UL (c/n AACA/135), ZK-CVW VP-2 (c/n AACA/1001), and ZK-FPK VP-2 (c/n AACA/703). (ZK-RWR VP-1 (c/n AACA/252) illustrated below, and ZK-VPI VP-1 (c/n AACA/277), have been withdrawn from use in the past year).
The other aircraft illustrated below, ZK-CVW 'De Gustibus', was built by Max Saunders, a member of the Wellington branch of the Sport Aircraft Association. CVW first took to the air at the end of 1998.
Last Update:- 20 May, 2001

---
Technical Data
Data is for the VP-1. Note: performance will vary depending on the engine installation.
Accommodation : 1
Dimensions

Span : 7.3m (24'0ft)
Length : 5.5m (18'0ft)
Height : 1.6m (5'6ft)

Weight

empty : 205kg (450lb)
max : 336kg (740lb)

Power Plant : 40hp modified VW 4-cylinder
Performance :

max speed : 136km/h (85mph)
max climb : 400ft/min (122m/min)
ceiling : ft (m)
range : 320km (200 miles)
---
Images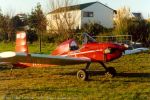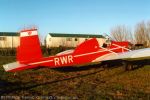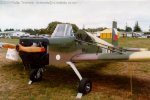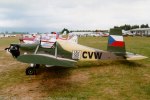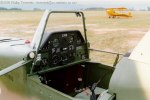 ---

&copy 2001 Phillip Treweek, all rights reserved