DH84 Dragon
Background
The Dragon was created by De Havilland' chief designer A.E. (Arthur) Hagg, in the early 1930's. Hagg and his team had been working on a light bomber for the Iraqi Air Force, and this was modified in response to operator demand (particularly charter companies like Hillman Airways) for a twin engine airliner, to produce the DH84. The prototype flew on November 12, 1932, and the aircraft went into production the following year. The Mk.II which was introduced with the 63rd aircraft, featured a variety of refinements and is distinguished by individual window frames and faired undecarriage struts. A military version, the DH84M was also supplied to Denmark, Iraq, and Portugal. 115 Dragons were eventually produced at the Stag Lane and Hatfield factories before construction ceased in 1937.
One aircraft of this type is airworthy in New Zealand (one of 11 extant and 4 airworthy worldwide), and this is one of the more curious warbirds in New Zealand skies - yes, it is a warbird. A34-68 (c/n DHA2057) was one of 87 DH84a Dragons (A34-12 to A34-98) constructed in Australia. These were built between September 1942 and June 1943, after all the tooling and jigs had been shipped there early in the war. A34-1 to A34-11 were British built Dragon's impressed into service. The aircraft were primarily used as navigation trainers.
A34-68 was delivered to the RAAF in 1943, and was then used by the No1 Wireless Air Gunners School at Ballarat in Victoria. Following its military service, the aircraft joined Butler Air Transport as VH-AEF in 1945 before moving on to Qantas in 1948, and was used in New Guinea before being chartered by TAA for service in New South Wales. Sold to Fawcett Aviation, the aircraft then moved to New Zealand in 1953 where it became ZK-AXI. Initially used by Rolvin Airways at Palmerston North, it moved to the Nelson Aero Club in 1954 where it did charter work and air ambulance duties until 1963 when it was placed in store needing engine work. In 1964 the aircraft was bought by Arthur Bradshaw who refurbished it and used it for aerial survey photography. The next move was in 1967 when the aircraft was taken over by the Auckland Flying school at Ardmore. Operations were shortlived as several weeks after moving (23 April) the the aircraft was damaged following a forced landing due to the failure of the port engine, while taking off with a load of parachutists.
The Dragon was written off and donated to MoTaT (stored at Ardmore). In 1982 MoTaT swapped the aircraft to Stan Smith who had known the aircraft in its Nelson days. Then commenced an intermittent 14 years of restoration work at Stan and Gilly Smith's Tech-Air facility at North Shore Aerodrome. The renewed Dragon was rolled out for its first test flight on April 22, 1997. The immaculate aircraft now bears the name 'Taniwha', the Maori name for a monstrous creature, often translated as Dragon (somewhat more appropriate than an earlier name carried by the aircraft - 'Puff').
I had the good fortune to make a 40 minute flight as a passenger with Mr Smith in November 1999. Although Mr Smith was uncomplimentary about some of the aircraft's flight characteristics, I found the flight very smooth and comfortable, particularly in comparison to a previous flight I've experienced in a DH-89B Dominie, a development of the later Dragon Rapide. The aircraft seems reliable and sedate. A curious aspect of the flight was an opportunity to circle a 'tall' ship under sail in the upper Waitemata harbour. As I commented to one of the other passengers, 'I wonder if they were watching us the way we were watching them'. It was a worthwhile and valued experience!
Two other Dragons have operated in New Zealand skies. ZK-ADR, later re-registered AER (c/n 6090) 'Huia' and ZK-ADS (c/n 6091) 'Tui' were used by East Coast airways in the late 1930's. Both received their British CoA in January 1935. After being shipped to New Zealand and assembled at Hobsonville, ADR made its first New Zealand flight on March 25, 1935, and ADS followed on March 29. Both aircraft became part of Union Airways on July 1, 1938. The two aircraft were impressed by the RNZAF as NZ551 (October 25) and NZ550 (October 13) in 1939. Used for Wireless Operator training and Communications duties, the aircrafts' service was not uneventful, as both underwent repair and rebuilds following various incidents. NZ550 was was eventually written off in July 1943 because of airframe deterioration while serving in Fiji. NZ551 was released from service on March 23 1943 as ZK-AHT for use by Air Travel (NZ) Ltd but crashed on Mt.Hope on June 30,1944. Airline founder Bert Mercer, and company secretary Maurice Dawe who were passengers, died as a result of this crash.
The 11 remaining Dragons (of 115 built in England and 87 built in Australia) include 6 in Australia, 2 in the UK, and 1 each in Ireland, the United States, and New Zealand. The Airworthy examples are VH-BDS, EL-AFK, N34DH, and ZK-AXI (illustrated below).
Last Update:- 5 March, 2000

---
Technical Data
Accommodation : Pilot + 6-8passengers
Dimensions

Span : 14.4m (47'4ft)
Length : 10.5m (34'6ft)
Height : 3.07m (10'1ft)

Weight

empty : 1082kg (2385lb)
max : 2041kg (4500ib)

Power Plant : 2x 145hp DH Gypsy Major 10 Mk.II
Performance :

max speed : 215kmh (134mph)
max climb : 565ft/min (172m/min)
ceiling : 14,500ft (4420m)
range : 877km (545m)
---
Images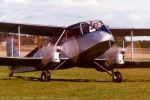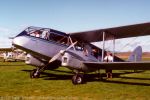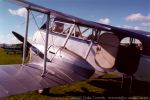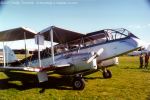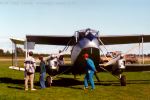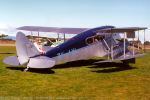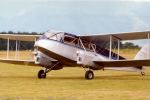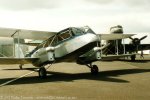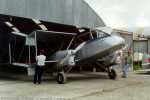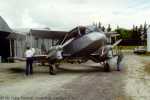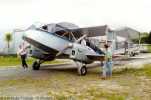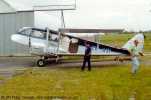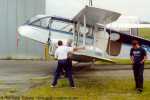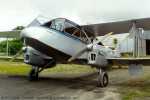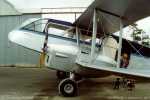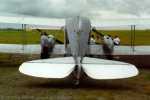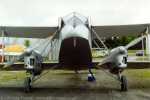 ---
Close Up
Remember to let me know if you have a request for an image of a particular part of the aircraft!
---

&copy 1997-2000 Phillip Treweek, all rights reserved