DH104 Devon / Dove
Background
The Dove was de Havilland's first post-war production aircraft, developed as a small airliner to replace the Dragon Rapide. The all metal, tricycle undercarriage design was a substantial change from de Havilland's pre-war airliners. Development began in 1944, and the prototype (G-AGPJ) made its first flight on September 25, 1945. The airliner underwent a number of improvements, primarily relating to engines and weights. The 11 seat Dove 1 and 6 seat executive Dove 2 were powered by the 330hp Gypsy Queen 70-3. The Dove 1b and Dove 2b were powered by the 340hp Gypsy Queen 70-4. The Dove 3 was intended as a high altitude survey aircraft which was not produced. Adapted in 1947 as a communications aircraft, the Dove 4 was the civil designation of Devon C.Mk.1 and and Sea Devon C.Mk.20, and other export military aircraft. A number of Air forces outside the UK including the Indian, Argentinian, and RNZAF operated the Devon, or modified Doves. The Dove 5, and 6 were an uprated version 0f the Dove 1and 2 respectively, powered by the 380hp Gypsy Queen 70-2 with increased weight limits. The 6b was further weight limited. The Dove 7 and Dove 8 were again variants of the Dove 1 and 2 powered by the 400hp Gypsy Queen 70-3. Production ended in 1967 with 542 aircraft completed (including the two prototypes). After market modifications included the Riley Turbo executive 400 powered by 400hp Avo Lycoming IO-72-A1A, and the Carstedt Jet Liner 600 using the 600shp Garrett AirResearch TPE331 turboprop with a stretched fuselage increasing capacity to 18 passengers.
The RNZAF operated 30 Devon/Doves (NZ1801-1830) between 1948 and 1981. The first two were Doves which arrived in 1948, and were used as VIP transports. The remainder being Devons taken on charge between 1952 and 54. They were purchased to undertake a number of roles, taking over from Oxfords as twin-engine trainers, Ansons as navigation/signals trainers, and Consuls and Rapides in communications duties. Seven aircraft were lost in service (NZ1810 (c/n 04318), NZ1811 (c/n 04321), NZ1815 (c/n 04398), NZ1816 (c/n 04399), NZ1824 (c/n 04418), NZ1830 (c/n 04428)). Two aircraft taken out of store were passed to the Royal Malaysian airforce in 1968 (NZ1823 (c/n 04417) becoming FM1056, and NZ1825 (c/n 04419) becoming FM1057. Official service ceased with the retirement of NZ1822 in 1981, with the Devon replaced by Fokker F27 Friendships and Cessna 421 Golden Eagles.
During the years of service some surplus Devons were released for civil use - 4 in 1970/71 (which went to Australia), and 4 in 1977. Further aircraft have subsequently been released and apart from the full airframe and 2 part airframes held by the RNZAF museum, 6 aircraft are still in store, or used as instructional airframes by the RNZAF . The aircraft which went to Australia seem to have ceased operation, at least for the time being. Some of the civilianised New Zealand aircraft have been involved with commercial activities, primarily charter work. Today the most active Devons are the warbird syndicated aircraft.
The RNZAF Devons which survive are:
NZ1801 (c/n04050, ZK-AQV) VH-MGT is in storage in Angle Vale, South Australia.
NZ1802 (c/n 04169) ZK-UFO is reported stored with D.Subritzky at North Shore
NZ1803 (c/n 04294) on display in the RNZAF museum (illustrated below).
NZ1804 (c/n 04304) INST214 in store with Air Training Corp (Nelson)
NZ1805 (c/n 04312) INST219 held in store by the RNZAF (Woodbourne)
NZ1806 (c/n 04319) INST220 held in store by the RNZAF (Woodbourne)
NZ1807 (c/n 04323) ZK-RNG is airworthy (illustrated below while leased to Pionair in Christchurch) and held by G.Rhodes at Wanaka.
NZ1808 (c/n 04324) ZK-CBK (ex ZK-KTT) is now operated by a NZ Warbird Syndicate from Ardmore (illustrated below).
NZ1809 (c/n04295) Inst179 - cockpit and nose only, held by the RNZAF museum
NZ1812 (c/n 04322) ZK-UCO is stored with G.Rhodes at Wanaka
NZ1813 (c/n 04396) INST216 held in store by the RNZAF (Woodbourne)
NZ1814 (c/n 04397) VH-CJX is in Parafield, SA
NZ1817 (c/n 04403) formerly in storage in Angle Vale, South Australia has recemtly been reported purchased on behalf of a museum with restoration likely..
NZ1818 (c/n 04404) registered VH-CJY, location unknown.
NZ1819 (c/n 04405) INST215 held in store by the RNZAF (Woodbourne)
NZ1820 (c/n 04411) INST217 - fuselage only, held by the RNZAF museum
NZ1821 (c/n 04412) ZK-UDO is operated by a NZ Warbird Syndicate from North Shore (illustrated below).
NZ1822 (c/n 04413) INST218 held in store by the RNZAF (Woodbourne)
NZ1826 (c/n 04424) registered ZK-UEO, is no longer on the active register - location unknown.
NZ1827 (c/n 04425) Inst208 is under restoration in Christchurch for P.J.Hindin
NZ1828 (c/n 04426) Inst209 ZK-XNZ is airworthy, registered to P.J.Hindin in Christchurch
NZ1829 (c/n 04427) on display at the Ashburton Aviation Museum (formerly owned by Philip Burns, now donated to the Museum).
I remember seeing NZ1827/NZ1828 in 1981 (just after they had been withdrawn from service) while on an ATC camp at Wigram. We were allowed to explore the aircraft, having been told it was safe to play with anything except part of the engine panels. One of our number (known as 'Cabbage') flipped one switch, and smoke started coming out of the nose - it appeared a small fragment of cloth or rope was sitting on a heating element - no harm, but a great deal of consternation was caused.
One other fully civilian Dove has operated in New Zealand. Bay of Plenty airways operated a Dove 5, (c/n 04508) as ZK-BCP. The 9 seater was hired from Australia where it had previously been operated by The Commonwealth Department of Health for the Northern Territory Medical Service as VH-DHK. The aircraft arrived in New Zealand on January 19, 1961, and departed again on July 7 of that year.
It has been reported to me that an ex-Australian Dove 8 (VH-DHQ) has been imported to New Zealand and is being prepared for operation at North shore.
Last Text Update:- 5 March 2000
Last Picture Update:- 30 March, 2003

---
Technical Data
Accommodation : 2+9
Dimensions

Span : 17.37m (57'0ft)
Length : 11.98m (39'4ft)
Height : 3.96m (13'0ft)

Weight

empty : 2,621kg (5,780lb)
max : 3,855kg (8,500lb)

Power Plant : 2x 340hp DH Gypsy Queen 70-4
Performance :

max speed : 338km/h (210mph)
max climb : 750ft/min (3.8m/sec)
ceiling : 20,000ft (6,100m)
range : 805km (500miles)
---
Images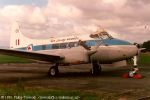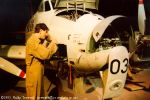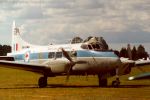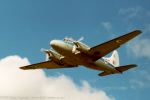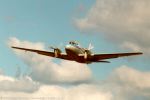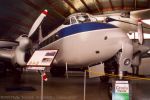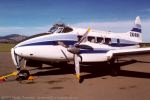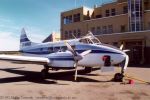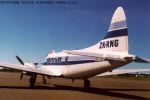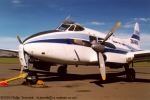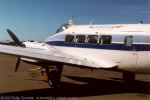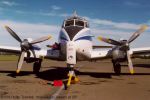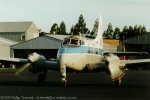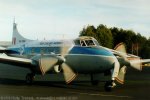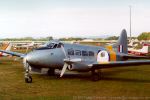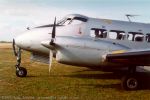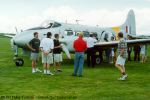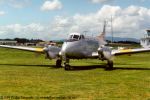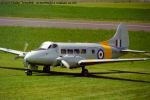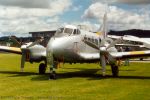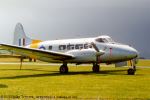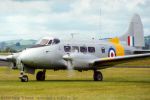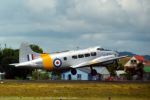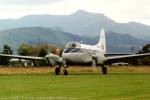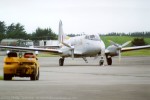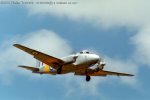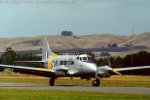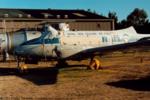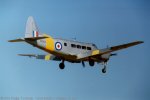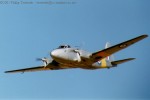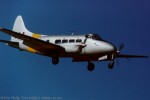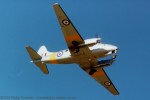 ---
Close Up
Remember to let me know if you have a request for an image of a particular part of the aircraft!
---

&copy 1996-2003 Phillip Treweek, all rights reserved