Citabria (Champion) 7GCBC
Background
The Model 7 Champion was first produced by the Aeronca Manufacturing Company in 1946 and was a competitor to the J-3 Cub. The mixed construction (fabric covered welded steel fuselage with fabric covered wooden spar and aluminium ribbed wings) two seater was popular with pilots and the dual controls were useful for a trainer. The original 7AC was powered by a 65hp engine. This was followed in 1947 by the 85hp 11AC and in 1948 by the 90hp 15AC. They had produced over 10,000 by 1951 when the manufacturing rights were taken up by the Champion Aircraft Corporation.
Production resumed in 1954 with two models, the tailwheel 7EC Traveller, and the tricyle undercarriage 7FC Tri-Traveller. The first Model 7EC Traveller flew in February 1955 equipped with a 90hp Continental C-90-12F engine, and production continued until August1964 when it was replaced by the Model 7ECA (first flown on May 1). The new model was modernised, and externally featured a revised tail, increased glazing, wheel spats and a 108hp Lycoming O-235-C1 engine. In addition a more powerful version of the 7EC, the 150hp Lycoming O-320 equipped Model 7GCB Challenger had been introduced in 1959. Subsequent models included the limited airobatic Model 7GCAA Citabria (airbatic spelt in reverse), and the Model 7GCBC which was fitted with flaps. The model 7KC Olympia was followed by a fully airobatic version, the 7KCAB with a strengthened structure (+6/-5G), reduced span and wider chord wing, and modified fuel and oil systems for inverted operation . More than 7000 of the Model 7 were produced by Champion.
The assets of the Champion Aircraft Corporation were acquired by the Bellanca Aircraft Corporation in September 1970. Bellanca continued production until 1980, with three ' sport' versions of the Model 7 featuring 115hp, 150hp, and an increased span wing. Production amounted to more than 5000 aircraft. In 1974 a utility version of the Model 7GCBC was introduced. Redesignated the 8GCBC Scout, it featured a larger vertical tail, increased wing span with modified tips, and strength undercarriage with balloon tyres. Floats or skis could also be fitted. Similarly the Model 7KCAB was redesignated the Model 8KCAB Decathlon. Three versions were manufactured by Bellanca, differentiated by propeller, general equipment, and engine. Production was in the order of 550 aircraft.
The Aeronca Model 7 Champion was amongst the first of the American light aircraft to appear post war, and was followed by the Champion and Bellanca manufactured version. Model 7 aircraft currently on the New Zealand register (at 11 November, 1999) are:
ZK-BPW Champion 7EC (c/n 7EC-723)
ZK-BVF Champion 7EC (c/n 7EC-637)
ZK-CMP Champion 7ECA (c/n 7ECA-318)
ZK-CPD Champion 7ECA (c/n 7ECA-329)
ZK-CPM Champion 7GCAA (c/n 7GCAA-68)
ZK-CRH Champion 7GCBC (c/n 7GCBC-32)
ZK-CRT Champion 7GCBC (c/n 7GCBC-73) (illustrated below)
In addition Bellanca 7GCAA N57466 (c/n265-73) is in storage at Dairy Flat awaiting restoration.
Would the person who emailed me around March 25, 2004 please email me again! I accidentally deleted your message.
Last Update:- November 8, 2000

---
Technical Data
Data is for Model 7GCBC
Accommodation : 2
Dimensions

Span : 10.2m (33'5ft)
Length : 6.9m (22'7ft)
Height : 2.3m (7'7ft)

Weight

empty : 505kg (1,110lb)
max : 750kg (1,650lb)

Power Plant : 150hp Lycoming O-320-A2B
Performance :

max speed : 205km/h (128mph)
max climb : 1120ft/min (341m/min)
ceiling : 17,000ft (5180m)
range : 859km (537miles)
---
Images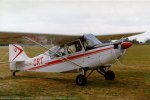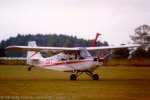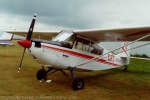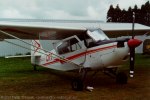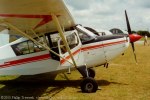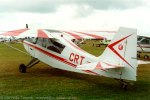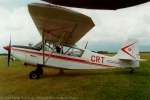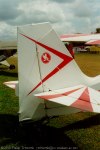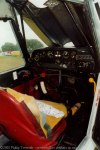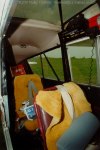 ---

&copy 2000 Phillip Treweek, all rights reserved