Cessna 170
Background
The prototype Model 170, a remodelled Model 120 featuring 4 seat Accommodation, first flew in September 1947. The aircraft was aimed at US operators of the 120 and 140, looking for a bigger 4 seat aircraft. Production of the 170 commenced in March 1948. The aircraft can be recognised by the early 'V' struts' and fabric covered wings. The Model 170A was introduced in 1949, and this featured all metal wings, a dorsal fin, and a single wing strut (against the original 'V' struts). The Model 170B which featured a modified engine, larger and slotted fowler type flaps (originally designed for the model 305), and various other refinements appeared in 1952. The prototype Model 172 which first flew in 1955, was a 170 featuring tricycle undercarriage. The Model 172 replaced the 170 in production in 1956.
Nine Model 170s have appeared on the New Zealand register, eight of which were imported and the other was a rebuild. The first, ZK-AZC, was imported by Rural Aviation Ltd in June 1953. This aircraft was intended as a replacement for the DH-82 in agricultural work. However, it was underpowered for the task and crashed at Urenui on September 27, 1953. The other aircraft have predominantly been involved in Aeroclub and private use. Four Model 170s are currently in New Zealand
ZK-BGE (c/n 26455, ex N3412C) is in storage with A.Reville at Ardmore
ZK-BJT (c/n 26671, ex N4327B) is operated by the Lucas and Smith syndicate from Mt White station in Canterbury.
ZK-BLT (c/n 26831, ex N4487B) is operated by A.Reville from Ardmore.
ZK-ERR (c/n 20351, ex N1785D, ZK-BJS) is in storage with J.Geary at Ardmore.
The aircraft illustrated below is ZK-BLT,which was returned to the air on June 6th 1997. The aircraft has had a chequered career since it was imported in 1955 by Cessna agents Rural Aviation of Auckland. The aircraft has passed through a number of hands since its initial ownership by Acme Motors of Wellington. In 1959 it moved to the Napier Aero Club, and remained in their service when sold to Ben Morice in 1963. After being written off in 1964, the aircraft was sold to current owner Arthur Reville for 500 pounds. Arthur was an engineer with Rural Aviation. It took 1400 hours over 18 months to rebuild. He used the aircraft to learn to fly. Accidents in 1972 at the Greenstone valley, and 1974 at Fox Glacier required further rebuilds. The aircraft was sold to Philip Evers-Swindall in 1977, but was damaged in another accident in 1981. The aircraft returned to Arthur Reville and was stored until emerging from the latest rebuild.
Arthur Reville is New Zealand's Mr 170. He has been involved with Cessna 170's since Rural Aviation imported theirs in 1953, and has owned a 170 since 1964. At least half the New Zealand 170's have passed through his care, and as well as rebuilding ZK BLT, he also recreated ZK-ERR. This aircraft was originally ZK-BJS, but the loss of the manufacturers plate resulted in a restricted Certificate of Airworthiness and a new registration. Arthur sold the aircraft in 1992.
Last Update:- 21 May, 2001

---
Technical Data
Accommodation : 4
Dimensions

Span : 10.97m (36'0ft)
Length : 7.61m (25'0ft)
Height : 2.00m (6'7ft)

Weight

empty : 547kg (1205lb)
max : 998kg (2200lb)

Power Plant : 145hp Continental C-145-2
Performance :

max speed : 230kmh (143mph)
max climb : 690ft/min (210m/min)
ceiling : 15,500ft (4724m)
range : 950km (590m)
---
Images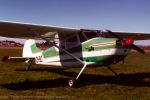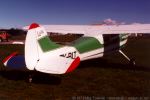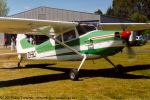 ---

&copy 1997-2001 Phillip Treweek, all rights reserved