Cessna 150
Background
The Cessna 150 was a development of the 2 seat 120/140 of the late 1940's. With the end of model 120/140 production in 1950, Cessna concentrated for a period on 4 seat light aircraft. They returned to a 2 seat model in 1957 using the model 140 jigs to produce a prototype all metal, tricycle undercarriage aircraft, powered by a 100hp Continental O-200. The prototype 150 (originally designated the 142) flew in September 1957. The 150 went into production in August of the following year. In 1961 the 150A introduced a redesigned undercarriage and larger rear window. Changes were minor in the 150B/C models through to 1963, and over 2000 of these initial models were produced. In 1964 the slimmer fuselage with 'omnivision' windows (like the model 172 of the previous year) was introduced as the 150D. The next major change was the distinctive Cessna swept fin and rudder, which was added in 1966 on the 150F. Minor changes followed on a yearly basis with incrementing model letters.
The 150 was produced in several versions, depending on the equipment and avionics fit. These were the Standard, Commuter and Commuter II. In addition, the Aerobat was introduced in 1970. Essentially a strengthened 150K, the structure permitted limited aerobatic operations. Some aircraft have reverted to being taildraggers. Production ceased in 1977, with 22,082 aircraft built by Cessna, and a further 1,754 license built by Reims Aviation.
The 150 was superceded by the model 152 which featured a 110hp Avco lycoming O-235 engine, modified cowlings, spinner, and propeller, and various detail changes. The 152 was available as Standard, 152 II (extra avionics), Trainer (intercom), and Aerobat versions. From 1977 to 1986 6,842 aircraft were built by Cessna, and a further 640 were license built by Reims Aviation.
The model 150/152 has been extremely popular in New Zealand. 12 of the original shape 150's were imported for Aero Club use, and some have passed onto private use. Of these, 5 model 150's (BPO, BVY, BVZ, BWI, BWX) and 2 model 150A's (ZK-BYM, and BZX) survive. Four 150D models were imported, all of which survive (ZK-CGI, CHH, CHI, and CHM). In addition, a further 45 150's and 72 152's of various versions appear on the New Zealand active register as at August 1, 1999.
Last Update:- 3 September, 1999

---
Technical Data
Data is for a 152 Standard
Accommodation : 2
Dimensions

Span : 9.97m (32'9ft)
Length : 7.34m (24'1ft)
Height : 2.59m (8'6ft)

Weight

empty : 501kg (1,100lb)
max : 757kg (1,670lb)

Power Plant : 110hp Avco-Lycoming )-235-N2C
Performance :

max speed : 202kmh (125mph)
max climb : ft/m (m/min)
ceiling : 14,700ft (4480m)
range : 1,158km (719m)
---
Images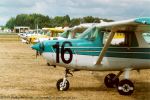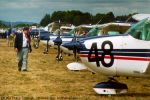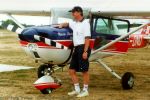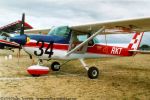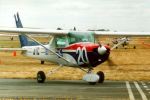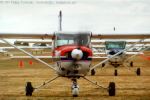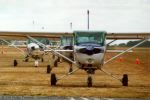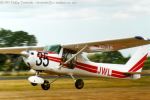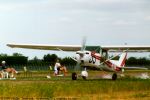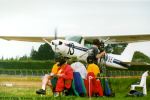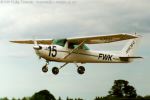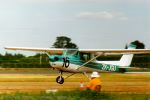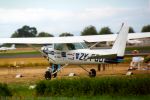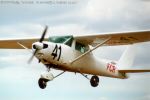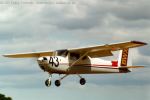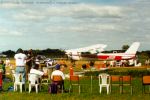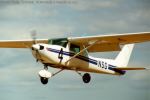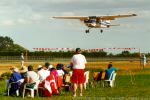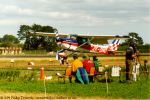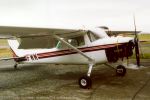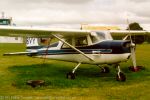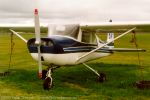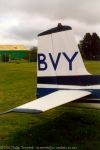 ---

&copy 1999 Phillip Treweek, all rights reserved