Bede BD-5
Background
The BD-5 is probably the best known of James Bede's designs. Bede has designed a number of light aircraft suitable for amateur production. During the 1960's when there was a resurgence in interest in homebuilding he developed the BD-1 and the BD-4 which were a 2 and 4 seat high wing monoplane. He started designing the BD-5 in 1967, and the prototype BD-5A flew in 1971 with a 40hp 2-cylinder engine for the pusher propeller. The aircraft has been modified for a number of engines since - a 115hp Honda straight 4 being popular, and the turbojet BD-5J being the 'top of the line'.
A number of projects have been started in New Zealand. During the mid-1970's Pacific Aerospace (best known for their CT-4 trainers, and Fletcher agricultural aircraft) investigated mass producing the aircraft. Three aircraft, including one (ZK-DVE) were completed to taxying condition before the project was abandoned due to concern about crashes by the type in the United States. These are now in partially assembled condition in the hands of Shayne Winckel (see below). At least one unauthorised flight is reported to have been made by another project before the aircraft was damaged on landing. A BD-5J imported for the 1992 Air Expo at Auckland (illustrated below) suffered the same fate when the nose gear collapsed on landing.
Three BD-5B aircraft appear on the New Zealand register as at July 1, 1998. These are ZK-RMT (c/n3905), ZK-RWT (AACA/629) and ZK-ZIP (AACA/235). the latter, owned by David Rose and Simon Clark of Lifestyle Aviation has been re-engined with a Rotax 618.
In addition Shayne Winckel has five aircraft in various stages of completion, ranging from unstarted kit to partially completed airframe (fuselage, wings, and tail assembled as illustrated below). He has four of these aircraft for sale at an asking price of NZ$5000 each - two kits and two of the partially assembled aircraft (which he says will save about 1500hrs work). Shayne can be contacted at ++(64)(7)348-5249


Last Update:- 19 July, 1998

---
Technical Data
(Data is for BD-5J, courtesy of Juan Jimenez)
Accommodation : One
Dimensions

Span : 5.18m (17.0ft)
Length : 4.04m (13'3ft)
Height : 1.71m (5'7ft)

Weight

empty : 200kg (440lbs)
max : 391kg (860lbs)

Power Plant : 1x T300 Turbojet
Performance :

max speed : 465kmh (290mph)
max climb : 2400ft/min (731.5m/min
ceiling : 26,000ft (7925m)
range : 608km (380miles)
---
Images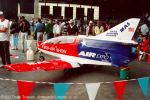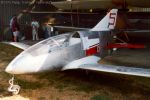 ---

&copy 1996-98 Phillip Treweek, all rights reserved