Grumman AgCat
Background
The AgCat was designed in the mid-1950's for (as the name suggests) agricutural work and first flew on May 22nd, 1957. The aircraft was originally a single seat, enclosed cockpit biplane with the hopper forward of the pilot. For easy maintenance the upper and lower wings are interchangeable. The aircraft was manufactured under license for many years by Schweizer, who purchased the manufacturing rights in 1981. More recently these have been taken over by the AgCat corporation who continue production. The original G-164 was capable of carrying a 544kg (1200lb) payload, while the more powerful G-164A could lift 907kg (2000lb). The G-164B featured an increased wingspan. In recent years a number of aircraft have been converted for passenger use - with side by side seating fitted in place of the hopper, generally with both cockpits being open..
The G-164 was powered with a variety of engine options, including the 220hp Continental W670-6, the 240hp Gulf coast W670-240, and the 300hp Jacobs R-755 A2M1. The G-164A introduced in 1969 was fitted with the 450hp P &W R-985, the 600hp P&W R-1340, or the 1200hp Wright R-1820-202A. In 1980 the Twin Cat introduced a 2 x 310hp Lycoming TIO-540-J arrangement. The aircraft has also been converted (G-164D) to turbo-prop configuration utlising the 500shp P&WC PT6A-11AG or the 750shp P&WC PT6A-34AG.
The first AgCat to visit New Zealand was ZK-CLQ which was imported by Dalhoff & King ltd as a demonstrator in 1965. At that time it did not attract many sales, and passed to Marshall and Neville in the Hawkes bay before being exported to Australia where it became VH-CCR. A number of aircraft have been imported subsequently. A 450hp G-164B ZK-KAL was imported by Hallett Griffin, who also imported ZK-SJA, a 600hp G-164B. ZK-KAL was rebuilt after an accident resulting from a fuel gauge failure, and was subsequently exported to Australia. The other aircraft have been used in agricultural work, or, since 1992 in a tourist role. Four currently appear on the register (as at July 1, 1998). These are described below.
ZK-CAT (c/n 1418, ex N8581H) was built in 1975 and worked in Mississippi until 1992, when it moved to Arizona. Imported by Brian Stewart in 1996 as a complete but unairworthy aircraft, the G-164A was rebuilt in New Zealand and fitted out to carry passengers. The rebuilt aircraft was certified by the AgCat corporation, and registered in July 1996. Today the bright red aircraft is operated in a tourist role through Volcanic Wonderflites at Rotorua. More info here.
ZK-MEW (c/n 738, ex N6598, VH-JJB) was built in 1970 and worked in Indiana until exported to Australia in 1987 where where it was a banner-tow aircraft. Imported by Phil Maguire of Pionair Adventures in 1991, and modified by Drake Aviation at Christchurch for the passenger role. The implementation of tourist flights was delayed by certification issues, and initially the G-164A was operated by a 'club' until the licencing situation was sorted out. The aircraft operated at Queenstown and then Christchurch, before being leased to DeBretts at Taupo. The aircraft has recently been advertised for sale, and is currently located at Ardmore.
ZK-MEX (c/n 441, ex N929X, VH-PUV) has a varied history. First constructed in 1967, the aircraft was delivered to Australia. It worked in Western Australia and Queensland before being damaged in 1974. The aircraft rejoined the Australian register in 1981. Imported to New Zealand as an incomplete airframe , it was intended as parts for ZK-MEW. The G-164A was reconstructed at West Melton for Pionair. This raised some certification issues, but these were sorted out by a visit from the CEO of AgCat corporation, and the aircraft was registered in August 1996. The aircraft was later leased to De Bretts Aviation at Taupo. The aircraft has subsequently changed owners (May,1997), but remains at Taupo.
ZK-SJA (c/n 770B) is a P&W R-1340 powered G-164B Imported by Hallett Griffin of Griffin Ag-Air, (registered to Kairanga Aviation), the aircraft continues to work in an agricultural role at Palmerston North.
Last Update:- 21 May, 2001

---
Technical Data
Data is for G-164A
Accommodation :
Dimensions

Span : 10.9m (35'8ft)
Length : 7.1m (23'4ft)
Height : 3.3m (10'9ft)

Weight

empty : 1220kg (2690lb)
max : 2041kg (4500lb)

Power Plant : 450hp P&W R-985
Performance :

max speed : 222km/h (138mph)
max climb : 1080ft/min (329m/min)
ceiling : ft (m)
range : km (miles)
---
Images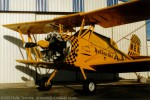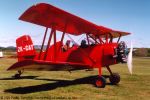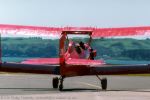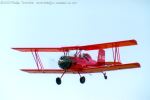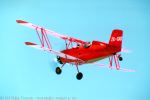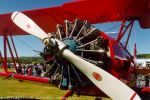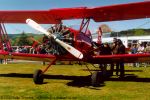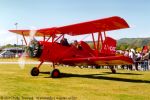 ---

&copy 1996-2001 Phillip Treweek, all rights reserved